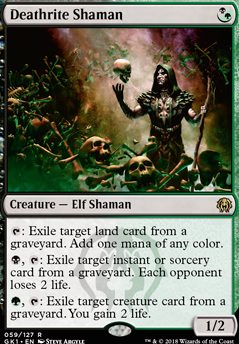 Deathrite Shaman
Creature — Elf Shaman
: Exile target land from a graveyard. Gain one mana of any colour.
, : Exile target instant or sorcery card from a graveyard. Each opponent loses 2 life.
, : Exile target creature card from a graveyard. You gain 2 life.
Browse Alters
Trade
Legality
| | |
| --- | --- |
| Format | Legality |
| 1v1 Commander | Legal |
| Block Constructed | Legal |
| Canadian Highlander | Legal |
| Commander / EDH | Legal |
| Duel Commander | Legal |
| Highlander | Legal |
| Leviathan | Legal |
| Limited | Legal |
| Oathbreaker | Legal |
| Pioneer | Legal |
| Tiny Leaders | Legal |
| Unformat | Legal |
| Vintage | Legal |
| Casual | Legal |
| Custom | Legal |
| Quest Magic | Legal |
Latest Decks as Commander
Deathrite Shaman Discussion
1 month ago
I used to play -Eldrazi Stompy in Legacy 3-5 years ago, before switching to EDH due the LGS where I had moved to having a large EDH community (pre-lockdowns). However, I'm currently in a position where I might be able to play some Legacy events in the near-future, and I want to update my deck accordingly. But I think it's worth briefly noting the developmental-chain that led to the current decklist that I own..
Ironically enough, this deck was originally based on a "budget" Vintage list from The Mana Source (watch it to have a chuckle over how much less the Reserve List cards used to be). My original list was extremely close to this, except invert the 1:4 ratio of Chalice of the Void / Null Rod , and I (originally) ran Simian Spirit Guide ..
---

Legacy Metroid_Hybrid
SCORE: 13 | 13 COMMENTS | 3485 VIEWS | IN 7 FOLDERS
---
2 months ago
I'm not worried about Vindicate , since Maelstrom Pulse has been in Modern since Alara, and I don't expect the land destruction option to make that much if a difference. (Thereby guaranteeing I get steamrolled by LD some day.) In particular, Legacy/Vintage has everything on the reserved list, which includes the original dual lands, Aluren , Academy Rector , Chains of Mephistopheles , Sylvan Library , Swords to Plowshares , Grim Monolith as some highlights, and anything banned in Modern-- Deathrite Shaman , Field of the Dead , Once Upon a Time , Cloudpost , and so on.
2 months ago
(from your post about manabases) Your ONLY real problem with your manabase is the 6 taplands, but 5 of them are fetchable 3-color lands. I'd personally see if you can cut one maybe two of he triomes for basics, and possibly the Path of Ancestry, but that's just me and honestly, your manabase is pretty close to perfect.
If anything, I'd consider cutting some of the less cool dragons for more ramp like Llanowar Elves , Elvish Mystic , Avacyn's Pilgrim , Noble Hierarch , Deathrite Shaman , and Elves of Deep Shadow , just to be able to cast the big dragons earlier. But again, that's me.
4 months ago
Hey, consider Sol Ring ? It's a staple mana rock in Commander. Consider less Swamps and more Golgari dual lands? Green mana is much more important than black. 11 Swamps really reduces the consistency of having a green source turn one for a green one drop mana dork. You don't want to draw all Swamps and no Forests.
You can speed up game play and help color fixing by adding more dual lands that can ETB untapped:
Others:
Several of these lands could replace lands that always ETB tapped: Foul Orchard , Golgari Guildgate , Jungle Hollow , Golgari Rot Farm . Elves of Deep Shadow is very helpful since can make black mana. Deathrite Shaman if playing multiplayer since can exile lands from opponents graveyards.
Good luck with your deck.
4 months ago
Howdy! Unfortunately Deathrite Shaman has the color identity of both black and green, so you can't "legally" play that card! I'd suggest replacing it with something like Vilis, Broker of Blood as that card is BONKERS when your commander is on the field, just draw ALL the cards!
Also another card to look at could be Mind Twist . Making an opponent discard all their cards in hand can be really backbreaking!
4 months ago
Hi raspberryfish25 Thanks, I like playing it. Just finished a quick 1-on-1 game versus my brother-in-law's deck (all about stealing cards) and lost to my own elves. As for the mentioned cards, I've looked into all the mentioned cards in early builds, some of them will definitely make the 99 in future upgrades.
Deathrite Shaman - Meta dependent, but a great card indeed, in my playgroup just a 1 cmc cheaper Scavenging Ooze .
Skyshroud Poacher - Pricy but spicy, still in the back of my head for a future upgrade.
Wolverine Riders - Have played this card, but didn't do well, yielded me a few extra tokens, but got removed fairly quickly, might try it again.
Sylvan Messenger - I'm not the biggest fan of digging a few deep in the hope to fetch a good card, you can whiff easily.
Lys Alana Huntmaster - Elvish Warmaster does a similar job with the added Ezuri type buff for Elves for 2 cmc less. I'm aware only one token extra is made per turn.
Elvish Guidance - Is in the deck, done great work so far.
Harald, King of Skemfar - Like Sylvan messenger, it can whiff so hard, Land, Land, Dork, Artifact, Enchantment. Also, Tyvar Kell has to be in the deck too, to get the most out of it. Abomination of Llanowar would be the better choice in this build.
Elvish Harbinger - Like the Poacher, very good.
Sylvan Offering - This can produce an insane amount of Tokens and a big beater Treefolk token with the amount of mana the deck can produce, the only drawback for me is giving my opponent the same amount in return, I will try it out, this and Stoneforge Masterwork might work, but Lathril depended.
Elvish Clancaller - An early 2 drop Lord in play is always nice, but it doesn't come with extras, like the other lords.
Elvish Champion - Also on my future upgrade list, the best Lord around for sure.
Load more