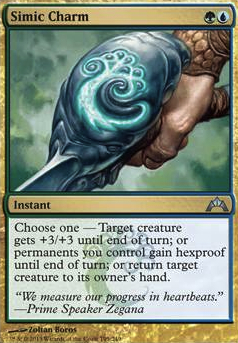 Simic Charm
Instant
Choose one Target creature gets +3/+3 until end of turn; or, permanents you control gain hexproof until end of turn; or, return target creature to its owner's hand.
Have (16)

s

l

e

m

u

l

v

,

p

s

k

i

n

n

0

1

, Tanis44 , drduck1990 , Raistlin911822 ,

d

u

c

t

t

a

p

e

d

e

c

k

b

o

x

,

r

a

k

d

o

s

2

4

,

A

T

R

E

Y

U

t

y

,

R

e

g

u

l

u

s

1

0

1

0

, Derpachus , Heffrum , Jernyman , AlbinoLion , Explotography , caprioG04 ,

C

o

m

i

c

a

l

f

l

o

p

Want (5)
goodair , PackAttack91 ,

m

a

i

d

e

n

7

7

, Gman6664 , Heffrum
Simic Charm Discussion
2 days ago
so remember what a sideboard is for, the match ups that you aren't good against. it's supposed to fill holes that your deck has. things like Nimbus Swimmer and Slime Molding are not sideboard cards. when you look at a card in a sideboard you should know what it's there to do. where do you plan to play this deck? if it's for fnms, it'll need a bit of shoring up. it looks too slow to be competitive to me, so if it's just for kitchen table magic ignore the part of this about power level
it looks like you're doing a decently common sideboard mistake, using it to store all the cards you can't fit in the maindeck but like.
Mystic Genesis is a bad card. you're in modern, you need to be countering people's turn 2 Primeval Titan and turn 4 Splinter Twin. if you want counterspells out of the side run Mana Leak, Remand, or Spell Pierce.
same with Spell Rupture, it's not going to be reliable for you if you're being disrupted. get more consistent counter spells.
the problem with counters decks is the ease you can disrupt them. there's so many ways to kill your creatures, and none of them offer particular resilience or value outside of being a beater.
Experiment One should be a 4-of. no question about that.
you should get your deck down to 60 cards for consistency's sake, cutting out Crocanura is not very good, and Vorel, the Hull Clade is way too slow for a competitive setting. no impact when he hits, needs to get to your next turn, then use mana and tap him for value, that can easily just end in a kill-spell hitting the creature you targeted with him? it's a very easy thing to disrupt
your list has 7 Simic Charm, 3 mainboard 4 sideboard, and that's a problem. so cut three out of the sideboard if you like them in main.
Tasigur, the Golden Fang deserves a spot as a one or two-of in here. he's good. he triggers evolve. he draws you cards. there's no reason not to run him (outside of budget constraints).
and Hydra Broodmaster, I hate to break it to you, is way too slow to be used in a modern competitive table, especially with the little amounts of ramp you have. its too slow for standard, so it's probably too slow for this.
4 days ago
Everything looks mostly really good man. The only thing I'd change is the 4 Rune Snag and move Flashfreeze to the sideboard unless your meta needs it.
Maybe try running a play set of Simic Charm. It's a really good card, does what you need it to do and really shouldn't ever be a dead.
Maybe 1 more Spell Pierce maybe and a play set of Gitaxian Probe.
Also typically when people run tempo decks like this they tend to run like 10-12 fetch lands so you can try that if you want?
You should probably try and test on Cockatrice. Some people are really nice on there and have helped me a lot.
1 week ago
I know this comment is really late but I really like the concept of Simic in Standard, and I actually really like this deck.
It wouldn't be too difficult to update it, considering all you have to do is replace the Simic Charms with something else.
I once had a similar list for Standard that focused on Card Draw and Ramp with stuff like Divination along with Horizon Chimera and Chasm Skulker, as well as Polukranos and Fleetfeather Cockatrice to benefit from the ramp.
I'm going to give this a +1 just because I like it, no matter how old it is!
Let me know if you ever post an updated version of this!
1 week ago
@FuneralofGodI agree that Wolfir Avenger is not great. I put him in to have another decent creature at 3 cmc, but I think cutting him is a good decision at this point.
I think an extra Grizzly Bear body on Plaxmanta is more useful than the other modes of Simic Charm, but it's certainly worth testing.
I'm not a huge fan pf Dimir Charm; it seems too limited.
@MooerI think I'm going to cut 2 Wolfir Avenger and 1 land for 3 Vapor Snag. Going down to 21 land seems right since I'm cutting the wolf. I think 20 lands is too low, but with Bobs it could work.
2 weeks ago
the contagion clasp seems a little weird to even be considered, it costs a lot of mana and its ability costs a lot of mana. Maybe a Simic Charm or to go along with that Prophet of Kruphix. Also since there are a lot of high mana cost creatures Kiora's Follower with your gyre sage would be nice.
Altogether a nice deck - i would definitely want to test it out
| | |
| --- | --- |
| Color(s) | Blue Green |
| Cost | GU |
| Converted cost | 2 |
| Avg. draft pick | 5.16 |
| Avg. cube pick | 13.84 |
Legality
| | |
| --- | --- |
| Format | Legality |
| Legacy | Legal |
| Vintage | Legal |
| Commander / EDH | Legal |
| Modern | Legal |
| Duel Commander | Legal |