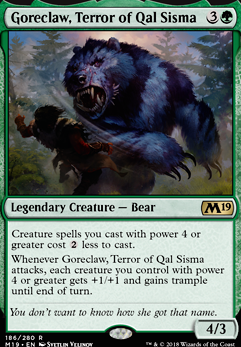 Goreclaw, Terror of Qal Sisma
Legendary Creature — Bear
Creature spells you cast with power 4 or greater cost less to cast.
Whenever Goreclaw, Terror of Qal Sisma attacks, each creature you control with power 4 or greater gets +1/+1 and gains trample until end of turn.
Start Commander Deck
Browse Alters
View at Gatherer
Trade
Legality
| | |
| --- | --- |
| Format | Legality |
| Modern | Legal |
| Block Constructed | Legal |
| Oathbreaker | Legal |
| 2019-10-04 | Legal |
| 1v1 Commander | Legal |
| Canadian Highlander | Legal |
| Casual | Legal |
| Pioneer | Legal |
| Historic | Legal |
| Vintage | Legal |
| Leviathan | Legal |
| Legacy | Legal |
| Limited | Legal |
| Arena | Legal |
| Duel Commander | Legal |
| Highlander | Legal |
| Commander / EDH | Legal |
| Tiny Leaders | Legal |
| Unformat | Legal |
Latest Decks as Commander
Goreclaw, Terror of Qal Sisma Discussion
1 week ago
Interesting deck +1
What is your meta like?
Proud Wildbonder - Seems too unimpactful for 4 mana
Essence Warden - Whats the purpose of this?
Beast Whisperer - Seems cool, I tried him in my build. Does he get a chance to stick around long enough to draw you atleast 2-3 cards?
Ravager Wurm - Is this meta against maze of ith?
Shivan Wurm - Reusing ETB effects or something I'm missing? Seems weak
Voracious Cobra - Gosh this card brings back memories from my childhood. Curious how it's been for you, seems like a card they need to burn removal on if they want a chance of attacking you unless they go wide
Windstorm - Meta?
Fog - Meta, if so, why not get the new green fog that came out recently?
Soul's Might - Return of the Wildspeaker would better serve you as you can draw cards in response to removal rather than your creature getting removed in response to might being cast.
Ancient Tomb , Castle Garenbrig are ramp
Goreclaw, Terror of Qal Sisma - Trample and ramp
Heroic Intervention - Protection
Selvala, Heart of the Wilds - Ramp and draw
The Great Henge , Somberwald Sage, Shaman of Forgotten Ways are all good ramp
Inferno Titan - Removal
Kogla, the Titan Ape - Removal
Deflecting Swat - Utility! Counter counterspells, redirect targetted removal/draw/extra turns. Very powerful
Rishkar's Expertise, Bonders' Enclave, Elder Gargaroth, Greater Good, Life's Legacy, are all amazing card draw options, especially greater good. Seriously, don't sleep on greater good
I hope the suggestions werent too overwhelming, I just didn't see that much draw and I figured that adding more never hurts.
3 weeks ago
Trophy Mage is a great card to tutor fist and chromatic lantern if stuck.
Eerie Ultimatum does a good job of getting ur stuff back.
Tempt with Discovery might be another good cheap alternative to ramp.
Goreclaw, Terror of Qal Sisma is very good value. People often underrate this card and let it live. Usually if you play this on seven lands, you can play another 5 mana dragon afterwards and your commander next turn.
Sarkhan's Unsealing is also pretty nuts in this kind of deck.
I quite used to like Surrak Dragonclaw when I ran a cheaper version of this deck. Makes your things un-counterable and is a trample enabler with flash.
Cheeky Dragons here is my version of a Ur Dragon Build :)
Cheers
3 weeks ago
Ok, I guess I'm biased, but Goreclaw, Terror of Qal Sisma is one hell of a fluffy mana rock.
You might also want to consider Zilortha, Strength Incarnate. Good'ol Godzilla is a very unusual and very interesting commander. If you're interested, there's a deck in my commander folder.
3 weeks ago
Pestie89 depends, the latest major update as mentioned above is from July 27th. I'm not surprised for Kaalia, tho personally I'm not a fan of the card and won't run it. I strongly dislike Dragonlord's Servant and Dragonspeaker Shaman. They're not bad cards but they're far less efficient than straightforward ramp. First of all it's a discount on a body, which I don't run except for Goreclaw, Terror of Qal Sisma, because obviously it's susceptible for removal, and the colorless mana cost really is not a problem. Plus, The Ur-Dragon

's discount with colorless is sufficient enough, you don't want to risk having too much of these cards while you'd never have enough lands. I'd rather run a 2 and 3CMC ramp spell instead because lands are less susceptible to removal and you're colour fixing which is extremely important.
2 months ago
Thanks again! Awesome that you take the time out of your day to really give such an insightful comment.
I have been working on the deck after I posted it and even upgraded it a bit between your comment and me posting the deck, two of them are even cards you recommended! Bonders' Enclave and Gruul Signet. I also added Rogue's Passage to maybe sneak an attacker in.
I did actually buy quite a few cards a few days ago that just arrived and some of them are also cards you mentioned :D
The ones you mentioned that I added are Siege Behemoth, Rishkar's Expertise, Rancor, Lifecrafter's Bestiary and Greater Good!
I also added these ones, maybe you have some comments about them?
The things I will be cutting is the Scorpion and
Let me know what you think about the cuts and if I could have made better ones!
Now for your recommendations!
Enchantments
Added!
Lurking Predators Sounds like a great idea, would love to hear what you think should be cut from the deck too.
Added!
Artifacts
The Great Henge Yeah I want a few of these, to go into some decks. Have on my "buy it on a bargain" list. Hopefully I can pick it up soon.
Added!
Added!
Sorceries
Instants
Beast Within Great card, will be adding this at one point
Berserk Never been a fan of killing my own creatures, but I guess the added benefit of being able to use it on an enemy is nice. I could also Berserk it and then sac it myself with any of the card draw cards. Will be looking out for one if I can find a really cheap one.
Momentous Fall Nice one! Will pick this one up for sure
Return of the Wildspeaker Will add this one too, bought a few of them already a week back but they are taking their sweet time arriving.
Lands I have already added the Bonder's Enclave and will be adding a Myriad Landscape as I have an extra one. I will also look to acquire the other ones. I am thinking of also adding Reliquary Tower as it's likely I will get more than 7 cards in hand after a sacrifice, Mishra's Factory as it's one of the only good manlands I have (doubt Kher Keep will do much here) I am also thinking of adding a Tectonic Edge to deal with other people's lands.
Creatures
Most of the dragons you mention was about to go into the deck, but then I bought a Secret Lair and built a dragon deck instead. Will be looking into getting most of the dragons you mention here.
There's so many here, hard to pick and choose which to add! I will start with the ones I know I want in Eternal Witness because there is always something that's worth casting twice, Kogla, the Titan Ape can remove a lot of stuff in one go as I can give it haste too, Ilharg, the Raze-Boar been looking to add this guy since day one! But they have always been so over priced in my local market about 7-8$! I managed to find one yesterday for $5! So hopefully it will find it's way to me tomorrow :) Reclamation Sage need more removal so this on should be a given, Sakura-Tribe Elder need a bit more ramp so I can get it out more reliable so this one a good one. Was going to add a Fierce Empath when I opened 2020, must have forgotten!
I am also looking to add Goreclaw, Terror of Qal Sisma and Lifeblood Hydra but they are hard to find in my local market. The other ones I will add to my list and pick them up if I can get them cheap, to at least switch out for some others and see what fits my play style the best!
Would love a Deflecting Swat (in Norin too), but my local market have it quite high, and I think I can find more impactful cards for cheaper. Oh I will definitely upgrade for a Vines of Vastwood and look for a Blossoming Defense, right now my biggest defense against spot removal is Archetype of Endurance but it's so expensive to cast!
There are a lot of cards here that you have mentioned that I have both already added and want to add now that you have brought them to my attention, so I will have to do a lot of cuts and would love to here your thoughts on what should be removed (and if the cuts I already did where good ones) would also love why you think I should remove some cards over others.
Thanks a lot for yet another deep look at my deck! Really appreciate it :)
2 months ago
I also run a Xenagos deck! Lol, what are the chances! I will try to keep cards under $15 per your suggestion....
Enchantments....
Greater Good - BEST card you will ever add, if you listen to ANYTHING I say, this is it. Period.

Lurking Predators - With 1/3rd of your deck as creatures, this is like a sunbirds invocation that does something even if you pass the turn! Highly recomended!

Rancor - Nice to have, makes a 1/1 into a 6/4 trample with Xenagos. Providing trample cheaply and repeatedly is nice
Artifacts
The Great Henge - A bit over budget, but nice to have. Card draw, lifegain and ramp all in 1, usually for .

Gruul Signet - Nothing flashy, but another 2 mana ramp to help bring Xenagos out T3-4

Lifecrafter's Bestiary - Scry and card draw, not bad, definitely worth considering to help maintain gas
Sorcerries
Instants
Lands...Obviously none of these are needed, but they make the deck slightly better are relatively cheap. Worth the investment, IMO. You have lots of room in your landbase given you are playing green and already run an ok amount of ramp. Adding even more ramp will really make your utility lands shine.
Creatures
OVERALL: The deck is ok. I'm surprised how it has such a low CMC, but given your X spells. Once you replace those with 5+ CMC creatures, it will increase your AVG CMC to "normal". You want your AVG CMC to be around 4. Xenagos works as a sniper, you cast one big creature, give it haste and hope it doesnt eat removal. Given you spent all that mana on the creature, you don't do much else for the turn and then people usually swing at you because they are afraid of you casting another big creature out of nowhere.
As a result, having protection for them is crucial. In the form of heroic intervention, or another card out of budget such as Deflecting swat (which is SO powerful, counter counterspells, redirect targetted removal, targetted draw, targetted extra turns and more FOR FREE, so you can BLUFF INTERACTION). One more idea I'm thinking of is to replace Giant growth with Vines of Vastwood, similar function but provides protection as well. Also see Blossoming Defense for a similar function should removal/interaction is an issue in your meta as much as mine. Given you play against combo, they probably have interaction prior to them assembling their combo.
I got lots of ideas for cuts, so be sure to lmk what you think of each suggestion!
Load more