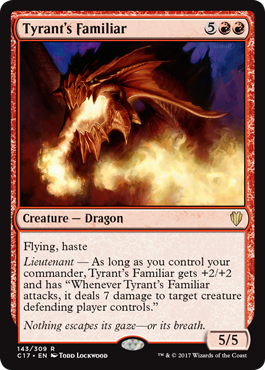 Legality
| | |
| --- | --- |
| Format | Legality |
| Tiny Leaders | Legal |
| 1v1 Commander | Legal |
| Magic Duels | Legal |
| Canadian Highlander | Legal |
| Vintage | Legal |
| Penny Dreadful | Legal |
| Leviathan | Legal |
| Legacy | Legal |
| Duel Commander | Legal |
| Oathbreaker | Legal |
| Casual | Legal |
| Commander / EDH | Legal |
Related Questions
Tyrant's Familiar
Creature — Dragon
Flying, haste
Lieutenant — As long as you control your commander, Tyrant's Familiar gets +2/+2 and has "Whenever Tyrant's Familiar attacks, it deals 7 damage to target creature defending player controls."
Tyrant's Familiar Discussion
3 weeks ago
Team buffs: Agrus Kos, Wojek Veteran , Hero of Bladehold , Angel of Jubilation , Spear of Heliod , Balefire Liege , Hero of Oxid Ridge , Nobilis of War , Ogre Battledriver , Glory of Warfare , Marshal's Anthem .
Singular buffs: Kusari-Gama , Sword of the Animist , Argentum Armor , Sword of Feast and Famine .
Haste & Double Strike: Aurelia, the Warleader , Captain Lannery Storm , Odric, Lunarch Marshal , Hero of Oxid Ridge , Ogre Battledriver , Assemble the Legion , Berserkers' Onslaught , Boros Charm True Conviction .
Double Damage & Extra Attack Phases: Gratuitous Violence , Aurelia, the Warleader , Combat Celebrant , Aggravated Assault .
---
Iroas, God of Victory 's 1st and 2nd abilities, aka Menace ability and suto Dolmen Gate will guide you to victory.
---
+1 Upvote
Like what you see, +1.
don't like what you see ? Check out my other deck Selvala, Explored and Returned with tokens
---
I missed this stuff too: Agrus Kos, Wojek Veteran , Hero of Oxid Ridge , and Hero of Bladehold they all buff my creatures when they attack so giving them extra attack phases to attack again, buffs them again. So its "battle cry x2" from the Hero's, and its +4/+0 form Agrus Kos, Wojek Veteran on the second attack. Angelic Skirmisher also triggers twice. Not only for my extra combat phases, but my opponents as well. you're all going "duhhh" right, but i knew this too. Didn't realize i have been missing these triggers all the time.
As you can see it works when I remove the changes you said you had to do scotchtapedsleeves
1 month ago
Had an interesting 1v1 play-through on this against an Edgar deck. That deck would probably run all over this one 8/10 times.
I had Stormbreath Dragon (not monstrous), Glorybringer and Zirilan of the Claw out. I had Glorybringer up a few turns and had exerted to clear some of the board by pinging and had kept things locked down with AEther Flash . My opponent had just tutored for Austere Command , but couldn't cast it on their turn. They had one creature untapped on their side and they were sitting at 30 life. I was sitting on 6 mana and had Final Fortune in my hand.
I tapped 3 and Zirilan to tutor out Tyrant's Familiar and swung. Tyrant's Familiar dealt with the one blocker and allowed all three to get through for 15 (after Tyrant's Familiar added +2/+2). In my second main phase I use the Final Fortune with my remaining 3 mana. After untapping, I tutor again with Zirilan of the Claw and go get Mana-Charged Dragon . With my remaining three mana I add +2/+0 to the Mana-Charged Dragon and I am able to swing for another 15, taking my appointment out.
This is exactly what this deck is designed to do - tutor for answers and a wincon. I don't think it will work often and it will struggle even more in multiplayer, but in 1v1, it is fun. I need to play test some more.
2 months ago
Dragons should pick from:
Utvara Hellkite , Scourge of Kher Ridges (could be a good wipe for the board, 2x mana for ur, 4 mana to do 4 damage to each creature), Nicol Bolas (wipe someone's hand turn 6? yes, please), Hellkite Overlord (Big damage), Tyrant's Familiar (single creature killer), Scourge of Nel Toth (direct return ability), Ojutai, Soul of Winter (this is a maybe, gives vigilance), Eternal Dragon direct return ability, Dragon Mage Drops your hand into graveyard plus drawing 7 cards..risky af given it help others, Chromium, the Mutable you can actually pay 2 on ur to make him hexproof with this card..could save Ur in time of need, Bladewing the Risen this guy is weird idk if i would put it in because enter the battlefield abilities don't help Ur, Balefire Dragon fuck yes, Atarka, World Render Huge damage. low toughness, Vorosh, the Hunter 6 counters for Ur, Vaevictis Asmadi, the Dire a little risky but seems to be worth it, Teneb, the Harvester yes yes yes, Silumgar, the Drifting Death give ur hexproof, Rith, the Awakener many tokens, Palladia-Mors, the Ruiner hexproof trample vigilance, O-Kagachi, Vengeful Kami potential permanent killer, Numot, the Devastator destroy lands (probably should be left out), Niv-Mizzet, Dracogenius draw a card, Intet, the Dreamer I think he is really good, Hellkite Tyrant could steal you a bunch of artifacts, Dragonlord Silumgar steal a creature a turn if using ur. steal a creature if putting out permanently. good for removing a particular blocker, Crosis, the Purger good against mono decks.
2 months ago
I have also been looking at Hibernation's End . With amount of ramp this deck provides, it can be a good creature fetcher - if it's not destroyed, that is. Cumulative upkeep pretty much allows me to play cards directly from library without paying hybrid costs as early as turn 3.
Looking at curve:
For turn 3 sadly only Reclamation Sage
Champion of Rhonas / Shaman of the Great Hunt / Yeva, Nature's Herald / Rashmi, Eternities Crafter / Sunder Shaman / Frilled Mystic / Mystic Snake
Outland Colossus / Wolfir Silverheart / Seedborn Muse or, unfortunately, Teferi, Mage of Zhalfir
Vigor / Intet, the Dreamer / Savage Ventmaw / Hellkite Charger / Flameblast Dragon / Deadeye Navigator
Theoretically, if I cast Hibernation's End , I can keep up with cumulative upkeep and land both counterspelly dudes and a stick for them.
But as I said - it's very vulnerable.
3 months ago
@Osbert Thank You very much for Your deep study on my deck. Here are my anwsers:
I've been using Crystal Shard, Erratic Portal some time ago and I wasn't happy with that. Just imagine that You cascade in one of these instead of some big nasty creature - impact on the board is too small. I don't need cut cost of casting Commander thanks to many ramp cards, also if Maelstrom Wanderer is still on the board then it's time to cast creatures from hand, they will have haste so impact is good enough (in other circumstances creature cards left at hand would be dead cards because most of time You cast Commander only).
About making top deck stronger there are two things that prevent me from putting cards You listed (well, there is third reason - I don't have most of these:) ). First is that I really like randomness of cascades (it's still limited by card selection). Second is just the same like with bouncing cards - cascading into them will make one cast of commander weaker. Still there is Sensei's Divining Top for top decking, which is also a lifesaver when You need next land drop and I won't cut it out.
I run Lurking Predators only - because that card doesn't need mana to activate (most of times Commander eat almost all of mana) and it's working just fine without any help. Sometimes it's better to leave land on top deck (if more mana is needed for next cast from command zone), sometimes You are already overextended and expect wrath effect spell from others.
Well Oath of Druids is tempting because it could make early game more than just ramping. Still these creatures won't have haste (and my ETB effects won't change much) and opponents can also use Oath's effect to put creatures from their decks making more blockers, ramp or even combo. I need to see that card in action because now I can't predict if it will make advantage or disadvantage.
There isn't too much standard spot removal besides of Beast Within (already is in deck) and Pongify which is very cheap (only one blue mana). Also there are some kind of removals: Inferno Titan, Phyrexian Ingester, Terastodon, Tyrant's Familiar, Primal Command, Warstorm Surge (plus creatures entering board). If that's not enough AOE cards will try to compensate. I will keep in mind Krosan Grip and Reality Shift (didn't know second card, it's really nice when facing indestructible creatures)). But Wave of Vitriol can hit me also and probably will wait long on hand. Song of the Dryads still can be removed and threat would return.
From these Mystic Confluence and Cryptic Command most valuable are abilities that make Commander and creatures more evasive (this deck doesn't need more card draw) and of course occasional counterspelling. But, so far, evasion from creatures, lands and some spot or AOE removals were just enough to deal damage (especially overloaded Cyclonic Rift).
Already got Mystical Tutor in this deck. And yes - it's great. It can go for Tooth and Nail or Cyclonic Rift, even when facing mana screw I sometimes use it for ramp spell. Worldly Tutor could make more control over deck (or top decking) but still I prefer to cast Commander than casting single creature and like that randomness.
About strange cards in my deck: Burnished Hart well I could change it for something better - can You give me some ideas (especially cards that put 2 lands)? Ixidron - You don't have to cast card that fit cascade requirements (they can go to the bottom of library) so it won't hurt controlled creatures, also Commander comes into play AFTER cascades resolve (he is on the stack until then) so it will never hurt him. This card can hit very hard other commanders as they won't go to command zone. It's weakness is that it won't affect tokens but I take that risk. Curse of the Swine has exile effect (which is quite rare in RUG) and it can be single or multi target I keep it for that versality (even if it does not have synergy with Commander). Knowledge Exploitation is for 7 mana so it can be cascaded for free, also I have enough mana to cast it from hand. Best case scenario is when it hits with first cascade, then You can go for some funny card from opponent deck (some kind of wrath effect) and then cast creature from second cascade - it will result in clear board and then Maelstrom Wanderer and that other creature will come.
4 months ago
Always nice to see another Kaalia deck as she was my first (shameless plug: Still Better than Dan Brown...). Firstly, is that "sideboard" in fact meant to be your wants list? If so, just make your acquireboard public to avoid any confusion! Anyway I'd recommend losing Ancient Hellkite, Mana-Charged Dragon and Victory's Herald. Consider Angelic Field Marshal/Demon of Wailing Agonies/Tyrant's Familiar as you'll usually be getting them out with Kaalia. Speaking of, if you want to stop her getting munched take a look at Dust Corona and Reconnaissance, either of which might be better than Angelic Chorus or Exquisite Blood - good cards, but 5cmc is the spot where you can start thinking about hard-casting creatures and you don't really seem to have any synergistic plays with gaining life (perhaps introduce Krav, the Unredeemed/Regna, the Redeemer combo?). If you can upgrade your package to include Anguished Unmaking and Vindicate over cards like Wrecking Ball then do: unconditional removal is never a dead draw. Finally, Helm of the Host is epic with Kaalia.
Ps, I see you run Armageddon. Depending on who you play with, I would recommend either going all-in on the land destruction by getting more mana rocks and other spells like Cataclysm or dropping it entirely. It can make you very unpopular...
4 months ago
Super would recommend Utvara Hellkite, it was reprinted and is super op!
Lathliss, Dragon Queen also is a new dragon that is very synergistic with dragons, Atarka, World Render gives the team double strike, Bladewing the Risen reanimates them and lets you pump all of them if you put in mana, Kolaghan, the Storm's Fury gives you all of them a ton of damage, Savage Ventmaw lets you get out more dragons too!
Scourge of Valkas is a great dragon if you can cast it for triple red, giving you removal and damage for days! Broodmate Dragon is fine, Steel Hellkite is good removal, Thunderbreak Regent is a nice addition too! Hoard-Smelter Dragon, Bogardan Hellkite, Deathbringer Regent, and Tyrant's Familiar are also good removal in dragon form.
Prossh, Skyraider of Kher gives you a field for blockage, Dragon Mage draws you more dragons, and Scourge of Kher Ridges is a board wipe on repeat too.
Consider Fierce Empath, Crux of Fate, Dragon's Hoard, and Dragon Tempest too!
5 months ago
I would consider more little dudes to get you to bigger and better hydras sooner. Especially ones with solid ETB and don't mind if they die attacking for more mana. Wood Elves gets you a land AND mana later, better than Beneath the Sands. Fierce Empath,Elvish Visionary
Thunderfoot Baloth instead of Tyrant's Familiar
Also worried most of your bolster effects are going to be going on to creatures that don't benefit from the counters. Radha/Feldon/Llanowar
Load more
Tyrant's Familiar occurrence in decks from the last year
Commander / EDH:
All decks: 0.02%
Red: 0.15%