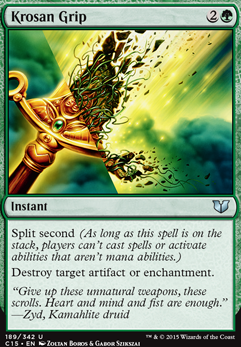 Legality
| | |
| --- | --- |
| Format | Legality |
| Modern | Legal |
| Legacy | Legal |
| Vintage | Legal |
| Commander / EDH | Legal |
| Duel Commander | Legal |
| Tiny Leaders | Legal |
Krosan Grip
Instant
Split second (As long as this spell is on the stack, players can't cast spells or activate abilities that aren't mana abilities.)
Destroy target artifact or enchantment.
Krosan Grip Discussion
1 day ago
Alright! I gave the deck a quick look and it looks relatively good overall. I understand you are not in a very competitive meta (or at least, not a very cutthroat one at that) and that budget is a concern albeit not a very crazy one.
I see enough card draw and cards that replace themselves. I also liked that you built the deck accordingly, avoiding enchantment and artifact inclusions to fit the theme of blowing all of them up.
With that said we reach the greatest flaw in the deck. Without any strong, early ramp and so many high costed cards doing what you want, your deck is left slow and clunky and will often durdle and fold to early advantage gained by other people through the same things you hate. Breaking a Sylvan Library on turn 5 means that opponent already has gained all the value in the world out of it and probably doesn't care too much that it's being destroyed.
A second point I want to make is that although you do have a lot of big mana plays, a LOT of them are inefficient considering the resource investment into them (mana cost Vs effect + P/T). Here's a list of which ones I didn't like too much and the reasoning behind it:
And here are my suggestions for you, including some notable omissions. Some have already been mentioned by others.
I would choose a number of these as replacements prefering their versatility, efficiency and power.
Those are my thoughts. :)
ps: since tappedout doesn't let me mark my most suggestions through the checkboxes for some reason, i'll put an exclamation mark next to them...
1 week ago
Ouais tu pars sur un gros Bant Good stuff. Par contre je suis etonne de certaines cartes (Batterskullet des trucs genre Flooded Grove) vu leur prix :D maintenant si t'es chaud de mettre 1000 boules c'est tout a ton honneur!
Je sais pas si tu preferes garder juste des bonnes cartes UWG ou partir en Tribal Human/Knight ou encore pousser plus le theme exalte? Tribal + exalte ne sont pas incompatibles non plus ;)
Peut etre qq enchantments/artefacts hate en plus? Genre Beast Within ou Krosan Grip?
Et... Path to Exile? :)
1 week ago
@Ragglesnatch So far I haven't had a too much trouble taking care of graveyard hate. I feel that I have tuned the deck well against most generalized threats. Sure, a Bojuka Bog can be annoying but I can recover with alternate win cons and if that game has gone on long enough to where I cannot than that's most likely due to poor piloting on my part. Did you have a critique you wanted to offer with your comment?
Krosan Grip is slow and clunky compared to Nature's Claim so it's rarely seen when I play. An opponent could target Pattern of Rebirth but I wouldn't be playing it without an infinite sac engine already out so I would be able to sac the creature in response to start my combo anyway. Other options I see are Altar of Dementia which isn't my primary infinite sac to grab or mana rocks but 2G is a hefty price to play for a mana rock.
1 week ago
I had Uril for a bit so I'm familiar with the theme. Here are some suggestions:
Card Draw: Kor Spiritdancer, Enchantress's Presence
Ramp: Sol Ring, Nature's Lore, Trace of Abundance, Lotus Cobra, Herald of the Pantheon, Courser of Kruphix, Birds of Paradise
Tutoring: Academy Rector, Idyllic Tutor, Open the Armory, Recruiter of the Guard, Sterling Grove
Protection: Mother of Runes, Flickerform, Shield of the Oversoul, Sigarda, Host of Herons
Increase your threat: Ancestral Mask, Armadillo Cloak, Angelic Destiny, Daybreak Coronet, Doubling Season
Removal: Vindicate, Anguished Unmaking, Krosan Grip, Song of the Dryads, Toxic Deluge
Hate: Rest in Peace
One of the biggest issues that I found was dodging something like Merciless Eviction. Flickerform is really the only thing that does it. One other option is having Greater Good so at least you will benefit before your stuff dies.
The dream: Serra's Sanctum and Gaea's Cradle, both of which would be nuts in this deck.
A strange card that I found to do good in Uril was Mark of Fury. It gives you the haste you want and lets you replay it each turn to net a card if you have something like Argothian Enchantress in play.
--Matthew
1 week ago
Some other good cards to consider:
Zendikar Resurgent Double mana + draw power from creatures win-win
Forgotten Ancient is a non-trample managorger that can give Ezuri counters since he cant give counters to himself.
Plaxcaster Frogling Although it doesn't trigger Ezuri it can graft and give shroud to your creatures for only 2
Tuskguard Captain is a Primal Rage that triggers Ezuri
Spawnwrithe is a trample-ing ezrui trigger that replicates itself. first you get two, then you have four, eight and so on. If its not hated out it can very easily continue to double itself. And each time it doubles, it triggers Ezuri.
Bane of Progress is a artifact/enchantment board wipe. It is a 2/2 but im not sure if it comes in with the +1 counters from the destroyed artifacts and enchants.
Krosan Grip is a must have removal, it's honestly better than nature's claim due to its split second. although it does cost 2 more mana
Verdant Confluence is a jack of all trades that does it quite well. Want ramp? here's three lands. Want counters? here's six counters. want your graveyard back? Heres three cards. Plus you can combo it with Skullwinder and Eternal Witness.
Try to avoid basically all 3 and higher toughness creatures unless they can add more counters to ezuri. Loaming Shaman is honestly not good enough to be put in.
There's also a new card in aether revolt that does what Triskelion does but its cheaper and better. You might want to wait for it to cycle out of standard before buying it because its at or around 15 dollars right now. Walking Ballista. Plus it can trigger Ezuri, unlike Triskelion
Mwonvuli Beast Tracker is a worldly tutor that triggers ezuri. You will most likely use it for Kalonian Hydra, but there are many other trample creatures you could add(some of which I mentioned above). You could also put in Hornet Queen which can also be searched for. Managorger Hydra, Invisible Stalker and Acidic Slime are all good options. Plus they all do what is the most important, Trigger Ezuri.
Load more