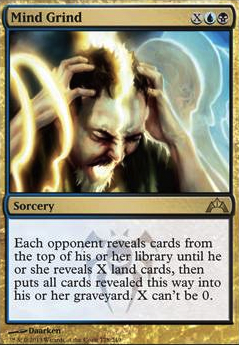 Mind Grind
Sorcery
Each opponent reveals cards from the top of his or her library until he or she reveals X land cards, then puts all cards revealed in this way into his or her graveyard. X can't be 0.
Have (15)

D

r

a

g

o

L

i

o

n

,

S

p

i

n

a

l

r

i

p

p

e

r

,

M

a

l

i

c

e

_

l

e

c

h

e

, B1ITZ3D , Josh50 , Dr_Plops , Khadord , LabRattKing ,

s

l

e

m

u

l

v

,

p

s

k

i

n

n

0

1

, FinchFalcon , djsniperwolf ,

U

n

f

o

r

g

i

v

n

_

I

I

, theHopp , metljoe
Want (0)
Mind Grind Discussion
5 days ago
OK, same advice as the azorius deck:
Play playsets. Really, really helps have a consistent deck. For example a chap dimir mill deck:
4 Sphinx's Tutelage, 4 Broken Ambitions, 4 Hedron Crab, 4 Thought Scour, 4 Jace's Erasure, 4 Ultimate Price, 4 Tribute to Hunger, 4 Agony Warp, 2 Visions of Beyond, 2 Mind Grind, 24 lands.
Simple and effective. The only cards above 2 bucks are hedron crab and visions of beyond, at around 3.5 bucks.
1 week ago
So then why no run Lord of Extinction and Mind Grind as well? If you want big creatures then you're better off capitalising on the effect and overall Mind Grind is the better mill choice. It doesn't put all your eggs in one basket.
2 weeks ago
ComradeJim270 The Whip of Erebos was more for lifegain so that I could last longer until I finished milling my opponent, but you are right and I will take them out. I like Traumatize and you make a good point about Mind Grind. I don't like increase the cmc of my deck at all, but I'll swap those two and see how it works out. Also, I have no problem with creating sideboards. This deck is still under construction so I have not put any time into the sideboard yet. When I finish the mainboard i'll look into the sideboard.
NoviceMagician thank you and i'll see about asking Famous.
SirFowler I'll see about Archive Trap + Ghost Quarter . The only reason i'm not crazy about it is that on their own they are not nearly as good but i'll have to playtest them and see. I'll stick them in the maybeboard right now.
2 weeks ago
Hm, I'm not sure what Whip of Erebos is for here. Aside from your Snapcasters it doesn't really interact with much of your deck.
I'd consider swapping out one or more of your

mill spells for Traumatize. Mind Grind could potentially make an impact earlier but that's heavily reliant on luck.
Official competitive sideboards need to be exactly 15 cards. Is that something you'd like help with, or is this just for "kitchen table" modern against friends' modern decks?
| | |
| --- | --- |
| Color(s) | Black Blue |
| Cost | XUB |
| Converted cost | 2 |
Legality
| | |
| --- | --- |
| Format | Legality |
| Legacy | Legal |
| Vintage | Legal |
| Commander / EDH | Legal |
| Modern | Legal |
| Duel Commander | Legal |
Related Questions