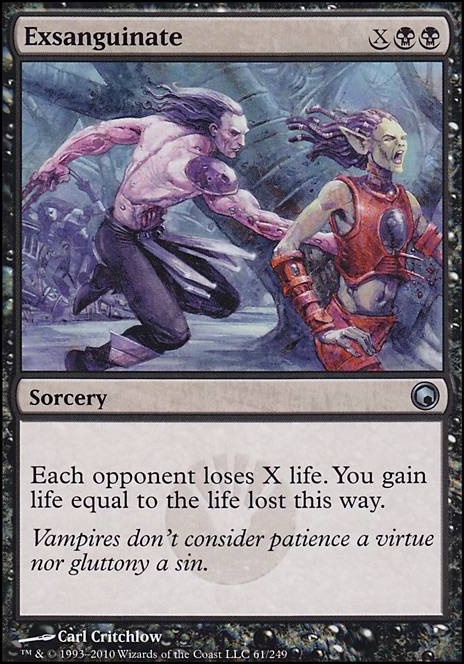 Legality
| | |
| --- | --- |
| Format | Legality |
| Modern | Legal |
| Legacy | Legal |
| Vintage | Legal |
| Commander / EDH | Legal |
| Duel Commander | Legal |
| Tiny Leaders | Legal |
Related Questions
Exsanguinate
Sorcery
Each opponent loses X life. You gain life equal to the life lost this way.
Exsanguinate Discussion
1 day ago
Rath's Edge is the primary wincon as it basically allows you to run the minimal amount of dead cards (cards that are dedicated to the combo and don't help much in any other way, making them essentially dead draws unless you're going off).
While cards like Exsanguinate, Gemstone Array and Bloodrite Invoker (as well as Ebony Charm/Geth's Verdict) do help with making the combo simpler, none of those cards really help you out in other situations. In the case that you draw Edge in the early/midgame, you can still use it as a land drop or abuse it for countless other land shenanigans that Gitrog makes possible (discarding it to any discard outlet to draw a card when Gitrog is out, increasing the amount of targets for Life from the Loam etc.).
4 days ago
I politely disagree with Megalomania, Villainous Wealth and Genesis Wave are fine win cons with infinite mana. Exsanguinate is definately the correct win con but putting almost your entire deck into play and playing with your opponents deck. Has to be one of the funnest things to do.
it doesn't quite fit in here but one of my favorite combos is Omniscience and Enter the Infinite. Add Laboratory Maniac and a spell that draws more than 1 card for even more sweetness!
Best of luck with the deck!
1 week ago
I take it your question is more about the deck building process and less about which commander to build?
The way I do it is look for a card that inspires/challenges me. This doesn't have to be the commander. My first deck was based around the ability of King Macar, the Gold-Cursed, while my latest work-in-process is based around the interactions of Dovescape.
Anyway, after finding my source of inspiration, I try to identify key interactions/themes to make it work. E.g. my king Macar was openly looking for untap triggers and after delving into those cards I realized I had to generate tons of mana which led me naturally to cards like Exsanguinate. In contrast, my Dovescape deck would love the assymetrical effect of Elesh Norn, Grand Cenobite, a permament heavy theme as well as uncounterable effects, in addition to heavy tutoring. These things give you a clear idea of which colours you want to be running.
Only after I figure out what the deck wants to do, do I start selecting cards. I always start with the most boring part of deckbuilding in EDH: Finding the available ramp and card-draw in my selected colours. After getting approximately 8-10 pieces of each I add a figure of 36 lands as "locked" slots. This leaves you with approximately 46 cards that will be your actual deck! :p
At this point I flesh out the key interactions I had seen before keeping in mind the hypergeometric distribution for the probability of drawing what i want when I need it (That 8-10 is not random at all: It's for getting at least 1 of those effects more than 50% of the time in the first couple of turns). Then I add removal pertaining to my current meta and a few win conditions, figure out the land base and voila: I have a deck!... sort of...
After this, I proxy the whole thing play with it with my friends, see if I like it, and if I do, I will then build it for real, making changes from an extensive maybeboard as required.
I make card choices based both on power and for self expression: I run Damnation and Muck Drubb in the same deck. One is a black staple powerhouse, the other is the saddest and cutest creature ever printed :p
1 week ago
Why do you such a complicated multicard wincon pinging people with Rath's Edge over and over. Why not just have something like Bloodrite Invoker or Exsanguinate which dont require green, and can be completed with just skirege, also a much easier way to turn infinte black into green mana is Gemstone Array
1 week ago
yeah, i like all of your decks lol. it seems we have a similar play style. im loving my mono black devotion deck, its been winning large 6-7 person ffa's. last one i Exsanguinate for 50 mana and won. one before that i did gary twice in a row and gained 60ish life. only person left standing conceded when he was facing my large life total and wide board of scary things.
Load more