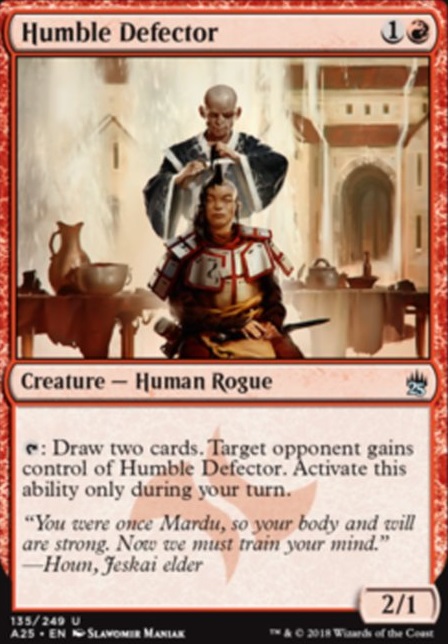 Humble Defector
Creature — Human Rogue
: Draw two cards. Target opponent gains control of Humble Defector. Activate this ability only during your turn.
Browse Alters
View at Gatherer
Trade
Legality
| | |
| --- | --- |
| Format | Legality |
| Tiny Leaders | Legal |
| 1v1 Commander | Legal |
| Magic Duels | Legal |
| Canadian Highlander | Legal |
| Vintage | Legal |
| Modern | Legal |
| 2019-10-04 | Legal |
| Block Constructed | Legal |
| Pioneer | Legal |
| Leviathan | Legal |
| Legacy | Legal |
| Frontier | Legal |
| Duel Commander | Legal |
| Oathbreaker | Legal |
| Unformat | Legal |
| Casual | Legal |
| Commander / EDH | Legal |
Humble Defector occurrence in decks from the last year
Commander / EDH:
All decks: 0.01%
Red: 0.13%
Humble Defector Discussion
3 days ago
These are all suggestions that will help make your deck function better as you can replace underperforming cards with ramp and card draw, both of which red desperately needs. Your land count is a little low given your avg cmc and your lack of ramp. I can imagine you have a hard time casting your higher cmc cards quite often
1 week ago
Bolt Bend - Counters counterspells, redirects some extra turns, some draw, some removal. Overall versatile card which will shine in this build
Mind Stone - Ramp and draw, definitely what red needs.
How does Sundial work with Ilhrag, do the creatures just stay on the battlefield?
Wheel of Fortune, Magus of the Wheel, Mind's Eye, Memory Jar (maybe), Arch of Orazca, Commune with Lava, Endless Atlas, Humble Defector, Ignite the Future, Light Up the Stage, Tome of Legends, Skullclamp, Solemn Simulacrum are all good options for draw. You NEED card draw in red badly.
Chandra, Torch of Defiance - Ramp, card draw, win con all in one.
Where is your enchantment removal? Blast Zone, OG Ugin + Ineffable, Karn Liberated, Oblivion Stone, nev disk, Lux Cannon, Ratchet Bomb and a couple of others can be good enchantment removal.
What do you feel your decks weaknesses are? How has it been playing for you?
2 weeks ago
Wow this is something. Thoughts on these? Panharmonicon, Conjurer's Closet, Lifeline, Fiendish Duo

, Mana Geyser, Mana Echoes, Humble Defector (in case an opp has no dudes), Twinflame, Anarchist, Bag of Holding, Hazoret's Monument, Mindmoil, Alhammarret's Archive, Knollspine Dragon, Diamond Mare, Impact Tremors
4 weeks ago
Hi there! Welcome to the Legion!
Since you are new I must tell you about some very basic deckbuilding fundamentals.
Short Story:
Long Story: Command Zone episode on deckbuilding templates
So let's talk about draw and ramp, the two most important and fundamental aspects of the game. Every deck needs them. and Boros is not particularly good at it. That said, we've got some solid options. Ramp first. I like to focus on 2cmc because it has the best $ to usefulness ratio. I can't comment on all of them, pick according to your budget.
Draw: You need to draw into the spells you want to play. Here's how. Again pick based on budget.
Over deck thoughts:
You want dragons and knights. Start cutting all else.
Dump Sunforger. It's a distraction.
That's all for now. Let me know if you have any questions.
1 month ago
made a few tweeks... Humble Defector seems like it could be some pretty nasty card draw. also added Serendib Sorcerer havent tested it out but it seems like a decent way to steel a big creature. Fabricate added as well
Load more