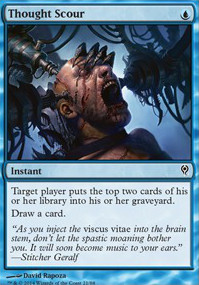 Thought Scour
Instant
Target player puts the top two cards of his or her library into his or her graveyard.
Draw a card.
Thought Scour Discussion
16 hours ago
@Countertop: T1 Fetch, eot get a tapped blue shockland, T2, play a black land, Thought Scour yourself. Also, there's been a lot of situations where I've had 15+ cards in my yard. It actually clears up cards for Tasigoyf's activated ability.
As for the Shatterstorm, might as well get one. Vandalblast was cheaper.
4 days ago
Hero's Downfall needs to go away. 3-mana removal is too slow for Modern. Play Dismember, Go for the Throat, Victim of Night or even Dreadbore instead.
Surgical Extraction is nearly useless when you don't have any ways to force discard / mill your opponent out. Run some targeted discard spells like Thoughtseize or Inquisition of Kozilek, splash blue for Thought Scour or just take out Surgical Extraction to make room for something else. (And speaking of discard, Blightning begs to be played in a deck like yours)
Some way to give Alesha hate is important - the opponent won't simply leave her be until she can attack next turn. Heck, if you want to go all in with this strategy, play Mass Hysteria. It's crazy, it's suicidal against aggro, but it works.
Simian Spirit Guide and Heartless Summoning could help you get Alesha on the board on turn 2 rather than 3. The Guides are a must have for any red combo deck, and HS doesn't kill any of your creatures (and their power is kinda irrelevant, so who cares about the -1/-1 effect?).
4 days ago
Why Languish over Damnation in the sideboard?
Also, how has 22 Lands been working for you with cards like Cryptic Command and mostly just Serum Visions and Thought Scour as forms of card draw?
I like the deck, by the way. Just asking how it has been performing for you before suggesting anything.
5 days ago
What would you recommend taking out for the extra 2 Thought Scour?
5 days ago
U/R storm is a vary popular deck, which is why a fair number of competitive decks run Leyline of Sanctity, which destroys storm. Your deck (like most storm decks) is of course very good, its just you lack an answer to your main problem. You have Blood Moon in the sideboard, but it won't be enough. I also kinda agree with you in that Lightning Bolt should be in the mainboard - for 1 mana it deals 3 damage (how much more could you ask for), but on the other end I think having 4 Thought Scour in storm can be very powerful, as it provides fuel for Pyromancer Ascension, for so long as you target yourself. All in all, a great deck, but it could use some improvement.
| | |
| --- | --- |
| Color(s) | Blue |
| Cost | U |
| Converted cost | 1 |
| Avg. draft pick | 7.82 |
| Avg. cube pick | 11.76 |
Legality
| | |
| --- | --- |
| Format | Legality |
| Legacy | Legal |
| Vintage | Legal |
| Commander / EDH | Legal |
| Modern | Legal |
| Duel Commander | Legal |
| Pauper | Legal |