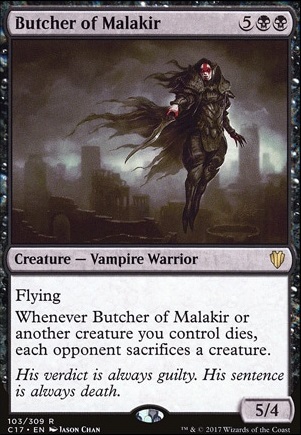 Butcher of Malakir
Creature — Vampire Warrior
Flying
Whenever Butcher of Malakir or another creature you control dies, each opponent sacrifices a creature.
Browse Alters
View at Gatherer
Trade
Have (5)
Mortiferus_Rosa ,

s

o

n

n

e

t

6

6

6

,

I

c

y

L

i

g

h

t

n

i

n

g

,

o

r

z

h

o

v

_

i

s

_

r

e

l

a

t

i

v

e

l

y

_

o

k

a

y

8

1

9

,

m

e

t

a

l

m

a

g

i

c

Want (9)
RedRenegade , KimmyBoy , Ooiyyy , spaceyjdjames , ZeroEntropy , Sentlit , keltuzade , UnitedWeStand , Oliviridian
Legality
| | |
| --- | --- |
| Format | Legality |
| Tiny Leaders | Legal |
| Noble | Legal |
| Leviathan | Legal |
| Magic Duels | Legal |
| Canadian Highlander | Legal |
| Vintage | Legal |
| Modern | Legal |
| Vanguard | Legal |
| Legacy | Legal |
| Archenemy | Legal |
| Planechase | Legal |
| 1v1 Commander | Legal |
| Duel Commander | Legal |
| Oathbreaker | Legal |
| Unformat | Legal |
| Casual | Legal |
| Commander / EDH | Legal |
Butcher of Malakir occurrence in decks from the last year
Commander / EDH:
All decks: 0.07%
Black: 0.51%
Golgari: 0.44%
Rakdos: 0.23%
WB (Orzhov): 0.55%
Butcher of Malakir Discussion
3 days ago
My suggestions using only cards in your maybeboard.
If Ob Nixilis Reignited's only purpose is card draw, out for Guardian Project
That's 1 more out than in so you should be down to 99.
Ugrades using cards not in maybeboard.
4 days ago
Thanks KibaAlpha as always.
Pitiless Plunderer I am going to keep for now, I feel it is an extremely powerful value engine in this deck that can power up a Reassembling Skeleton, for example, with multiple recursions without going infinite.
I agree with you on Revel in Riches but I like the idea of having an alternate wincon in the deck in case someone goes out of control with lifegain or something similar.
Butcher of Malakir I almost cut last round of edits but decided to leave him in since my local meta is really creature heavy right now, he will get cut when I see it shifting.
Also agree with Sadistic Hypnotist, he will draw alot of hate and is one of my worst sac outlets being at sorcery speed only. I'm hoping to trigger his ability a few times before taking him out of deck.
Only point I disagree with is the Deathgreeter vs Solemn Simulacrum recommendation. I don't see the value of Deathgreeter, there are already at least 6 other cards that trigger lifegain on death (aristocrats), and Solemn Simulacrum provides so much value, especially with Teysa Karlov on the board. Recur him with Mimic Vat or Nim Deathmantle for aggressive ramping.
1 month ago
Ok, now I'm off my phone and on my computer, and this goes a bit easier. There are a lot of budget cards that are solid for Meren. Caustic Caterpillar and Viridian Zealot are great self-sacrificing utility. Spore Frog can really lock down a table. Cards like Fleshbag Marauder , Plaguecrafter , and Shriekmaw are all good removal spells that help put counters on Meren. Butcher of Malakir is budget Grave Pact you can run.
Budget card draw: Grim Haruspex , Fecundity , Moldervine Reclamation , Izoni, Thousand-Eyed , Vampiric Rites , and Viscera Seer for scrying.
I failed to mention Sakura-Tribe Elder and Yavimaya Elder are also good ramp/land tutor cards that synergize well with Meren.
Buried Alive , Final Parting , and Jarad's Orders are all fantastic budget tutors that work great with graveyard strategies.
Now, that all said, I'm not sure how exactly you want to win with the deck, but Aristocrats tend to be budget, and you can run several of them to bleed the table dry that way doing what Meren wants to do; have critters die. Blood Artist , Zulaport Cutthroat , Poison-Tip Archer , Syr Konrad, the Grim , Jarad, Golgari Lich Lord are all good budget options for this strategy. But there are other directions you could go; it's up to you. What do you want your deck to do?
I hope this has helped out a little more.
1 month ago
for a Aggro deck, this deck seems to have a very high cmc average. personally I would load it up with 1 drops and 2 drops and keep a few bombs (read: lords) in the deck that pump your vampire army. my edgar deck, found here: Edgar Markov, Lord of Clan Markov is 2.49 cmc average, which is very low. I do like your inclution of Athreos however is brilliant, I think I'll add him to mine as well, since he's only 3 cmc. Legion Lieutenant is a cheap and great vampire lord to include. creatures I suggest removing: Vampire Nocturnus 3 black mana is very demanding for a 3 color deck, especialy if it only buffs your creatures some of the time. Olivia Voldaren this creature is a magnet for removal and costs a lot of mana investment to be worth it. Captivating Vampire is just better and cheaper. Butcher of Malakir and Anowan, the Ruin Sage are very good if not dealkth with, but like Olivia, they are very frowned upon and you will be targeted hard when you play them, which is why I opt not to do it. instead I play small creatures then just create a huge army very quickly. you will also want a way to givve your creatures haste, like Hammer of Purphoros and Anger . if you don't have a way to put it into the graveyard just keep attacking with it until they are forced to kill it. Coat of Arms is very bad. if any of your opponents are playing trial, it buffs their creatures too, instead consider things like Shared Animosity and for protection and evasion, consider adding Eldrazi Monument which makes all your creatures indestructible and gain flying. if you really want planes walkers, I would add Sorin Markov instead of the sorin you have now for his -3 ability. when you cast him, -3 him right away putting your most dangerous opponent to 10 life right away. it also gives them another target besides you to focus on, if they don't deal with him, you +2 him again on your next turn and then the turn after that someone else is on 10 life. I hope this helps a bit or gives you some suggestions. have a look at my deck linked above if you like. I will be adding some of your things to my deck now, like Athreos.
1 month ago
Just a couple of cents from a stranger.
Load more