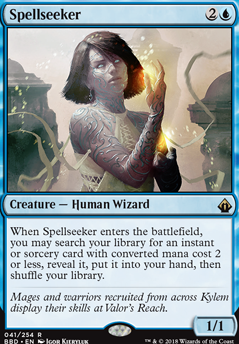 Spellseeker
Creature — Human Wizard
When Spellseeker enters the battlefield, you may search your library for an instant or sorcery card with converted mana cost 2 or less, reveal it, put it in your hand, then shuffle your library.
Browse Alters
View at Gatherer
Trade
Legality
| | |
| --- | --- |
| Format | Legality |
| Tiny Leaders | Legal |
| 1v1 Commander | Legal |
| Magic Duels | Legal |
| Canadian Highlander | Legal |
| Vintage | Legal |
| Highlander | Legal |
| 2019-10-04 | Legal |
| Leviathan | Legal |
| Legacy | Legal |
| Duel Commander | Legal |
| Oathbreaker | Legal |
| Casual | Legal |
| Commander / EDH | Legal |
Spellseeker occurrence in decks from the last year
Latest Decks as Commander
Spellseeker Discussion
1 week ago
Well, you're probably going to need to trim down some cards but it looks like you have the majority of cedh cards here. A Spellseeker line might be a nice inclusion. I've seen a few people on Thassa's Oracle + Paradigm Shift.
2 weeks ago
It's a good start. I've played against many Urza decks. I'd recommend every infinite mana combo you can muster: Rings of Brighthearth + Basalt Monolith (you have this), Power Artifact + Grim Monolith, Deadeye Navigator + Peregrine Drake, Palinchron + High Tide, Isochron Scepter + Dramatic Reversal (you have this). You will want tutors for these pieces: Tribute Mage, Trophy Mage, Reshape (you have this), Whir of Invention, Transmute Artifact, Inventors' Fair, Spellseeker, Mystical Tutor, Merchant Scroll. You can literally just run every combo piece available in mono blue and then bark up whatever tree is closest. Win cons include Nexus of Fate

(take all the turns), Thassa's Oracle, Laboratory Maniac, and of course decking your opponents with Blue Sun's Zenith and Stroke of Genius. It's actually quite beautiful in its simplicity. Just remember that playing Urza isn't about having fun or being creative—-it's about winning!
2 weeks ago
Updated list finally, but still a work in progress.
+Tamiyo, Collector of Tales, Shark Typhoon, Spellseeker, Tale's End, Fierce Guardianship, Return to Nature, Arcane Signet, Uro, Titan of Nature's Wrath, and Mystic Sanctuary
-Exploration, Mystic Remora, Back to Basics, Teferi, Mage of Zhalfir, Unwind, Thought Vessel, Seal of Primordium, Walk the Aeons, matched the fetches to the ones I actually physically have in the deck.
Playing less turns spells as they were too large of commitments and brick draws early on and the addition of sharknado means I have another viable and versatile wincon.
3 weeks ago
I second multimedia, this deck would benefit from fewer creatures and more instants (since that's what your commander's ability is based around).
That said, some creatures I would suggest for a spellslinger theme (other than those already suggested) Goblin Electromancer, Baral, Chief of Compliance, Electrostatic Field, Spellseeker, Curious Homunculus  Flip, Guttersnipe, Sprite Dragon, or even Wavebreak Hippocamp.
There are so many good/cheap instants you can consider to fuel this thing too.
3 weeks ago
Played the deck for reals today. I Crop Rotationed out Lotus Field early ish but it + Utopia Sprawl put awkward limits on my Mana. Sol Ring was pretty bad, since my playgroup treats it as tap for 1 & I needed colors.
Evacuation rebuying Spellseeker into Reset and a lot of big expensive instants was great. The big Finale of Devastation into Earthshaker Giant

didn't quite get there (killed one player) but still won.
I think Sol Ring will be coming out & maybe some flashback spells going in to help recover from an empty hand.
4 weeks ago
Hey, I love the discussion, but don't want to clutter @StopShot's page. I am someone who pioneered multiple of those Netdecks, which sort of makes the cEDH variants on the old Captain Sisay (I made the Seton, Krosan Protector/Mox Amber setup into my own version of a Bow of Nylea finish in the Paradox Engine lists, pre-ban) decks, as well as the Aminatou/Tezzeret line, the more popular current Yisan and multiple semi-popular new Sisay, Weatherlight Captain lines.
When it comes down to it, many people in the cEDH community work to optimize the lists other people (myself included) pioneer. Someone makes the shell, the combos, the innovations, the others metagame it, tune it for optimization, and though people take my combos, my innovations, I love what they do with them.
I've optimized lists too, Control Zur, various Consult piles, etc. I understand I am better at innovation. Assuming people that takes popular combos are net deckers is often incorrect, the cEDH community is small, and everyone I've ever seen or heard of has been tuning decks to their metagame. I don't know who you've met who honestly just netdecks, but many of my friends are amazing deckbuilders and players. Not to mention even if they 1 for 1 buy a deck whole, they can still innovate in playing.
@dingusdingo isn't someone I know particularly well. They have always been helpful, and after checking through their decklists, I found they (No idea if it was by coincidence, or they read my primer, or someone who was inspired by it) to show off my Prime Speaker Vannifar line, featuring Spellseeker -> Vitalize into Archaeomancer -> Disciple of the Ring in the description of his list, and Chakram Retriever as his (assumedly) go-to 5 drop untapper.
Both 5 drop lines were originally my (only, I worked with a group to make a working line for PSV in the hours following it being spoiled) innovations (Tidewater Minion was the original it was summoning sick however) on the cEDH list. Despite this, he innovated on top of it. I had seen the Ezuri pile brought up by @Soren841 (not sure if he pioneered it or was the one to find it fit in the shell) but the lines to get there weren't the exact same as any other lists.
This, alongside the goal of redundancy in untapping left the list still powerful, but simply more in the combo than the interactivity of the list. Testing this idea is the birthplace of innovation, no one I've seen goes into cEDH copying checklists, they are inspired by other pioneers and support the format. The best decks in the format and the best combos aren't all stolen, someone made them, they were improved time and time again, and many are being improved as we speak. Assuming that you know immediately how to beat them and assuming your opponents are too stupid to beat you is a fallacy, and the people you have gone against are either extremely bad cEDH players or people that don't understand the community and leech on it. I love this niche community. I don't respect your distaste for it, but feel that you've only met some bad cookies.
Load more