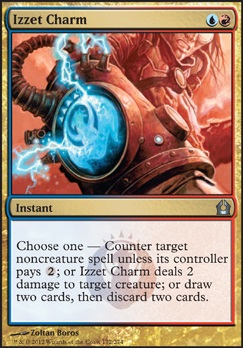 Izzet Charm
Instant
Choose one Counter target noncreature spell unless its controller pays 2; or Izzet Charm deals 2 damage to target creature; or draw two cards, then discard two cards.
Have (21)
saj0219 , titaniumturtlex , metljoe ,

j

w

e

9

4

,

D

o

o

m

_

o

f

_

V

a

l

y

r

i

a

, gurthang034 , goodair ,

s

h

a

d

o

w

h

o

u

n

d

1

4

,

8

v

o

m

i

t

, ryuzaki32667 , AlbinoLion ,

T

h

e

D

o

c

t

o

r

, Raistlin911822 ,

m

a

i

d

e

n

7

7

, Death_The_Kid ,

C

o

m

i

c

a

l

f

l

o

p

, Raknamadak ,

H

a

l

c

y

o

n

M

T

G

, Skimm3r , Countertop , Derpachus
Want (1)
SinisterGinger
Izzet Charm Discussion
1 week ago
Why Stormbreath Dragon? Wouldn't you be better with 2 more Vendilion Clique? If its a cost thing then I understand, but multiple cliques is much better than the dragon.
I really don't like Spreading Seas in the main board much. Its mediocre in most matchups and only good in 3+ color matchups that don't use blue. Very specific. It is however great in the sideboard in this deck. I run 0 main and 4 in the side because it can be devastating when paired with Blood Moon against certain decks, just not against most. I'd also suggest running a 4th Blood Moon. That is your main source of disruption and you want it to hit the board asap. I like to run 2x Izzet Charm because its good as a counter/burn card but the filter part lets you toss extra Blood Moons when you already have one in play.
Mmmm... Blue Moon is my version if you'd like to check it out. Been a work in progress for a while.
2 weeks ago
What about -1x Murderous Cut, +1 Izzet Charm. More versatile, can be used as a counterspell, creature burn, or as a looter, which would be very useful in here.
2 weeks ago
@fullmetalwes, thanks for the support! Think Twice was suggested, but ultimately I ended up going with Izzet Charm instead. Brainstorm is great, and I'll definitely playtest it, but I'm not sure what in the deck it would replace
2 weeks ago
So I updated the deck with a few of your suggestions. I went with Izzet Charm instead of Think Twice or Negate MB, mainly because it lets us do both of their effects (more or less, the draw is a loot, but still could be helpful), and can also be used with the scepter, and can also take care of a creature if need be.
I'm also gonna see how Remand does in place of Negate. My thought is that if we counter a spell temporarily, that gives us time to get rid of their mana sources so they can't even cast it again, and then you can also draw a card, and repeat the whole thing with sceptor.
3 weeks ago
I could honestly see running Izzet Charm, Electrolyze, or Spell Snare in that slot. I like the charm or snare better with snapcaster, but I like electrolyze better as a card. I'm gonna put it back on the maybe board for now and test it more (it's kinda hard to test 1-ofs). Maybe with the resurgence of Lingering Souls, it'll just be better.
The split of Thoughtseize to Inquisition of Kozilek has been a constant internal debate for me. I don't hate the idea of swapping a thoughtseize with the boarded inquisition one bit, but I (again) consider that to be a meta call. If you expect less Siege Rhinos - or more Burn/Zoo - where you play, it's definitely the way to go.
Good insights. I'll keep them in mind for my next tuning iteration. Thanks!
| | |
| --- | --- |
| Color(s) | Red Blue |
| Cost | RU |
| Converted cost | 2 |
| Avg. draft pick | 3.14 |
| Avg. cube pick | 13.59 |
Legality
| | |
| --- | --- |
| Format | Legality |
| Legacy | Legal |
| Vintage | Legal |
| Commander / EDH | Legal |
| Modern | Legal |
| Duel Commander | Legal |
Related Questions