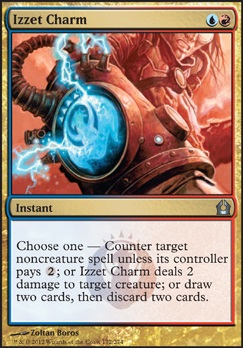 Izzet Charm
Instant
Choose one Counter target noncreature spell unless its controller pays

. Izzet Charm deals 2 damage to target creature. Draw two cards, then discard two cards.
Have (22)
ryuzaki32667 , gurthang034 ,

C

o

m

i

c

a

l

f

l

o

p

, goodair ,

H

a

l

c

y

o

n

M

T

G

,

j

w

e

9

4

, Raistlin911822 ,

k

n

t

o

,

m

a

i

d

e

n

7

7

, metljoe , saj0219 ,

D

o

o

m

_

o

f

_

V

a

l

y

r

i

a

, Death_The_Kid , leftkeh , titaniumturtlex ,

8

v

o

m

i

t

, Derpachus , AlbinoLion ,

T

h

e

D

o

c

t

o

r

, Raknamadak , Skimm3r , Countertop
Want (2)
SinisterGinger , titaniumturtlex
Izzet Charm Discussion
5 days ago
This deck has a solid idea. I feel like it could be improved on though;
First off, it doesn't look like you have much to do on turn 1. Maybe consider putting in Wind Zendikon so you have some air presence, or Nivmagus Elemental so that you have something to do T1
Also it seems like this deck always needs both blue and red. If you have the money, consider a playset of Cascade Bluffs to ensure you always have the right color.
And more on mana efficiency, consider more dual-mana symbols, since you can play them with either color mana, but it still fuels your blue devotion. Nivmagus Elemental is great even if you don't use his ability. A 1/2 on T1 that gets all the elemental buffs and fuels devotion. Also I think you need Crackleburr. Dual mana symbols, plus it's a removal toolbox as long as you have creatures and that untap symbol makes me smile :)
Personally I'm not a fan of Void Stalker or Mulldrifter and I think you need a playset of Purphoros.
Also maybe Izzet Charm? It's a quick counter, or creature burn, or 2-loot so you can grab the cards you want.
6 days ago
Some Izzet Charm's and some Guttersnipe's are always great. Check my deck out it's also a R/B with similar ideas behind it
1 week ago
That Acually doesn't repeat the Living Lore thing....ultimatum is exiled so it's 1 and done.... Also Izzet Charm like cards be needed to feed it into the graveyard to cast it earlier
1 week ago
LioAME3, I agree! If Bolt drew us cards, I'd definitely be running more of them. So far, Beast Within has been a pretty versatile answer to many things, and I've never been unhappy to draw it. I've yet to test it extensively, but so far, it seems good.
ilagirl, it's true that leaving them with a 3/3 is far from ideal, but I much prefer it in dealing with Siege Rhino and Liliana of the Veil. The problem with bouncing these is that you still need a counterspell next turn to deal with them. If you don't, this allows them to get Rhino's ETB trigger another time or reset Lili's counters. Additionally, with Junk increasingly running 4 Voice of Resurgence mainboard, I want something that can answer their threats during my own turn.
GlistenerAgent, I personally don't think the deck needs any more cantrips. We're already running 4 Serum Visions and 3 Peer Through Depths/Telling Times, plus a variable number of Izzet Charms and many other spells that draw cards, so finding Scapeshift really isn't a problem. I can see Monastery Siege being useful as a sideboard card against Burn, but it is less versatile than Spellskite and Obstinate Baloth, so I don't think it'll be in my sideboard anytime soon.
1 week ago
I'm not sure how competitive your local area is but Lightning Bolt is the red must have and it's only 1.50 on average per bolt. For draw spells try Think Twice because it's instant and has flash back. Izzet Charm is a solid game 1 spell as it does a little bit of everything you could want. Mana Leak is a very cheap spell at 1 dollar a peice and will for a long time counter their stuff. Peek is another card to consider for the budget version of Gitaxian Probe Probe $3 a peice while peek $0.25. Id also suggest Kiln Fiend as another option. Some decks also run Rift Bolt because it's a delayed Lightning Bolt and is cheap.
1 week ago
I am trying to keep it a bit different from my cruel control deck. Just because
But that being said...I am not a huge fan of Izzet Charm in General and don't want to pony up the cash for 2 Inkmoth Nexus but think they would really help.
| | |
| --- | --- |
| Color(s) | Red Blue |
| Cost | RU |
| Converted cost | 2 |
| Avg. draft pick | 3.15 |
| Avg. cube pick | 13.39 |
Legality
| | |
| --- | --- |
| Format | Legality |
| Legacy | Legal |
| Vintage | Legal |
| Commander / EDH | Legal |
| Modern | Legal |
| Duel Commander | Legal |
Related Questions