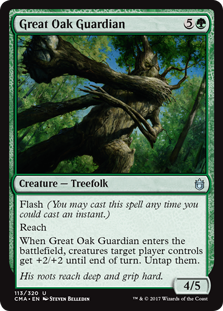 Legality
| | |
| --- | --- |
| Format | Legality |
| Tiny Leaders | Legal |
| 1v1 Commander | Legal |
| Magic Duels | Legal |
| Canadian Highlander | Legal |
| Vintage | Legal |
| Leviathan | Legal |
| Legacy | Legal |
| Duel Commander | Legal |
| Casual | Legal |
| Commander / EDH | Legal |
Great Oak Guardian
Creature — Treefolk
Flash (You may cast this spell at any time you could cast an instant.)
Reach
When Great Oak Guardian enters the battlefield, creatures target player controls get +2/+2 until end of turn. Untap them.
| | |
| --- | --- |
| Have (7) | thekingpinBR , sombrevivo , Reliva , DarkAndFluffy , frederiklw , Shiromakuro , rikertchu |
| Want (7) | frederiklw , DarkAngelsBlood1 , Gryffix , mhelkior , bpm4 , kvfd1719 , Jokulmorder1 |
Great Oak Guardian Discussion
4 days ago
Biggest issue I see here is a lack of focus and not enough creatures for a creatures only matter deck.
Animar, Soul of Elements wants two main things: Cast creatures and get +1/+1 counters to cast larger creatures. Everything in the deck should be focused on those two goals.
Setting up the deck to achieve this purpose will make it efficient and powerful. All cards should therefore do one of the following:
Ramp up to Animar.
Protect Animar.
Place counters on Animar.
Cast game ending creatures for cheap or free.
Draw cards to allow us to do 1 through 4.
Priority should be given to cards that does something now > does something before your next turn > does something on your next turn > does something eventually.
Because Animar offers a discount based on creatures played, the deck shouldn't be filled with only high cmc game enders, but creatures from low to high cmc, preferably with as little colored mana symbols as possible, to give the deck a natural progression to casting free or cheap high cmc game ending creatures.
Let's split the deck into 3 parts. Pre-Animar setup, Post-Animar setup, Finale.
Note that $: (0 to 0.99), $$: (1.00 to 4.99), $$$: (5.00 to 9.99), $$$$: (10.00 to 19.99), !$!: (20.00+)
Unnecessary on a computer, very helpful on a phone.
This section will be all ramp, and protection to get Animar out quickly and make sure he is secure.
- The land base should be arranged to where there is more emphasis on , then , then since can color fix and can offer protection.
- Exotic Orchard is pretty good and cheap and can usually offer every color in multiplayer, especially if an opponent has a Command Tower out or even a Vivid Grove without even needing charge counters. - Kazoo lands such as Simic Growth Chamber, Izzet Boilerworks, and Gruul Turf are good in casual EDH where there is lack of land destruction and they artifically increase your deck ammount by posing as two lands in one. Though overall you do not want too many tap lands as you'll constantly be a entire turn behind.
This section will be about setting up our board state to win. All cards from this point onwards will be casted after Animar has been casted.
This section will be about ending the game with giant behemoths.
2 months ago
@MaelstromWanderer
I'm not arguing tiers, wherever it ends up is fine with me. I had a turn 4 win last weekend and it was hilarious but that's beside the point.
I just want to see an updated list from the most competitive deck that's out there. One of my issues with this current one is that it doesn't have a 4 mana untap creature. You've got Pestermite and Deceiver Exarch at 3 CMC, Zealous Conscripts at 5 CMC, and Great Oak Guardian at 6 CMC. That means you don't have a 4CMC target when you sac and tutor with Birthing Pod. Instead of the two 3 CMC cards, I added a Breaching Hippocamp so i can hit that 4 CMC target if I have to sac a 3 cmc creature to combo off.
4 months ago
DracoDarkstorm, unfortunately, AEther Flash and Polyraptor can not be ended without a third piece, so they actually are just part of a 3-card infinite combo rather than form a 2-card combo by themselves. Thanks though!
Jeyce, with Mikaeus, the Unhallowed on the battlefield, Triskelion will enter as a 5/5. If you remove a counter to hit an opponent, it will be a 4/4. Remove two more to hit itself, and it will die from being a 2/2 that was dealt two damage, then undying will trigger to return to the battlefield.
As for Goblin Sharpshooter and Splinter Twin, the catalyst for the combo is either a creature dying while the enchanted Sharpshooter is untapped or any creature with 1 toughness (or 1 damage away from dying). In both of those cases, the enchanted Sharpshooter can be tapped to create a token copy with haste, and then (if necessary) the token tapped to kill that creature. One the untap trigger(s) resolve, you will have an enchanted Sharpshooter and a token copy. From that point, you can tap the enchanted Sharpshooter for a token copy, tap one of the copies to damage an opponent, then tap the other copy to kill one of the token copies in order to untap the two Sharpshooters in order to repeat until death rains upon all opponents. This is very unintuitive when looking at the pieces, so I've added it to the description of that combo.
Funkydiscogod, fantastic catch on the combos with The Locust God and effects that trigger a draw when an insect enters! Thanks, they've been added.
I've added Keening Stone to the Fraying Sanity combos, thank you so much!
That Chandra combo though... that's definitely a 9-card combo lol
VraskaTheCursed, Sage of Hours cannot keep any counters on it if it activates.
Jeyce, I've added Benthicore to the Splinter Twin combos and Bounding Krasis, Breaching Hippocamp, Great Oak Guardian, and Sparring Mummy to the Kiki-Jiki, Mirror Breaker/Splinter Twin combos. Thank you so much!
I do have those combos for unhasty creatures already, but thanks anyways!
Dorotheus, yes, I am glad however that Minion is unique in its ability to combo with the Bracers though!
Load more