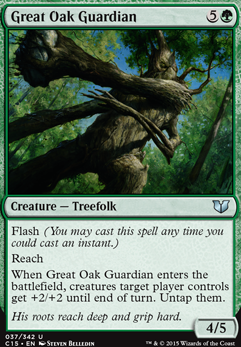 Legality
| | |
| --- | --- |
| Format | Legality |
| 1v1 Commander | Legal |
| Vintage | Legal |
| Pauper | Legal |
| Legacy | Legal |
| Duel Commander | Legal |
| Casual | Legal |
| Commander / EDH | Legal |
Great Oak Guardian
Creature — Treefolk
Flash (You may cast this spell at any time you could cast an instant.)
Reach
When Great Oak Guardian enters the battlefield, creatures target player controls get +2/+2 until end of turn. Untap them.
Great Oak Guardian Discussion
6 days ago
Alright, understandable. The way I look at any deck is I give myself a set number of cards for each type or what each card offers. So since you want Treefolk/fatty bootied plants, I'd go with... 25 "theme" cards. 35 lands is my go to which would put you at 60 cards with the rest being support/fill. Of those remaining 40 I'd go, 5 wipes 5 spot removal, 10 draw, 10 ramp, and 10 general support. Of course you can tweak those numbers however, but it's good to have a basis. Once you start doing that you might realize you're going total overkill on one category and swapping cards around isn't as hard as it was (sometimes it is harder though lol).
All that said, a rough list I'd go with is something like this (again this is your deck and by all means take this with a grain of salt and/or ignore it if you see fit):
Regardless of what you do with any/all of that, good luck and hope you enjoy playing your deck!
1 week ago
Looping TKS indefinitely isn't easy, since you need coolorless mana to cast it. The current build could only do that with the help of a non-summoning sick Boreal Druid or by looping Sol Ring or Mana Crypt via Beast Within + Eternal Witness. Usually, setting that up requires drawing the deck, at which point this kind of kill isn't even necessary any more. Just kill all their permanents with Beast Within and Somberwald Stag, drop a couple of spheres (Sphere of Resistance, Thorn of Amethyst) and kill them with Craterhoof Behemoth or Great Oak Guardian (can easily wait until next turn if you lack attackers at that point).
So killing them with TKS is fine, but very rarely is an actual upgrade over what the deck already has. The card should be played for its disruptive power, and being a potential win condition should not factor into this.
1 month ago
fliers are less of an issue now with the additions of Spidersilk Armor, Squall Line, Great Oak Guardian and Pariah's Shield. however Constant Mists may be worth a look, even with that costly buyback, it may be better then Moment's Peace.
Its probably most fun to play of all my current edh decks as it runs well and can easily get out of control quickly even under adverse conditions, and despite ~72% of creatures being treefolk, it has quite the toolbox to pull from via the various green tutors. (Spike Weaver would probably have a place in the deck if i wasnt so focused on the saturation of treefolk and shaman creature types)
1 month ago
Yisan is actually a pretty broken commander to run if you fully utilize his ability. I had a (still budgeted) semi-competitive deck. I couldn't keep up with a fully-tuned Jeleva deck or a T2 win from Jarad, but if I did manage to survive past turn 2 or 3, Yisan got out of hand and has quite a lot of recovery built in.
http://tappedout.net/mtg-decks/edh-yisan-mono-green-combo/
And I'm sure you've seen that Biorhythm is banned, for hopefully-obvious reasons...
Verse 1: Quirion Ranger
Verse 2: Scryb Ranger
Verse 3: Elvish Archdruid
Verse 4: Oracle of Mul Daya
Verse 5: Seedborn Muse
Verse 6: Great Oak Guardian
Verse 7: Avenger of Zendikar
Verse 8: Craterhoof Behemoth
You can potentially skip a couple verses by untapping and re-activating Yisan in the same turn and grab two (or more, if you have more untap triggers available) in the same verse.
If all goes well you could have the game ready to be won by T4 or T5...but that's without much interruption. Blue players will definitely be the most problematic, besides people trying to kill Yisan every two seconds.
Some Yisan decks will run a small Stax package to slow everyone else down (Winter Orb, Sphere of Resistance, Static Orb etc as long as you can still use Yisan, you'll be golden. Hopefully have Seedborn Muse or Quest for Renewal on board before casting the stax effects).
2 months ago
I love playing this commander, mine is one of my favorite decks. Plus I love Elf decks, I've even got 2 currently (one paper one online). A few of the super synergy cards you will love using are missing. First off Elvish Guidance is another Priest of Titania. Ways to give haste and have more Selvala untaps per turn like Instill Energy, Nature's Chosen, Seeker of Skybreak, & Thousand-Year Elixir can also combo with mana elves too. Then there is Great Oak Guardian, which usually also truly ramps you from casting it in an elf deck even though it costs 6 mana, plus its a combat trick if needed. If you need to find space I think your card function groups (removal, draw, ramp, etc.) are fairly balanced, and the untap effects are essentially ramp/draw spells. So I would sub out those kind of cards for them. Here's a link to my lists for convenience:
Selesnya Selvala is my favorite mana dork ever.Selvala's Army of Infinite Mana Generating Elves
Happy Gathering!!
Load more