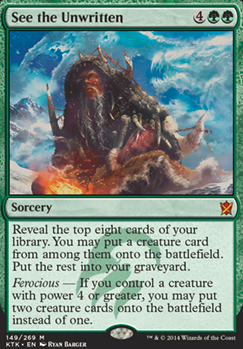 Legality
| | |
| --- | --- |
| Format | Legality |
| Tiny Leaders | Legal |
| 1v1 Commander | Legal |
| Magic Duels | Legal |
| Canadian Highlander | Legal |
| Vintage | Legal |
| Modern | Legal |
| Leviathan | Legal |
| Legacy | Legal |
| Frontier | Legal |
| Duel Commander | Legal |
| Unformat | Legal |
| Casual | Legal |
| Commander / EDH | Legal |
See the Unwritten
Sorcery
Reveal the top eight cards of your library. You may put a creature card from among them onto the battlefield. Put the rest into your graveyard.
Ferocious — If you control a creature with power 4 or greater, you may put two creature cards onto the battlefield instead of one.
Have (29)
Caldazar , ironax , NobleSlay3r , sneferie , jstn.mrrtt ,

D

r

_

J

a

y

, Skydra2 , sepheroth119 , LegendDeer , AyyAyyRon ,

N

i

v

S

t

o

r

m

f

r

o

n

t

,

T

h

e

_

M

u

n

c

h

k

i

n

, MattN7498 ,

C

a

m

p

b

e

l

l

S

t

e

v

, samuelproulx ,

C

h

r

i

s

H

, Kleptozaniac , philktoken8998 , Mortiferus_Rosa ,

r

o

c

k

l

e

e

m

y

h

e

r

o

,

f

i

r

e

m

i

n

d

1

2

,

R

e

g

u

l

u

s

1

0

1

0

,

P

i

e

g

u

y

3

9

6

, Metaphisyk ,

T

i

d

d

i

l

y

w

i

n

k

u

s

, Hootiequack , DrPopular , frederiklw , thetechzombie
Want (16)
theHopp , Bluewolf_Sun , Warxuaroz ,

p

p

h

h

a

a

z

z

e

e

, ostiarius , kvfd1719 , deundefeatable , Loading_Error , InertSteak , AgentCrazyDiamond , RoninH3RO , swarlelion , pmpott , SlickWizard , frederiklw ,

C

r

i

v

a

r

o
See the Unwritten Discussion
6 days ago
Looking for cards that can help me bring out Dragons for free. So any card that does this sort of thing, really.
I know a small list already, but I was wondering what else there is so I can try to narrow and hone in on the best cards.
Here's what I already know of that do this sort of thing, in one way or another. In no particular order, because I'm lazy.
I'm trying to stay away from graveyard tricks, so please keep those suggestions to a minimum. Thank you.
As I said, I'm trying to stay away from Graveyard tricks but if it is cheap enough and easy to pull off, I guess it works. I'm looking to constantly grow my boardstate every turn, not try and rebuild it from scratch.
Yes I know Dragon Broodmother and Utvara Hellkite will grow the boardstate as well. I plan on including them. I just wanted to know what else I might be missing :)
Thanks! :D
3 weeks ago
Armed // Dangerous another CMC2 Double Strike, $0.21. Downside is it's Sorcery.
Archetype of Aggression, gives all your creatures Trample, $0.39. 6 ground + 4 flying (partial evasion) don't have trample, thats 1/2 your available hitters, including 1 infect.
Gruul Signet, CMC2 Rock, $0.30.
Thud, Another Fling for CMC1 but Sorcery speed unfortunately, $0.20. Really need more Soul's Fire to Infect.
Farseek, CMC2 Ramp!!, $0.27.
Flameblast Dragon won't get his doubled. Timing is off.
Slagstorm scary because it wipes out the dorks, but I understand the thinking, with Cats/Snakes/Vampires.
Arbor Elf, CMC1 Dork, $0.26.
Beastcaller Savant, CMC2, But he has Haste, $0.40 though.
Heart Warden, annoying at CMC2, but can draw a card if late in the game if he's a dead draw, $0.20. Modular is sometimes nice, especially in longer games.
Explore might work pretty well with 40 lands, and it draws a card, so maintains your card-advantage and ramp advantage. I also feel you have quite a bit (too many) lands with all the additional ramp/dorks you have? Might try 38 instead.
Thunderfoot Baloth $1.69, but has trample, with Xenagos is 14 Trample, and gives all other creatures Trample. The best of the Trample enablers mentioned for sure.
Deus of Calamity $1.40, only 6/6 trample, but fills your Xenagos, God of Revels devotion, so he really enables a 6/5 Indestructible attacker as well.
Tyrant's Familiar feels better than a Flameblast Dragon ($1.28), because he can potentially blow away a flying blocker, $0.44.
Fyndhorn Elves ($2.03) can free up some cash for a Thunderfoot Baloth if he's an Arbor Elf $0.26.
Sakura-Tribe Elder ($1.25) is really good, but a Farseek can be effective $0.27, free up $1
Artisan of Kozilek he is 10/9 (20/19 with Xenagos), Returns a creature from your graveyard to the battlefield (not hand), and has Annihilator 2 (Opponent sacrifices 2 permanents, with haste from Xenagos) for $0.43. I have lots of this guy, I'll bring you one.
Maybe with some shuffling of mana sources you can free up cash for Malignus, but he's quite expensive. Tough for budget.
Fierce Empath tutoring Atarka, World Render or Soul of the Harvest or Siege Behemoth or Spinebiter Etc. gives consistency, I feel like its doubling your Atarka, World Render chances.
Phyrexian Hydra another Infect guy. Makes it easier to kill 3 players.
Khenra Charioteer more trample, hes a 3/3 so he's not shabby for CMC3. Probably don't need that much anyway.
Life's Legacy could re-populate your hand and stabilize your life. Feel like the cards better than the double life on Predator's Rapport.
Talisman of Impulse best non- non- mana source available for $0.33.
Explosive Vegetation is good, but $0.92 and CMC4, I'm not sure. Might look for another lower CMC one to ramp a little faster for that $. Go a bit faster.
I haven't seen this one work yet, See the Unwritten and at $0.82, I'd probably just draw another creature like a Artisan of Kozilek. If you get lucky and the stars align, maybe you get 2, but one might be an Elf. I'd rather just draw another key creature, instead of the randomness. If it was CMC5 or CMC4 and casting a CMC8 maybe, but it's CMC6 probably casting a CMC6 or lower (based on probability, I can calculate it when I have some more time)
Living Hive is in Main and Maybeboard.
I only like Momentous Fall (too expensive $), Deus of Calamity (enables Xenagos), Kavu Predator could be interesting in our Pod (vs cats/vamps anyway). Malignus if you can budget him in. Steel Hellkite good utility again CMC0 Snakes/Vampires for example. Thunderfoot Baloth.
Don't like anything else there.
I think, less lands -2 perhaps, cheaper ramp (and maybe 1 more), 1 more creature (infect guy preferably), reallocate some cash to make sure each creature is a finisher, like Avatar of Fury is kind of blah, if you can cast for 2 he's ok, but what you doing with the other mana that turn anyway, would rather pay the 6 for a finisher. Siege Dragon feels a little underpowered too, but can board wipe (cats/vamps/snakes), would rather use Steel Hellkite instead, better control, lower CMC.
Inquisitor's Flail not sure equip is right, but it is only equip so maybe? Rancor instead?
Living Hive feels small for CMC8! Wtf, not sure what your doing with the 1/1 insects, that don't even fly.
That's about all I have for now +1.
1 month ago
B
o
z
a
, well, you got the general idea of what it's supposed to be. I was on break when I made it, and break is only so long. So I kind of didn't have time to check the formatting.
And yeah, the Landfall part is kind of a cheap input. That's why there's also 10 levels. I could have made it 4 - 5 levels tops, but that'd be too easy.
10 levels for what amounts to a 7/7 Trample, Menace, Reach and when it attacks +X/+X and Hexproof at a starting cost of 5 CMC seems balanced to me. It's a long-haul if you're not in an explosive land deck, so it probably wouldn't see play outside of EDH.
But if it DID exist, and was put in that Lord Windgrace deck, that thing would absolutely dominate.
So, it's sort of a niche card. But I love niche cards. I have so much fun finding a place for oddities that nobody uses. That's why cards like Reverberate, See the Unwritten, Golgari Charm and Savage Beating are some of my favorite cards.
I don't like to netdeck. I hate the idea of playing what everyone else does. I often find that netdecking means your deck is good against a few decks and fails to others. While this is going to be true of any and all decks in any and all formats, I love building unique structures and brunting out the work, reshaping and grinding it into a system that works.
That's why I use cards like Master of the Feast when nobody else does, or use Planeswalkers like Xenagos, the Reveler when it seldom sees play in anything else.
I'm not here to win on T3. I'm not here to win tournaments or make money. I'm here to design something ridiculous and piss people off with my crazy antics.
I may not always win, but I'll always have fun.
1 month ago
Hello everyone, :)
I thought this would be a nice topic to discuss and just waste time with. It'd be nice to throw around ideas and opinions, as well as help introduce newer players to terms and mechanics they may be unfamiliar with.
What are your favorite Shards, Wedges, and Guilds and what about them appeals the most to you, and why?
Each of these terms refers to multicolored pairings. The difference is how many colors are paired.
Shards, referring to Shards of Alara, are a three-color pairing of either of the following five combinations:
Bant ()
Esper ()
Grixis ()
Jund ()
Naya ()
The unique aspect of Shards is that it is a single color paired with BOTH of it's Allied Colors. This tends to make Shards uniquely powerful in respect to their ability to play off of one-another's strengths. Such is the case with Esper, having the controlling aspects of white, blue, and black all at it's disposal. Or for another example, Naya which plays off being able to create vast tokens and make them huge, quickly.
Wedges, named after the clans of Tarkir, are the following:
Abzan ()
Jeskai ()
Sultai )
Mardu )
Temur ).
What makes Wedges powerful is that by aligning with BOTH of it's Enemy Colors, it is able to become far more flexible in it's assault. You can do multiple things, easier, with Wedges. For example, in Temur you can have the benefit of big creatures / ramp while still maintaining a decent pool of counter spells or burn spells as you see fit. Abzan is known for making huge creatures with +1/+1 counters, but what's nice is that while you strengthen your boardstate, you can also create a large divide between life totals with white and black pulling each other apart.
Guilds, named after the Guilds of Ravnica, are uniquely powerful in their own right. There are ten of them in total, which means there are five that are Allied Colors and five that are Enemy Colors. These play into the same benefits, and therefore weakness, as the Shards and Wedges from prior - Just to a somewhat lesser degree in terms of their overall flexibility. But what they lack in flexibility, they make up for in their potential. The less colors you have, the more honed your deck can become toward a singular (or duality, in some cases) goal.
The Allied Guilds are the following:
Azorius Senate ()
House Dimir ()
Cult of Rakdos ()
Gruul Clans ()
Selesnya Conclave ()
The Allied Guilds are powerful in their respect that their two colors benefit from the same strategy. Both white and blue love to control, so Azorius is a powerhouse in control. Both black and red love to destroy, so Rakdos is a slaughterhouse in mayhem.
On the other side of the coin are the Enemy Guilds.
The Enemy Guilds are the following:
Orzhov Syndicate ()
Izzet League ()
Golgari Swarm ()
Simic Combine ()
Boros Legion ()
What makes the Enemy Guilds powerful is actually their seemingly contradictory ideologies. For example, if black loves to kill, but green loves to grow... Then how in the heck can the Golgari Swarm even function?? Simple. You sling big creatures into your graveyard, and resurrect them for a lot less. Likewise, if red wants to burn but white wants to control and spread, How can Boros work?? Well, if you play cheap white control cards and bide your time to heavy burn spells, you can spread life totals and board advantage farther in your favor with each passing turn.
Every one of these, be it a Shard, a Wedge, or a Guild has a unique purpose that can be built around. It's up to us, the players, to find those purposes and build upon each of their individually unique abilities.
So with that being said, I'm curious: What are your favorite Shards, Wedges, and Guilds and why?
I personally love big, flashy cards. For me, winning is a lot more enjoyable if I can do so by bringing some kind of unique flare to the game. For example, Reverberating a See the Unwritten to free-cast four of my most powerful creatures from the top 16 cards of my library is totally awesome and fun. Likewise, nuking the board with Bontu's Last Reckoning and dropping in an Eerie Interlude on top of it is just painfully hilarious.
I absolutely adore Gruul for it's fast-paced, huge beatsticks that only serve to die in glorious combat.
But I also love the divide Orzhov creates, where I can just sit back and let life totals aggro out of control.
But I'd have to say, if I feel especially aggressive and shitty, I can always just kill everything in my warpath with Rakdos. Oh, you Meddling Mage'd my Terminate. Haha... Murdered. Screw you.
For Wedges and Shards, I like to go more broad rather than narrow. For this, Jund, Esper, and Naya are my go-to combinations.
Jund, essentially the love-child of Gruul and Rakdos, gives me my stupidly big creatures with my sociopathic onslaught.
What I love about Esper though is it's ability to hit multiple angles at once. Do I want to mill? I can. Do I want to raise some tokens? I can. Do I want to counter your spells? I can. Do I want to stop you from even playing the game?? ... Yeah, I can. Esper is like a blank canvas. I could build three Esper decks in the same format, and all three do something totally different. And I love that.
And with Naya, well... If you're a self-proclaimed Timmy and you DON'T love Naya, then you're not a Timmy, now are you? ;)
.....
Woah. I literally just noticed that all three of my favorite three-colored combinations are actually Shards. See, already learning stuff about ourselves :D And that's exactly why I wanted to make this thread :3
2 months ago
Have you thought about running See the Unwritten in here? it seems like an excellent card to cascade into
3 months ago
Boza, while I personally do see your point about the mana restrictions, your comment of: "it is impossible to have 12 total mana any sooner than turn 5" is not entirely accurate.
I build speed-Gruul decks all the time. Gruul is super easy to pump out massive amounts of mana. BUT - you have to build for it.
We are assuming you have your hand of 7 cards. Works well if you went 2nd, so you have card advantage each of your turns. That draw really helps.
---
Turn 1: 7 - 8 cards in hand.
---
Turn 2: You played 2 cards last turn and drew 1 this turn. 6 - 7 cards in hand.
T2: Any other land that doesn't enter the battlefield tapped. You'll want to play something like Generator Servant, another 1-drop Dork, if able you can do both but let's not get greedy here. Normally I take a hand with a Servant that can be played T2
---
Turn 3: You played 2 - 3 more cards and drew 1. 4 - 6 cards in hand.
T3: Land. You're Gruul so you need to hit tempo. You now have three lands, and 2 - 3 additional mana at your disposal in creatures. At this point, I usually tap all lands, tap my Dork, sac my GS and play a Savage Ventmaw, swinging for 4 and adding . On T3, with six available mana floating from your Ventmaw, you can pay for either a second Savage Ventmaw, a Mana Reflection, or even work up to a Zendikar Resurgent. You get that 7th mana by either discarding a Simian Spirit Guide.
Another option you have available is to, instead of playing a Ventmaw, you tap out everything you've got for your 6 mana. You float 5 of it and use for an Infernal Plunge and target your Dork. This adds back which pushes you into 7. If you are lucky enough to have a Simian Spirit Guide on top of your Infernal Plunge (Don't count on it) you could theoretically nail a Vorinclex, Voice of Hunger.
---
Turn 4: There's a lot you could have done last turn. Between playing a land, a Ventmaw / Reflection / Resurgence and giving up an Guide / Plunge, it's hard to really tell where you are at currently. This all becomes situational at this point.
T4: This is normally where I begin to play big spells. See the Unwritten, Genesis Wave, Hydra Broodmaster, Dragon Broodmother. You could do all of this on T3, if I'm being honest. You do this by swinging with Ventmaw on T3 and dropping any of these 6-drop spells immediately after. But that aside, you play a 4th land. You'll either have 4 mana from lands and 6 from Ventmaw + Dorks, or you could have 8 mana from lands when you consider it'll be doubled via Enchantments + Dorks. Since Mana Reflection doubles Dork mana, too, that could easily tip you at or above 10 mana T4. So you can see just how easy it is to hit 12+ T5.
If you were lucky and hit a T3 Savage Ventmaw who was hasted by Generator Servant (Happens a lot in my decks with the frequency I play them), you could even dump his six into a Mana Reflection. This means on T4, you have 8 mana from lands, 2 mana from a single Dork, and 12 mana from Ventmaw. That's 22 mana, on T4.
To put that into perspective: That's an X=19 Genesis Wave, a Hydra Broodmaster that you also turn Monsterous for 7 () which gets you 7 7/7 tokens, that's an X=20 Rolling Thunder, an X=21 Crater's Claws which deals 23 Damage from the Ferocious trigger...
Gruul, if designed properly, is the single most powerful ramp color combination in the whole game, in my non-professional opinion (lol)
3 months ago
Yes! It absolutely can! And when you Reverberate your Storm Herd, you get to copy your X value too, per rules.
"If the spell Reverberate copies has an X whose value was determined as it was cast (like Earthquake does), the copy has the same value of X."
Reverberate is one of my favorite spells in the whole game. It's so fun pulling off janky garbage combos with it. You ever see a Reverberated See the Unwritten?? It's so stupidly awesome. Or a Reverberated Lightning Helix / Boros Charm / Path to Exile??
Seriously an underused card. Dumbest combo I pulled off was a Howl of the Horde after I attacked with a Savage Ventmaw. The next spell I cast is copied 2 additional times. So I dumped the 6 mana from Ventmaw into a See the Unwritten, allowing me three copies of that crap. Than I tapped two red and cast Reverberate on one of them, copying one of the three.
That gave me four Unwrittens, allowing me to filter through the top 32 cards of my library and pull out the top 8 strongest Dragons in my deck. Ahh, Gruul. You're so stupidly fun to play.
(Timmy player at heart)
Load more