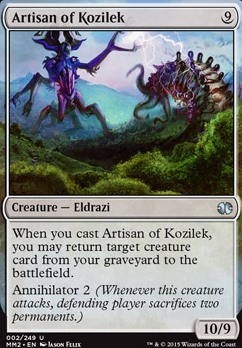 Artisan of Kozilek
Creature — Eldrazi
When you cast this spell, you may return target creature card from your graveyard to the battlefield.
Annihilator 2 (Whenever this creature attacks, defending player sacrifices two permanents.)
Browse Alters
View at Gatherer
Trade
Legality
| | |
| --- | --- |
| Format | Legality |
| Tiny Leaders | Legal |
| Noble | Legal |
| Leviathan | Legal |
| Magic Duels | Legal |
| Canadian Highlander | Legal |
| Vintage | Legal |
| Modern | Legal |
| Block Constructed | Legal |
| Vanguard | Legal |
| Legacy | Legal |
| Archenemy | Legal |
| Planechase | Legal |
| 1v1 Commander | Legal |
| Duel Commander | Legal |
| Oathbreaker | Legal |
| Unformat | Legal |
| Casual | Legal |
| Commander / EDH | Legal |
Artisan of Kozilek occurrence in decks from the last year
Commander / EDH:
All decks: 0.05%
Green: 0.11%
Rakdos: 0.29%
Artisan of Kozilek Discussion
3 weeks ago
My suggestions using only cards in your maybeboard.
If Ob Nixilis Reignited's only purpose is card draw, out for Guardian Project
That's 1 more out than in so you should be down to 99.
Ugrades using cards not in maybeboard.
1 month ago
@Savaaage, I do like the draw 4. Its really nice, and the big body with annihilator 4 is very strong. However at 10 cmc it's even harder to cast than Void Winnower (@9 cmc) and I don't think it's a better card than Void Winnower either. At 10 cmc the only card I could see taking out for it is Terastodon and that's also a really good card.
The last question you asked was if I use to run more eldrazi in the deck? I use to run 5 at the beginning. In this decks very early deck building stages I had all the low $ price tag eldrazies, and Ulamog, the Ceaseless Hunger in the deck. I cut the eldrazies from the deck because they would just be dead in my hand for way to long. Having so many high cost cards was bad for the deck. So I cut all the ones that I thought had the lowest impact or sat in my hand way too long because of it's high cmc. Ulamog, the Ceaseless Hunger was the last one to get cut. And it was mostly in for its removal for why it was in the deck for so long. and it was pretty cool winning by exile of Library. But 10 cmc again was too much. I kept Void Winnower and Artisan of Kozilek because they did some really good things that mattered most to me. First Void Winnower , it creates good evasion for multani and makes it hard for your opponents to play their cards. and Artisan of Kozilek is important because it can cheat on mana cost on some very strong cards in the deck such as, Bane of Progress , Greenwarden of Murasa , Platinum Emperion , Terastodon , and Void Winnower just to name a few.
So having Eldrazi Temple in the deck prior to cutting all the eldrazi felt very important to the deck. It's much less important now, but there is only one very small draw back from playing this card and that's the interaction with Caged Sun (its not a forest). The land comes into play untapped and can tap for right away at no cost. And when I have an eldrazi it's even better. So it's no problem to throw in the deck for the chance that I can cast an eldrazi for less even if there's only 2 in the deck.
1 month ago
Just remember, I have 21 cards to cut. While TypicalTimmy's ideas for colorless is good, some of them should be among the 21 that gets severed, or replaced with another (Replace means To Cut, then Add in the Cut card's place.). I'm keeping ( Thornbite Staff + Wolfhunter's Quiver ), Akroma's Memorial , Eldrazi Conscription (Possible Cut), It That Betrays (Uh, look at the combo above?), Artisan of Kozilek , either Kozilek, Butcher of Truth or Ulamog, the Infinite Gyre , Steel Hellkite , Scour from Existence , Ratchet Bomb , Nevinyrral's Disk .
Some of these can be cut, but think of the ones that can be classified as a 241, or even 341 or higher... :)
1 month ago
If you want colorless removal, you have a few options.
Green has Deathtouch, so you can combo Thornbite Staff and Pathway Arrows . Equip both on to something with Deathtouch and tap the creature using Pathway Arrows to deal 1 damage and kill the target. Then, Thornbite Staff triggers and untaps the creature.
Since you're in mono-green, you can ramp into the Eldrazi with Annihilator.
There is also Destructor Dragon , who is rather unique for green, also Acidic Slime .
---
As for synergy, I'd say:
3 months ago
Hey, Sol Ring is a staple mana rock in Commander. Ancestral Statue can by itself put a lot of counters on Animar. After it's on the battlefield it can bounce itself back to your hand and since it's mana cost is colorless then four counters on Animar makes it free to cast. Neoform and Eldritch Evolution after sacing a two drop or three drop creature are budget ways to tutor for Statue and put it onto the battlefield.
Artisan of Kozilek is a powerful budget colorless creature. Fierce Empath can tutor for Artisan or one of five other creatures you currently have including Broodmaster. Good luck with your deck.
4 months ago
Hey, 64 creatures? I understand Nikya doesn't let you cast noncreature spells, but 64 is kind of overkill.
Temur Sabertooth lets you take some advantage of Nikya's ramp by bouncing her to your hand to then use the ramp on a noncreature spell such as Primal Surge. Some noncreature spells within the budget to consider adding:
Other cards within the budget to consider adding:
---
Cards to consider cutting:
3x Mountain
2x Forest
Hungering Hydra
Zhur-Taa Druid
Fertilid
Primeval Protector
Nessian Wilds Ravager
Cyclops of Eternal Fury
Burning Sun's Avatar
Nessian Game Warden
Heroes' Bane
Stone-Seeder Hierophant
Arbor Colossus
Waker of the Wilds
Dictate of Karametra
4 months ago
Hey, you're welcome :)
I don't want to discourage you by suggesting to add so many cards and cut so many cards. You have a really good plan for when you get Rakdos onto the battlefield, but the problem is you haven't included many ways to cast Rakdos. Because can only cast him if an opponent loss life for the turn. You have a great late game base of creatures, really good, but there's not very much, if any, early game plays to make. Commander decks want three plans at various stages of a game. One for the early game, one for the mid game and one for the late game. Right now you have planned out the mid and late game well, but have neglected the early game. My advice is sacrifice some mid and late game cards for early game cards.
Some examples of different plans for each stage of the a game.
Early game (ramp and pingers):
Mid game (Rakdos and reanimation):
Late game (Eldrazi and other big creatures)
In my opinion it's better to have a lot more early game plays then mid and late game. The early game plays should help to setup and get into the mid and late game. Low mana cast reanimation/enablers is an an example of early game plays that can be just as good as a mid/late game plays. Tutors are an excellent bridge between each stage of the game because they let you get a certain card for what ever stage you're at and in of need at the time.
---
As I said in my last comment I think you can cut quite a few of the big creatures and replace them with more early game cards that let you interact with Rakdos faster.
Cards to consider cutting:
Cinder Barrens
Bloodfell Caves
1x Mountain
1x Swamp
Chainer, Dementia Master
Endling
Garna, the Bloodflame
Geth, Lord of the Vault
Greven, Predator Captain
Hythonia the Cruel
K'rrik, Son of Yawgmoth
Massacre Girl
Nighthowler
Overseer of the Damned
Soul of Innistrad
Tetzimoc, Primal Death
The Haunt of Hightower
The Scorpion God
Fated Return
Phthisis
Blackblade Reforged
Whispersilk Cloak
Loxodon Warhammer
Sword of Truth and Justice
All these cards are by no means bad, they're just in my opinion worse than the other cards here. In my last comment I listed about 20 cards for you to consider adding most except Heartless Hidetsugu and Artisan of Kozilek were one to three CMC. Which included pingers ( Spear Spewer , etc.), mana rocks ( Rakdos Signet , etc.), reanimation/enablers ( Doomed Necromancer , Buried Alive , etc.) and instant removal ( Chaos Warp , etc.).
---
40 lands is a lot of lands, consider cutting some for additional mana sources (mana rocks)?
I think you're better off adding mana rocks then having lots of lands and equipment. I think it helps your deck more to have color fixing and ramp then equipment. Mana rocks are excellent early game plays. Equipment are mid to late game plays and they only do something if you have creatures on the battlefield who can attack. Rakdos or Sin Prodder could be good sources of a creature for equipment, but equipment overall is not doing much here. Because of mana cost for Rakdos then mana rocks that can make colored mana are more desirable then ones that can't. However if you have the powerful mana rocks that only make colorless mana ( Sol Ring , etc.) still play them because they're some of the best cards in Commander.
Lots of basic lands can be problematic when the main casting cost you're trying to make is for Rakdos. Some other playable Rakdos dual lands to consider adding:
Load more