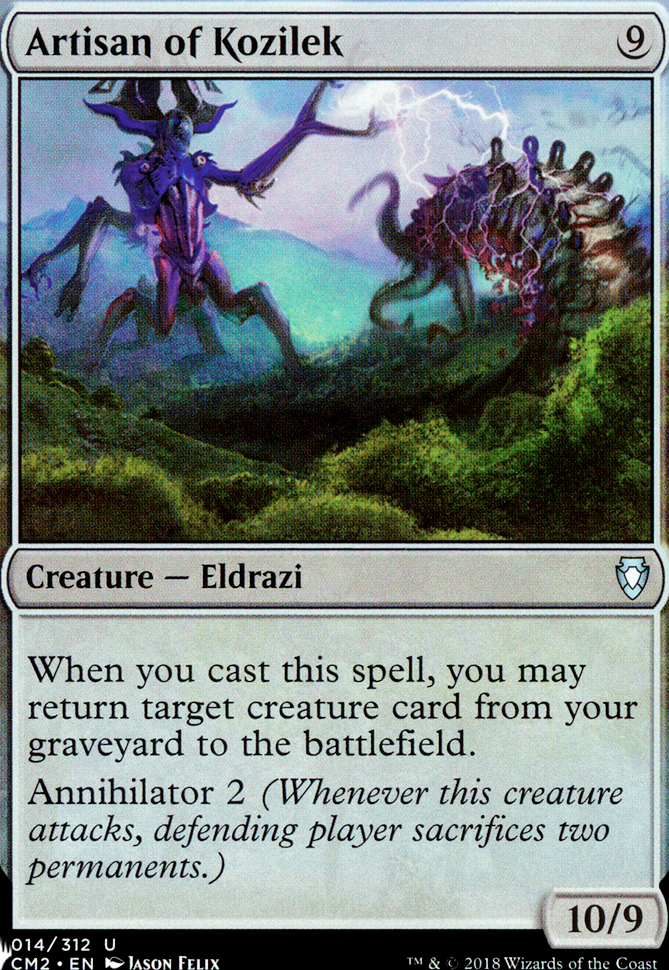 Artisan of Kozilek
Creature — Eldrazi
When you cast this spell, you may return target creature card from your graveyard to the battlefield.
Annihilator 2 (Whenever this creature attacks, defending player sacrifices two permanents.)
Browse Alters
Trade
Legality
| | |
| --- | --- |
| Format | Legality |
| Tiny Leaders | Legal |
| Noble | Legal |
| Magic Duels | Legal |
| Canadian Highlander | Legal |
| Vintage | Legal |
| Modern | Legal |
| Highlander | Legal |
| 2019-10-04 | Legal |
| Block Constructed | Legal |
| Leviathan | Legal |
| Legacy | Legal |
| 1v1 Commander | Legal |
| Duel Commander | Legal |
| Oathbreaker | Legal |
| Unformat | Legal |
| Casual | Legal |
| Commander / EDH | Legal |
Artisan of Kozilek occurrence in decks from the last year
Commander / EDH:
All decks: 0.05%
Green: 0.11%
Rakdos: 0.29%
Artisan of Kozilek Discussion
4 days ago
Dear Kronhamilton
Golos, Tireless Pilgrim is my favorite commander, and I've been brewing around him ever since he was teased. Let me just say you've chosen an excellent commander.
(I've written quite a lot in an attempt to make a sort of guide for you, so if you want the short version, check out the Suggestions panel)
Golos can be tricky to build around since he can do literally anything pretty well. The easiest way to make an effective Golos deck is to lean into Golos's 7 Mana Rainbow Wheel Of Death. Before getting into that though, we need to cover some EDH deckbuilding basics.
I think the most useful advice I can give someone who is just beginning to explore the deck-building territory of EDH is to structure your deck and mind your Ratios. By this I mean it is useful to categorize the cards in your deck according to the role they fulfill.
We'll begin by looking at some core categories that you'll want to make your deck function effectively. Then I'll present the Ratios (how many of each category of card) you will want to make a generic Golos deck function effectively. Next, I'll include a detailed (but not totally complete, because I'd be here all day) catalogue of cards within some of those categories. I'll also offer up some suggestions and input about some of your specific card choices. Lastly, since I'm about to unpack a lot of information, I will include a brief list of suggestions (see the bottom) for a generically good Golos 'Shell' that should be able to support most Golos strategies.
Categories
Draw

Ramp

Removal

Sweepers

Threats

Support

Land
The art of Ratios is all about determining what combination of cards from each category makes your deck run the most smoothly.
Please note that these Ratios will not total to 99 cards. This is because you will invariably have extra flexibility to choose how your deck behaves even after establishing functional Ratios. Also keep in mind that although these Ratios do recommend you adhere to the minimum number of cards in each category, you still can choose which cards will fill those slots. The point is not to restrict your options, but instead to create a 'Shell' that is reliable enough to power your Threats cards, Support cards, and other cards. Whatever you do, make sure you have at least the minimum number of Draw and Ramp cards. THE MOST IMPORTANT CARDS IN THE DECK ARE DRAW AND RAMP!!!
While I ultimately suggest Ratios resembling the Basic Golos Shell, I will lay out the Ratios for several different Shells;
Template: a sort of baseline beginner's guide which is commonly promoted as a place to start.

Basic Golos: a modified version of the Template that suites most Golos decks.

Control: a version tailored for a slower game with many Sweepers.

Aggro: a version designed to act quickly and deploy Threats before the opponents are prepared.

Big Mana: a version invested heavily into Ramp with the goal of deploying many end-game Threats.

Mega Mana: an even more extreme version of Big Mana with extremely expensive Threats.
Please remember that any suggestions I make are because I am trying to help. Ultimately, the choices you make with your deck are up to you, and I can only provide constructive criticism based on my own experience and opinions.
Good luck :)
Ratio Fixing
The most effective change to your deck would probably be adjusting the Ratios, especially with regard to your Draw cards. Applying the most basic Template Shell, you want to have at least these three quantities nailed down for a smoother and reasonably powerful deck;
Lands – 36 --> You have 40 Lands (Cut 4 Lands)

Ramp – 10 --> You have 5 true Ramp cards (Add 5 to 8 Ramp cards)

Draw – 10 --> You have 3 true Draw cards (Add 7 to 10 Draw cards)
Ramp & Draw Additions Show
What I counted in your deck Show
Mutate
Depending on how strong your Mutate subtheme is, some of your Mutate inclusions may act as engines. However, I must state that Mutate is a VERY risky and even fragile strategy since your Mutate 'Pile' of creatures will all be destroyed at once if your opponent uses a Removal spell or a Sweeper. For that reason, I recommend leaning out of the Mutate theme (unless the Mutate card is just straight-up insane, as in the example of Nethroi, Apex of Death).
With that said, playing a Mutate theme is your decision and I totally respect that and if you want to stick to a Mutate theme then by all means do so. I just want to be sure you know that Mutate is a risky strategy that you cannot depend on to fulfill your Ramp and Draw slots (so you'll just need to supplement it with other cards).
Cut or Include?
At a glance your deck seems like something you have created using just your collection – and that's great! However, if you want to incrementally upgrade your deck, then I recommend replacing most of the cards in your deck with more powerful options over time.
Here is a list of cards you should probably keep playing: - Barrier Breach (Removal, because exiling 3 enchantments is helpful in some situations)
In my opinion, there are other, better options for all of the other nonland cards in the deck, however it is up to you to decide on how you would like to proceed so I won't intrude.
I strongly recommend cutting the Planeswalkers though – Calix, Destiny's Hand doesn't seem to synergize much with the deck and I feel that Lukka, Coppercoat Outcast is not very potent.
Lands
Just as a recommendation, I would suggest the following spread of Basic Lands;
8 Basic Forests

3 of each other Basic Land
The remainder of your lands could be either more basics (which is really, really, risky if you don't have tons of Ramp – think like 15 Ramp cards and about 12 Basic Forests) or Color Fixing Lands (see the Catalogue for more options). It is rough to have your lands enter the battlefield tapped, but unless you want to either lean into Green or spend a lot of money on lands, you will just have to live with it (I play around 5-10 tapped lands in a normal Golos deck and it isn't really that bad).
In this section, I will list out an example of the Basic Golos Shell complete with the necessary Ratios and some examples of good/fun cards in each category. I'll try to keep it relatively Budget sensitive and most of these cards will be relatively random – this won't be based on any particular theme so don't expect it to be optimal.
As a reminder:
The Shell
Ramp – 12
Draw – 13
Removal – 7
Sweepers – 2
Threats – 12
Support – 7
Land – 36
Good Luck :)
-Slashdotdash
2 weeks ago
Thxs for advice i was also iffy on 31 lands but wasn't sure what to cut. And the ideas you gave me were awesome. Im going to be cutting Artisan of Kozilek, Ink-Eyes, Servant of Oni and Chancellor of the Annex for sure Im not sure if I should cut Abhorrent Overlord as he's not great but being able to always at least two extra bodies to the table at minimum he has a decent floor and a nice ceiling as there are only 3 mono white permanents in the deck, however bringing extra bodies is all he does besides being a 6/6 flying beatstick so he could be chopped
2 weeks ago
Flood of Recollection -> Mission Briefing
Hogaak, Arisen Necropolis is too strong Artisan of Kozilek is concerning with green ramp Channel NEEDS to be cut, you can't have that and any fireball effect, or eldrazi with annihilator
Bounding Krasis is concerning. What is its role?
Infect in general seems really strong
Reanimator seems strong as well given the top end creatures that exists, but hard to say relative to everything else
Blue feels like most cards exists to punish other archetypes, but it doesn't do much on its own
Red feels about right to me at a glance.
What is the intended power level? This seems to range from vintage cube to standard in power level. I would expect Channel with moxen and well supported a storm archetype, not Ayula, Queen Among Bears.
Lodestone Golem along with the artifact cost reducers, untappers and such could potentially be oppressive.
2 months ago
It's not a bad start, but there are some clear ways to take the deck in a better direction. Firstly, keep in mind your playgroup and the ever-present specter that ruins people, "play group politics". When approaching a deck, always consider how certain cards and interactions will affect the playgroup. Some people will not particularly care until you just dome someone out of nowhere, while other people may just act when they see things they dislike. Playing to politics isn't something Rakdos does well, but the ideal way to approach is through "minimal" bad stuff that helps you keep the target off your back. It's always fun to talk about how oppressive a deck or strategy can be, but once people grow aware and start countering you, the tables will indeed table against you.
But that said, onto the said ways to better this little carnival cruiseliner of doom.
Chonk
Let's start with the fun stuff. The whole point here is to play every Big Chungus for minimal cost. You should be looking for either beefy dudes to beat your opponents with or high end utility cards that aren't literal neanderthals.
Utility Dudes
Here I'll go over more miscellaneous creatures. You mostly are going to want creatures that either fulfill Rakdos's requirement or are general good stuff.
I'll address the deck further another day as I'm getting tired.
2 months ago
Version 2.1. Mystery booster draft best picks. -Moldervine Reclamation, +Kin-Tree Invocation // -Bedeck / Bedazzle, +Azra Oddsmaker // -Ethereal Absolution, +Zealous Persecution // -Castle Embereth, +Artisan of Kozilek // -Gate Colossus, +Renegade Map // -Clockwork Servant, +Sigil of Valor // -Diamond Knight,+ Bomat Bazaar Barge // -Griffin Protector, +Cast Out // -Shining Aerosaur, +Dictate of Heliod // -Battlefield Promotion, +Cartouche of Solidarity // -Terror, +Skeletal Scrying // -Raging Goblin, +Ghitu Lavarunner // -Ancient Hellkite, +Flametongue Kavu // -Overgrowth, +Grapple with the Past // -Unsummon, +Man-o'-War // -Chillbringer, +The Mirari Conjecture // -Thunder Drake, +Sigiled Starfish
4 months ago
My suggestions using only cards in your maybeboard.
If Ob Nixilis Reignited's only purpose is card draw, out for Guardian Project
That's 1 more out than in so you should be down to 99.
Ugrades using cards not in maybeboard.
4 months ago
@Savaaage, I do like the draw 4. Its really nice, and the big body with annihilator 4 is very strong. However at 10 cmc it's even harder to cast than Void Winnower (@9 cmc) and I don't think it's a better card than Void Winnower either. At 10 cmc the only card I could see taking out for it is Terastodon and that's also a really good card.
The last question you asked was if I use to run more eldrazi in the deck? I use to run 5 at the beginning. In this decks very early deck building stages I had all the low $ price tag eldrazies, and Ulamog, the Ceaseless Hunger in the deck. I cut the eldrazies from the deck because they would just be dead in my hand for way to long. Having so many high cost cards was bad for the deck. So I cut all the ones that I thought had the lowest impact or sat in my hand way too long because of it's high cmc. Ulamog, the Ceaseless Hunger was the last one to get cut. And it was mostly in for its removal for why it was in the deck for so long. and it was pretty cool winning by exile of Library. But 10 cmc again was too much. I kept Void Winnower and Artisan of Kozilek because they did some really good things that mattered most to me. First Void Winnower , it creates good evasion for multani and makes it hard for your opponents to play their cards. and Artisan of Kozilek is important because it can cheat on mana cost on some very strong cards in the deck such as, Bane of Progress , Greenwarden of Murasa , Platinum Emperion , Terastodon , and Void Winnower just to name a few.
So having Eldrazi Temple in the deck prior to cutting all the eldrazi felt very important to the deck. It's much less important now, but there is only one very small draw back from playing this card and that's the interaction with Caged Sun (its not a forest). The land comes into play untapped and can tap for right away at no cost. And when I have an eldrazi it's even better. So it's no problem to throw in the deck for the chance that I can cast an eldrazi for less even if there's only 2 in the deck.
Load more