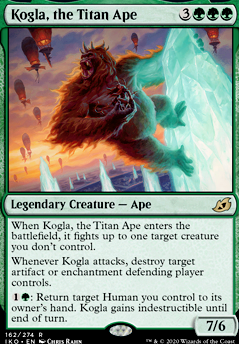 Kogla, the Titan Ape
Legendary Creature — Ape
When Kogla, the Titan Ape enters the battlefield, it fights up to one target creature you don't control.
Whenever Kogla attacks, destroy target artifact or enchantment defending player control.
: Return target Human you control to its owner's hand. Kogla gains indestructible until end of turn.
Start Commander Deck
Browse Alters
View at Gatherer
Legality
| | |
| --- | --- |
| Format | Legality |
| Legacy | Legal |
| Canadian Highlander | Legal |
| Casual | Legal |
| Standard | Legal |
| Block Constructed | Legal |
| Commander / EDH | Legal |
| Arena | Legal |
| Historic | Legal |
| Leviathan | Legal |
| Pioneer | Legal |
| Oathbreaker | Legal |
| Modern | Legal |
| Custom | Legal |
| Unformat | Legal |
| 1v1 Commander | Legal |
| Limited | Legal |
| Brawl | Legal |
| Tiny Leaders | Legal |
| Pre-release | Legal |
| Duel Commander | Legal |
| Vintage | Legal |
| Highlander | Legal |
Latest Decks as Commander
Kogla, the Titan Ape Discussion
7 hours ago
There are other cuts to consider as well, but I feel these are the more noteworthy ones....
Ashaya, Soul of the Wild - No direct synergy with Xenagos, you want a beater with evasion or protection
Beast Whisperer - Better in decks that are lower to the ground that can better use it's ability
Brash Taunter - "No synergy with Xenagos"
God-Eternal Rhonas - Better in decks that go wide, this gets easily chump blocked. You rarely have more than 1 creature out at a time
Klothys, God of Destiny - "No synergy with Xenagos"
Leyline Tyrant - Better in red decks, while not recomending it, glorybringer would be better IMO as it acts as removal as well
Phylath, World Sculptor - No synergy with....
Ulamog, the Ceaseless Hunger - Not enough ramp to hard cast, no cheating effects (which wont even give you a cast trigger)
Ulamog, the Infinite Gyre - See above
Shadowspear - Meta call? Better to have creatures with trample or more ramp and card draw in this slow
Triumph of the Hordes - Hit or miss. Playing a beater, hoping it survives, casting this next turn and hoping they dont have removal. Ignoring the feelbad of infect
Berserkers' Onslaught - Winmore
Vernal Bloom - Symmetrical ramp which you can't even take full advantage of
Nissa, Who Shakes the World - This is ok, I like the vigilance and getting essentially a 6/6. Rather have something more impactful.
Atarka, World Render - Beater with evasion
Balefire Dragon - Beater with evasion that also destroys decks that go wide
Carnage Tyrant - Beater with protection, evasion and anti-blue. Nice to use a mass draw spell knowing they can't remove the creature in response
Etali, Primal Storm - Not needed, but fun! Lots of value, doesn't require combat damage
Farhaven Elf - Ramp for T4 Xenagos
Fierce Empath - Tutor
Inferno Titan - Removal
Kogla, the Titan Ape - Removal
Malignus - GG target player
Savage Ventmaw - Beater with evasion and helps build tempo
Scourge of the Throne - Destroy people's lifetotal
Shaman of Forgotten Ways - Ramp and potential wincon
Siege Behemoth - Beater with evasion
Somberwald Sage - Ramp
Springbloom Druid - Ramp for T4 Xenagos
Yavimaya Hollow - Protection
Turntimber, Serpentine Wood - Land when you need it, beater when you don't
Dread Statuary - Manland to be used as potential beater or for draw spell
Rishkar's Expertise - Draw + Tempo. Powerful!
Life's Legacy - Draw
Momentous Fall - Similar to above, to be used in response to removal
Berserk - Use on selvala, malignus or even an opposing creature attacking one of your opponents!
Sylvan Library - Nice but not needed
5 days ago
Trample enablers:
These two are good bombs... Aggressive Mammoth Thunderfoot Baloth
These cards are just valuable cheap trample enablers... Primal Rage, Ferocity of the Wilds, Archetype of Aggression, Khenra Charioteer
Garruk's Uprising is a good draw source when you populate 5/5 dragon tokens.
Brawn is a good creature to sacrifice early. It is more annoying for your opponents to deal with. The effect works from the graveyard, and draws out graveyard removal.
|
Additional Suggestions:
Also, there's an interaction with Gerrard, Weatherlight Hero + Mirror Entity + Atla Palani, Nest Tender

that might interest you.
Reinforcements is a card that acts the same as Congregation at Dawn but in the late game, after board wipes and spot removal.
Also consider Kogla, the Titan Ape as he is opponent creature removal, artifact and enchantment removal, and can protect Atla Palani, Nest Tender

from removal and board wipes with his last ability.
AEther Flash will kill all your eggs instantly, and make sure your opponents are punished for Avenger of Zendikar, tokens, weenies, etc.
Both Scapegoat and Fanatical Devotion are extremely valuable sacrifice outlets which can save select creatures from removal and board wipes.
6 days ago
You described almost every Xenagos deck, mine included. You hit it right on the head.
As you said, we either have it or we don't. With no way to tutor card draw, adding more helps increase the odds of maintaining gas
Lifeblood Hydra - Not necessary but always welcome on X = 3 or more. Even if they destroy it, you still get value, has built in evasion and has a high ceiling.
Life's Legacy - If blue is too prevalent in your meta, ignore this suggestion
Momentous Fall - Similar to above, but would still put in despite blue, and despite the fact that its hard to have 4 mana after casting a beater. But similar to rishkar's expertise, I argue the potential card draw is worth the risk. You usually use this in response to opponent's removal
Bonders' Enclave - Never hurts, coudl replace a fetch land possibly
Elder Gargaroth - Makes beasts for blockers/draw spells, draws cards and gains life in a pinch.
Harmonize - Reliable draw
Be sure to lmk what you think of each suggestion. Some will work better for you than others. I see you run some dorks so I know you don't want too many nonbasics, but with all the ramp in Xenagos, I think we can be a little greedy. If you can't find room, I have ideas for cuts.
1 week ago
Cards under $2 TCG Low according to tappedout....
Greater Good - Only card I think over $2, but the BEST CARD IN XENAGOS EVER. ADD THIS 100%, tcg player that shit.
2 weeks ago
Interesting deck +1
What is your meta like?
Proud Wildbonder - Seems too unimpactful for 4 mana
Essence Warden - Whats the purpose of this?
Beast Whisperer - Seems cool, I tried him in my build. Does he get a chance to stick around long enough to draw you atleast 2-3 cards?
Ravager Wurm - Is this meta against maze of ith?
Shivan Wurm - Reusing ETB effects or something I'm missing? Seems weak
Voracious Cobra - Gosh this card brings back memories from my childhood. Curious how it's been for you, seems like a card they need to burn removal on if they want a chance of attacking you unless they go wide
Windstorm - Meta?
Fog - Meta, if so, why not get the new green fog that came out recently?
Soul's Might - Return of the Wildspeaker would better serve you as you can draw cards in response to removal rather than your creature getting removed in response to might being cast.
Ancient Tomb , Castle Garenbrig are ramp
Goreclaw, Terror of Qal Sisma - Trample and ramp
Heroic Intervention - Protection
Selvala, Heart of the Wilds - Ramp and draw
The Great Henge , Somberwald Sage, Shaman of Forgotten Ways are all good ramp
Inferno Titan - Removal
Kogla, the Titan Ape - Removal
Deflecting Swat - Utility! Counter counterspells, redirect targetted removal/draw/extra turns. Very powerful
Rishkar's Expertise, Bonders' Enclave, Elder Gargaroth, Greater Good, Life's Legacy, are all amazing card draw options, especially greater good. Seriously, don't sleep on greater good
I hope the suggestions werent too overwhelming, I just didn't see that much draw and I figured that adding more never hurts.
1 month ago
Garruk's Uprising has been one of my favorite new cards in a while. At 3 mana it comes down early, and can draw you a card immediately as long as you have a beater out which makes it good at any stage of the game. Then it gives you that incremental value that plays with your big guys pretty well since they're all HUGE. All that and the fact it also gives trample is almost too easy to include. Basically a strictly better Elemental Bond and it's been really good for me.
On another note, I agree with you about Warstorm Surge. I've always found it to be a little too slow for my tastes and I always would rather just play a big beater to be honest. Terror of the Peaks has been such an overperformer since I decided to put it in, and I'm seriously considering dropping warstorm for something like Defense of the Heart.
Elder Gargaroth is another one that's been really fun to play around with. I'm almost thinking it would be a better Soul of the Harvest. I'm a sucker for drawing cards, and Gargaroth is super busted, especially when you double its power and give it haste. Basically guarantees that you at least get to attack and draw when you first play it, and that it's big enough that it's unlikely to die to blockers unless your opponents want to go out of their way to kill it. The other effects are just gravy, and the fact that it can draw when it attacks or blocks, AND has vigilance makes this thing another wall of text like Kogla, the Titan Ape and Questing Beast.
Grothama, All-Devouring is a fun include, cause it can be sort of political if you need it to be, or just a 20/18 beatstick. I normally treat it as a draw spell for myself though. You can play her, pump one of your other creatures, and swing it at Grothama to draw a crazy amount or sac it to Greater Good. You could also play it right before you drop something like a Blasphemous Act to draw 13 cards or even hit a fat Traverse the Outlands.
1 month ago
Hey Profet93,
This is a very interesting deck I think. It's different in that almost half your deck is lands. Also, you have a lot of different ideas going on here: land matters, power matters, eldrazi aggro, with a sprinkle of going wide. That probably creates a challenging deckbuilding balancing act. You might be spreading yourself too thin by having all those things in one deck. Especially because you have so few spots for supporting themes because your high land count. My main tip is: see if you can reduce the amount of themes for a higher focus and synergy. I've found that taking out one or two of such themes out and use them as the inspiration for a new deck can be very rewarding.
What I also noticed is that your list is quite a "glass cannon" kind of build. If it works, it works well, but I expect it is also relatively susceptible to be blown out by interaction. You also don't run a lot of interaction yourself. That's not really my thing, as my meta would punish me too hard for trying. This tells me we play in very different environments, so take my suggestions with a grain of salt ;).
There a few cards here I would consider to cut:
Zendikar Resurgent, Shamanic Revelation: These don't synergize with your themes very well. You only run about 20 creatures, so resurgent is not going to draw that many cards. And with only 4 token makers, shamanic revelation is not really ideal either.
Mind's Eye: I don't think this card is worth running in edh anymore. Especially in green. Very slow and expensive.
Boundless Realms: You don't run a lot of landfall pay-offs. Perhaps a card that is a payoff by itself is a better use here.
Cards I would consider adding for better consistency
Lastly, I would make a choice between growing tall and going wide. The power matters theme is probably a better match than the going wide one, as your Eldrazi aggro plan is already matching with that (however, landfall supports the going-wide route very well, so you could really go either way). Here are some contenders to consider if you decide to go for power matters:
Hope there are some ideas here that match with your vision for the deck.
GL & HF!
Load more