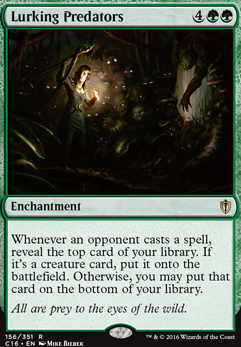 Lurking Predators
Enchantment
Whenever an opponent casts a spell, reveal the top card of your library. If it's a creature card, put it onto the battlefield. Otherwise, you may put that card on the bottom of your library.
Browse Alters
View at Gatherer
Trade
Legality
| | |
| --- | --- |
| Format | Legality |
| Tiny Leaders | Legal |
| Noble | Legal |
| Leviathan | Legal |
| Magic Duels | Legal |
| Canadian Highlander | Legal |
| Vintage | Legal |
| Modern | Legal |
| 2019-10-04 | Legal |
| Block Constructed | Legal |
| Vanguard | Legal |
| Legacy | Legal |
| Archenemy | Legal |
| Planechase | Legal |
| 1v1 Commander | Legal |
| Duel Commander | Legal |
| Oathbreaker | Legal |
| Unformat | Legal |
| Casual | Legal |
| Commander / EDH | Legal |
Lurking Predators occurrence in decks from the last year
Commander / EDH:
All decks: 0.02%
Green: 0.13%
Lurking Predators Discussion
5 days ago
Please let me know what you think of each suggestion. Some are better than others, some are personal preference, but most are just gas. With Xenagos, everyone will be afraid because you can one-shot them pretty easily. So you need a way to fight past removal and ensure you don't get 2 for 1ed when using a burst draw spells.
So you have a lot of cheap mana which helped lower the curve to 4 which is pretty good for a Xenagos deck. I see that you only have 3 sources of draw. How exactly do you maintain gas once you dump your hand out given your ramp and then they just destroy your beater?
As someone said before, Decimate is great.
Voracious Hydra acts as a removal and a beater (or just a big beater).
Bolt Bend redirects targeted removal, targetted draw, targetted extra turns, and counters counterspells all for . It's unexpected and when they do expect it, you can bluff. Such an underrated card in Xenagos!
Ilharg, the Raze-Boar - Helps you cheat fatties and is always there for you.
Berserk - Super fun on Malignus or any fatty. Don't forget, you can use on opponents creatures too (have done so on multiple occasions)
Rancor - That 1/1 turns into a 6/1 trample pretty quickly. I like to use it on Selvala personally.
Lurking Predators - Value value value
Etali - You took him out, not sure why? Such a great value engine.
Cut temple of the false for Yavimaya Hollow.
Feel free to check out my Deck
6 days ago
grievances Always do my best to help. The deck is a difficult one to build, for sure. I will say, a viable build that I think could be interesting, although I'm not sure how good, is a Chaos stax build. I'm not sure how good it would be, but the general idea would be destroy lands, play more cards like Vaevictis Asmadi, the Dire, Lurking Predators, Aid from the Cowl, Contamination, Infernal Darkness, Keldon Firebombers, Pandemonium, and a few others and just play top deck chaos stax. Use your commander for card advantage and shut the board down with jund hate. Take a look at this deck to get a general idea of what I'm hinting at.
https://articles.edhrec.com/heart-of-the-cards-vaevictis-asmadi-the-dire/
Just an idea. Best of luck!
1 week ago
You know I built this deck myself and had the exact same problem. The thing is with Korvold, you want to do two things. You want to sacrifice things so you can draw cards for advantage, and you want to, of course, win. The problem being the amount of pieces it takes to create tokens to sac is simply... Too much. By the time you have your draw engine in the deck you hardly have enough room for, yeknow, your win con that you need.
When the deck does go off, it gets to going pretty quick. The problem is, in that power level, by the time it does get to going off, or when it's getting close, all your opponents have already done went and finished the race. There's some weird aspect about Korvold that just makes him too slow. Believe you me, I had a hell of a time with this deck. Unless you go just straight combo win, it can be really difficult to get a deck build that's cohesive, just because, or at least I felt this way, it's hard to find good cards to create a sustainable amount of tokens for a sustainable amount of card draw quickly and easily.
So I think you have two options. Do what I failed to do and make this deck better, or consider some different avenues for Korvold. Jund Card Draw Advantage is... Well it's a thing that shouldn't exist. I mean it's JUND! Tokens toolbox win, right? Surely if someone tries hard enough they can make a viable deck. Maybe it's missing the Lurking Predators alongside your Aid from the Cowl. Perhaps some additional top deck cards would help. There are a few others that do this although none of them would probably fit the needs of this deck. Try some stax cards to slow the game down? Defense Grid is a bad example. If you can get to drawing enough cards, I'm sure you can get the value engine you need going. Necropotence could be good, help get that extra card draw in until your engine is up and running.
Other than that? Maybe consider a Landfall Deck. Korvold LOVES lands. Creating Jund Landfall could be an interesting spin, although it would play on a less loved playstyle in commander, big creature beatdown. Play lands, sac them, draw off of them, get two landfall triggers, create tokens, perhaps that you can sac on combat step if need be, sac some lands here and there with Korvold, create 5/3's off of Titania, Protector of Argoth and just go ham. Sorry, I know recommending an entirely different deck build is hardly a good recommendation but the trouble is...
The problem with Korvold is, he either wants to be a casual deck, and I mean SUPER casual, orrrrr infinite combo win turn 4, super competitive. He doesn't transition well in between those points in my experience, and it makes me very sad, as Jund Card Advantage just sounds like something that should be so good! But the package you have to include in the deck to take advantage of that card draw is just too large. I hope this helped :/ hopefully someone else will come along that has some ideas for this deck and can pull off the thing that I could not.
1 week ago
I hate Elesh, so run her.
Camaraderie is a good idea for another draw spell, if you don't want to run Guardian Project with your lower creature count. It'd be a strict upgrade over Harmonize. Lurking Predators is another card worth considering. I play it in my Dino Tribal deck, and it is awesome.
How helpful is Cathars' Crusade for you in this deck. It seems like you've already got a lot of beef in it, so is it win-more, do you think, or a mainstay for the deck?
1 week ago
I love Lurking Predators for this deck. Void winnower is a bit much. I don't like effects that limit other players from playing their deck. Goblin Drums is also a great idea. Thanks for the suggestions. I'm gonna be on the lookout for those two now.
2 weeks ago
Cool idea, I like that you have a very personal approach to deckbuilding.
One of the most game-changing rules alteration card is probably Void Winnower. It would tie in nicely with your theme, possibly making it much harder to block as well.
Lurking Predators would go a long way to cheat him and other creatures into play.
War cadence is interesting, but somehow I feel a good old Goblin War Drums may be more efficient for less maintenance.
Cheers!
4 weeks ago
Sounds like a job for Insurrection.
It also kinda looks like you're trying to build a combo deck, what with the Congregation at Dawn and specific 3 creatures you want out, in which case Genesis Wave, Genesis Hydra, Lurking Predators, Kamahl's Druidic Vow, Vaevictis Asmadi, the Dire, See the Unwritten, Atla Palani, Nest Tender

, Aid from the Cowl, Warp World, Divergent Transformations, Indomitable Creativity, Reality Scramble, and Genesis Storm are your options for cheating out multiple creatures off the top of your deck. You'd then want to shore up your tutors (not having blue hurts here, but black is king) to be able to consistently grab Congregation at Dawn.
The other option (or perhaps in addition to) is to go reanimator. Buried Alive+Balthor the Defiled, Champion of Stray Souls, All Hallow's Eve, Immortal Servitude, Pyrrhic Revival, or Rise of the Dark Realms.
Tutors can serve each plan equally, and it keeps the deck from doing the same thing every time, which is good for casual play. Also, if you throw in Footbottom Feast, Gravepurge, Forever Young, and/or Bone Harvest, Buried Alive interacts with Genesis Wave and friends.
Load more