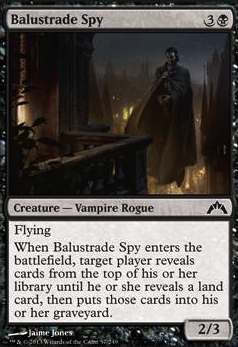 Balustrade Spy
Creature — Vampire Rogue
FlyingWhen Balustrade Spy enters the battlefield, target player reveals cards from the top of his or her library until he or she reveals a land card, then puts those cards into his or her graveyard.
Balustrade Spy Discussion
5 days ago
@skrid54321 Although it would be good to have access to Mystic Retrieval, I just can't see how I could reliably cast it. The Lotus Blooms and mana producers of the deck are really all backups to hardcast Undercity Informer or Balustrade Spy in case I can't get an AEther Vial into play turn 1, which happens a lot lol. I'll look at it some more though, and test it a bit and come back with an update on it!
5 days ago
axeswinga115, while it is not particularly common, I have indeed lost a couple of games by having an opponent Reanimate my Balustrade Spy on their turn, and target me with the ability. The key thing to remember is that I lose if I would draw a card when my library is empty, but if I can find a way to keep a card in my library, or win before I have to draw, then I'm fine.
This is why there is Progenitus in the sideboard, so even when I get fully milled, I still have one card in my library, and survive past my next draw step. This is a must board-in against Reanimator decks, for the above reason, and Show and Tell decks so I can drop in Balustrade Spy on their turn and win the next turn if they don't have the kill ready.
I've also had a strange situation where my library was empty and my opponent passed the turn expecting that to be the game... however I had a Flayer of the Hatebound in play and was able to bring in all my Nether Shadow and Ichorid during upkeep, getting lethal damage on him before having to lose in my draw step.
So while it can be a liability, so long as you know what matchups to look out for, and are prepared, you can avoid it.
1 week ago
How does Balustrade Spy work in this deck? Since you don't have any lands in your deck how does this function?
1 week ago
No Balustrade Spy? He's under a dollar and is a key card most manaless dredge decks.
2 weeks ago
Please format all cards.
You would put all cards from your library into your hand. Rule:
1/24/2013 If the target player has no land cards in his or her library, all cards from that library will be revealed and put into his or her graveyard.
| | |
| --- | --- |
| Power / Toughness | 2/3 |
| Color(s) | Black |
| Cost | 3B |
| Converted cost | 4 |
| Avg. draft pick | 8.81 |
| Avg. cube pick | 6.06 |
Legality
| | |
| --- | --- |
| Format | Legality |
| Legacy | Legal |
| Vintage | Legal |
| Commander / EDH | Legal |
| Modern | Legal |
| Duel Commander | Legal |
Related Questions