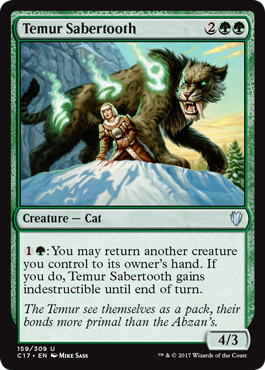 Temur Sabertooth
Creature — Cat
: You may return another target creature you control to its owner's hand. If you do, Temur Sabertooth gains indestructible until end of turn.
Browse Alters
View at Gatherer
Trade
Legality
| | |
| --- | --- |
| Format | Legality |
| Tiny Leaders | Legal |
| 1v1 Commander | Legal |
| Magic Duels | Legal |
| Canadian Highlander | Legal |
| Vintage | Legal |
| Modern | Legal |
| Highlander | Legal |
| 2019-10-04 | Legal |
| Block Constructed | Legal |
| Pioneer | Legal |
| Leviathan | Legal |
| Legacy | Legal |
| Frontier | Legal |
| Duel Commander | Legal |
| Oathbreaker | Legal |
| Unformat | Legal |
| Casual | Legal |
| Commander / EDH | Legal |
Temur Sabertooth occurrence in decks from the last year
Commander / EDH:
All decks: 0.05%
Green: 0.59%
Temur Sabertooth Discussion
5 days ago
Yeah, I mean, cascade is sort of a tutor. You decide wether to cast the spell or not, so you can cast any spell in the deck in the order you want. Sadly, tutors in RUG are not that good, but I like the stax/hate package I can run here. That's not optimal in a pure cEDH meta, but it does a good job in high-level metas.
I think Ballista wouldn't fit here. It's a wasted cascade, and even with infine mana I would need a tutor for it.
P.s. I am thinking about removing Temur Sabertooth for Windfall. I like Curio more than Sabertooth :)
6 days ago
Thanks for your suggestion! But I didn't understand what you meant by mana outlet. Anyway, even without any CFE creature, Food Chain is ridicolous with Malestrom Wanderer, since it allows to cast it multiple times in the same turn. At the moment, the deck is really focused on it, most of the wins happens with Food Chain.
As regards Cloudstone Curio, I agree with you, it's redundant. I will consider removing either it or Temur Sabertooth.
Kinnan, Bonder Prodigy is a nice suggestion, I will find a spot to try it. Although casting Maelstrom Wanderer is certainly good, it's not the aim of this deck, as MW is mainly used to dig for combos.
1 week ago
Awesome deck, great job!
These might interest you: Stone-Seeder Hierophant, Temur Sabertooth, Cloudstone Curio, Whitemane Lion, Kor Skyfisher, Thornscape Familiar, Pearl Medallion, Amulet of Vigor, Glimpse of Nature, Somberwald Sage, Elvish Rejuvenator, Genesis Wave, Jazal Goldmane, The Great Henge, Horizon Canopy, Bonders' Enclave
2 weeks ago
Nice deck! I think the hideaway lands could work well here, especially Windbrisk Heights. Other land options that might help are Gavony Township, Kessig Wolf Run, Ancient Ziggurat, and Thran Quarry. Some other synergistic cards that come to mind are Aid from the Cowl, Rhythm of the Wild, Keeper of Fables, Temur Sabertooth, Bear Umbra, Path of Discovery, and Champion of Lambholt. Triumph of the Hordes and Gratuitous Violence could be a wincon. As for good counterspell options, I'd recommend Avoid Fate and Rebuff the Wicked. You could also always just go with Price of Glory.
2 weeks ago
it may just be me but where are the finishers in the deck? I figured you had a way to win once you have drawn your entire deck. There is Ezuri, but he can't be the only thing. I would put in a Craterhoof Behemoth or/and a Triumph of the Hordes as a finisher. Ezuri does the trick, sure, but personally, I would want more. I have a Seton deck (the one you have in your 99), it runs lots and lots of druids, just like you do, then I have crafterhoof, Overrun, Triumph of the hordes, Overwhelming stampede, Beastmaster's assention <-- all these justtrample people to death. I know Craterhoof is expensive, but there are budget version of him, like Pathbreaker Ibex that you could use. A creature that pairs well with Temur Sabertooth is Great Oak Guardian, with infinite mana, you can blink it in and out making a creature ifinitely large, then use Ulvenwald Tracker to have it fight every creature your oppents control to remove them, but you need a way to untap the tracker to do it. or you know, since you are in blue and you have the option to draw your deck, mayne Thassa's Oracle is a thing.
Load more