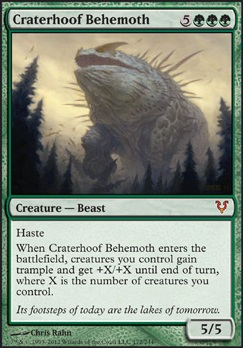 Craterhoof Behemoth
Creature — Beast
Haste When Craterhoof Behemoth enters the battlefield, creatures you control gain trample and get +X/+X until end of turn, where X is the number of creatures you control.
Have (5)

m

i

r

a

c

l

e

H

a

t

, DudeMan1031 ,

C

l

o

k

k

w

o

r

k

, kaboomeow , nintendowryyy
Want (10)

j

p

v

,

W

o

l

f

n

i

n

j

a

, Swamy , ryuzaki32667 , Tomahawk-Bang , llfr , Khadord ,

p

s

k

i

n

n

0

1

, Jelatinator , donatedwarrior9
Craterhoof Behemoth Discussion
2 hours ago
I love it. Do you think the deck will be harmed too much (in efficiency) if I swapped out the expensive lands for bargain ones? Also, what about swapping some of the more expensive creatures - looking at you, Craterhoof Behemoth, in particular - to create a very budget version of this deck? There are a few cards that just can't go but I'd love to shave off $120-160 from the total cost.
20 hours ago
lol @ slovakattack... yeh Craterhoof Behemoth is in my Maybeboard already. =)
He is definitely going into my deck but I've made a lot of changes to my deck in the recent months which need better testing before I make any more changes.
I used to play at a venue where every single person who had green in their deck played Craterhoof Behemoth, Tooth and Nail + Vorinclex, Voice of Hunger and I kind of got a little over seeing people tutor for the same couple of win cons every time. I like decks which are more creative in their wins. It's kind of why I held off for a while but on his own if I draw him without tutoring I think he'll be a lot fun.
Thanks heaps for those other two suggestions I have added them to my maybeboard.
3 days ago
Ok, so after looking through this thing, I like what you've got, but I could see it getting fine-tuned into something completely ridiculous.
Typically with elves you want to either go the mana-ramp route (putting out endless mana dorks and then ramping into a Craterhoof Behemoth and swinging for a million damage) or warrior aggro, which is what this seems to be doing. So, assuming you want aggro (though I can see a beast of a life-gain deck here if you made some modifications), let's try some of these to see what happens:
5 days ago
notamardybum: The issue with running three colors in Elves is that you are running a limited mana base as it is. Your goal is to land a Craterhoof Behemoth by turn 4 or 5, and just swing in for huge damage. A strained mana base for minimal gain does not help you accomplish that.
5 days ago
I can kind of see your train of thought for Collected Company, but no Chord of Calling seems off. It gets shamans at EoT and is pretty much the go-to toolbox card. Temur Sabertooth may also be something to consider, it bounces your very replayable elves and can act as a beater. The thing you may run into is not having a finisher. Sure the deck goes really wide sometimes, but what makes modern elves so much better is the interactions between the elves and then a giant Craterhoof Behemoth. As for cuts for suggestions, Thornbow Archer is never coming down on T1 and gets exponentially worse as the game progresses. If it were something similar to Brutal Hordechief's ability then it'd be bonkers, but it may be too flimsy in a sea of Languish, Drown in Sorrow, and Siege Rhino. Shamanic Revelation I don't think does enough as you want to get the most amount of value out of it and the Elvish Visionary + Temur Sabertooth may fill that slot better. The manabase can be cleaned up a bit; don't doubt Mana Confluence and Urborg, Tomb of Yawgmoth helps blunt the amount of damage you'll take from lands.
Additionally, not playing something because "people will expect it" pretty much means you don't show up to a tournament. Everyone is expecting everything, this is the most diverse period in Standard's history. Especially if you hope to be competitive; you will need key pieces of your deck at specific times and Collected Company only helps make your deck faster. Sure, there's always a percentage of not hitting anything, but as Maringam pointed out you have plenty of targets.
| | |
| --- | --- |
| Power / Toughness | 5/5 |
| Color(s) | Green |
| Cost | 5GGG |
| Converted cost | 8 |
Legality
| | |
| --- | --- |
| Format | Legality |
| Legacy | Legal |
| Vintage | Legal |
| Commander / EDH | Legal |
| Modern | Legal |
| Duel Commander | Legal |
Related Questions