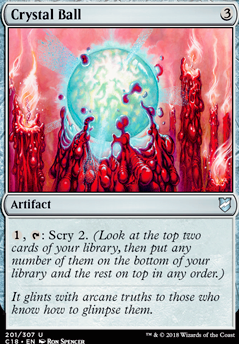 Legality
| | |
| --- | --- |
| Format | Legality |
| Tiny Leaders | Legal |
| Noble | Legal |
| Leviathan | Legal |
| Magic Duels | Legal |
| Canadian Highlander | Legal |
| Vintage | Legal |
| Modern | Legal |
| Penny Dreadful | Legal |
| Vanguard | Legal |
| Legacy | Legal |
| Archenemy | Legal |
| Planechase | Legal |
| 1v1 Commander | Legal |
| Duel Commander | Legal |
| Unformat | Legal |
| Casual | Legal |
| Commander / EDH | Legal |
Crystal Ball
Artifact
, : Scry 2. (Look at the top two cards of your library, then put any number of them on the bottom of your library and the rest on top in any order.)
Have (22)
ironax , Fleshxandxbone , marcus638 , mziter501 ,

S

i

r

F

o

w

l

e

r

, webdokkeren , redlegs_17 , REV666 , EliGjerdingen , switchkill65 ,

L

o

n

e

C

r

u

s

a

d

e

r

3

9

9

, joshw335 , frederiklw , Reliva , superdude2431 , Melmo ,

E

p

i

d

i

l

i

u

s

,

T

h

e

_

M

u

n

c

h

k

i

n

,

V

a

1

m

a

r

,

F

A

L

L

E

N

-

X

-

A

N

G

E

L

,

m

a

z

r

i

m

t

a

i

m

, Horizon97
Want (3)

v

a

s

h

a

c

l

a

r

e

n

s

, helium2 , binarysecond
Crystal Ball Discussion
2 weeks ago
hkhssweiss Thank you for the deck ideas and I do know I need to fix my curve a little but I don't find Blasphemous Act that helpful in this deck because a lot of the idea is to copy and get multiple copies going at once and with that card really only one use is needed. I was thinking something like Crystal Ball or Mass Manipulation so I could make best use of the copying effect along with fixing my top card.
2 weeks ago
So if you like weird combos, and aren't opposed to infinite combos, you can run Priest of Gix , Priest of Urabrask , and Viscera Seer or any sac outlet, with epitaph on the field and heartstone (assuming you also have grenzo on the field) to produce inifnite mana. ex: grenzo ability for 1. priest to field, 3 mana. sac priest to sac outlet, activate epitaph. 2 mana. activate grenzo. 1 mana. priest to field. 4 mana. I had a janky grenzo deck and this takes me back when it was able to be played. you can also either go really big, near infinite, or infinite with workhorse and end up cutting out the sac outlet. There's infinite etb or death triggers which zulaport loves. maybe put in Blood Artist and/or Falkenrath Noble as they do the same thing as zulaport. I am all for redundancy in a deck because it creates consistency which is extremely important. I would suggest doing a jank Doomsday build but frankly, if you're building doomsday, you might as well go competitive with the deck. Murderous redcap loves ashnod's altar with this jank. And as a final food for thought, maybe run a few utility creatures, Crystal Ball and/or Darksteel Pendant for scrying to get creatures to bottom for grenzo, and utility creatures like Ravenous Chupacabra or Vampire Hexmage for some spot removal and utility against planeswalkers. Definitely getting an upvote my dude! if you want any deck suggestions or help on the deck, message me if you'd like!
3 weeks ago
Changes 1/25
Out
In
1 month ago
Maybe As Foretold to gain some free casts so you can cast more spells each turn?
Its on the expensive side but Sensei's Divining Top so you can access more instants and sorceries to keep casting. On the cheaper side, Crystal Ball for the double scry to set up that top card of the library.
I don't know that you have enough dragons to make Dragonstorm worth it. I also wonder how effective Runechanter's Pike is in this deck. If your commander had some evasion built in then maybe.
1 month ago
Hi Tomahawk-Bang, great thoughts! Thank you. Ah yes - this is my deck that I love playing AGAINST Timmy decks. It's funny, I actually started to become aware of how excited I would get when people would bring out big flashy creatures. I would start to think something like, "everything's going to be alright".
Thank you for the ideas.
I remember having Victimize on my initial "to buy" list when I started building this last spring, however it somehow got lost. It'd probably be a good replacement for Rescue from the Underworld as, while Rescue from the Underworld puts theirs in my control and is an instant, it's a higher CMC. What do you think? Maybe both. Could be great if I get a few more ETB triggers running through the deck as well - I'm considering adjusting that way a little bit with my creatures, then throwing in some cheats like Birthing Pod, Feldon of the Third Path, Lurking Predators and Elvish Piper to up the level a bit. Probably a Meren of Clan NelToth (a legendary that Tombstone Stairwell would work great with)
Tombstone Stairwell sounds like a great mid game play for building up Kresh, especially with a Corpsejack Menace out, and a Dictate of Erebos, especially if you have some instant flings in hand as this mass build of Kresh would take place on your end step. I could see everyone agreeing to attack me with theirs though, knowing what was coming haha. Looks like a fun card to for a few different deck styles though, so I'm definitely thinking it'd be good on the purchase list.
Viscera Seer is something I'm definitely thinking about, good call. I appreciate the advantage that scrying provides. I wonder if it'd be worth taking out the Crystal Ball or not, as the scry 2 is even better advantage in some ways. However, not having enough sac options when you steal 3 creatures can be a bummer :). I'll figure out what I can swap out.
Shattergang Brothers - It's funny, when I made my first order at the time of originally building this deck, I picked up these guys. They didn't make it in though. I think it may have been because of the continuous mana inputs. However, If I wanted to focus this a little, it might be work taking out Grave Pact? I guess the downside is mainly its cost, while with Grave Pact, if they kill one of mine it's a passive response, and with a free sac like Viscera Seer I can sac 3 in a turn for big effect. Actually 4doublexx, I think this thought process is an argument for keeping Korozda Guildmage in: If I have any of the three Grave Pact triggers out and a free sac outlet, I could use Guildmage's second ability on a creature of my own, then wipe the board.
Lord of Extinction is wild. Such value for 5cmc. My hesitancy with him is more the value for $. I'm exploring ideas for an optimized version of Kresh though and he will definitely be on that list!
Load more
Crystal Ball occurrence in decks from the last year
Commander / EDH:
All decks: 0.02%
Red: 0.03%
Rakdos: 0.09%
W/U/B (Esper): 0.07%