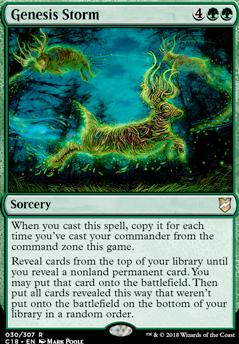 Legality
| | |
| --- | --- |
| Format | Legality |
| Tiny Leaders | Legal |
| 1v1 Commander | Legal |
| Magic Duels | Legal |
| Leviathan | Legal |
| Duel Commander | Legal |
| Commander / EDH | Legal |
Genesis Storm
Legendary Sorcery
When you cast this spell, copy it for each time you've cast your commander from the command zone this game.
Reveal cards from the top of your library until you reveal a nonland permanent card. You may put that card onto the battlefield. Then put all cards revealed this way that weren't put onto the battlefield on the bottom of your library in a random order.
Genesis Storm Discussion
3 weeks ago
Thanks for the trade. I placed 2 of the cards into bant enchantress deck, along with Omniscience I picked up in another trade. With two "enchantress" draw cards in play. I hit omniscience with a Genesis Storm (commander cast count 2). With Bant Charm and Arcane Denial in my hand to stop my opponents attempts to blow it up and rift my board. Drawing 2 when I cast any enchantment, I then built my board up until I had lethal unblockables on the field. Two opponents scooped. Last opponent cast Reins of Power , so didn't win that turn. On his turn, He cast Niv miz and cast a wheel, I rifted his niv miz, he counters my rift, so I Capsize his niv miz. He then scooped as he couldn't kill me, or stop me from killing him.
2 months ago
Personally i'd get rid of: Cloud Manta, Deep-Sea Terror, Deepglow Skate, Boundless Realms, Farseek, Genesis Storm, Nissa's Renewal, Skyshroud Claim, Giant Growth, Glissa's Scorn, Naturalize, Pulse of Murasa, Sweep Away
and replace with things like: Hedron Crab, Tidal Kraken, Serpent of the Endless Sea , Kraken of the Straits, Isleback Spawn, Grozoth, Sealock Monster, Stormsurge Kraken, Benthic Behemoth, Breaching Leviathan, Guard Gomazoa, Gomazoa, Dormant Gomazoa, Broken Bond
6 months ago
Not sure what you mean by Starfield of Nyx being counter-intuitive. It's a solid card at any point in the game and provides a large number of blockers or a backup win condition should you need a little extra firepower.
For cuts:
Armadillo Cloak is strictly better than Unflinching Courage. Not only can you put it on your own lifelink creatures for double health, you can also put it on an enemy creature to gain health when it attacks--healing off any damage it deals to you should you be the target.
Genesis Storm occurrence in decks from the last year
Commander / EDH:
All decks: 0.0%