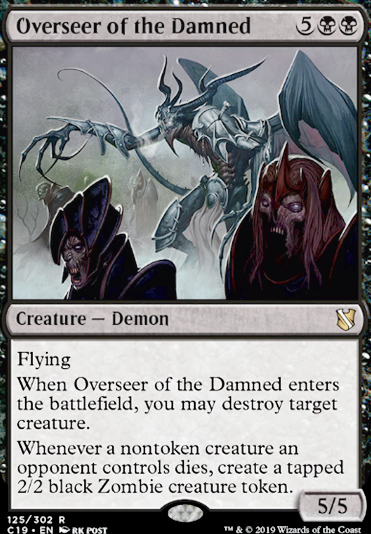 Overseer of the Damned
Creature — Demon
Flying
When Overseer of the Damned enters the battlefield, you may destroy target creature.
Whenever a nontoken creature an opponent controls is put into the graveyard from the battlefield, create a tapped 2/2 black Zombie creature token.
Browse Alters
Trade
Tokens
Legality
| | |
| --- | --- |
| Format | Legality |
| Tiny Leaders | Legal |
| 1v1 Commander | Legal |
| Magic Duels | Legal |
| Canadian Highlander | Legal |
| Vintage | Legal |
| Leviathan | Legal |
| Legacy | Legal |
| Duel Commander | Legal |
| Oathbreaker | Legal |
| Casual | Legal |
| Commander / EDH | Legal |
Overseer of the Damned occurrence in decks from the last year
Commander / EDH:
All decks: 0.02%
Black: 0.22%
Rakdos: 0.2%
Overseer of the Damned Discussion
1 month ago
So, multimedia, I just got the madness commander deck today, and there are so many cards that I could add to the deck (such as Overseer of the Damned , Beacon of Unrest , Archfiend of Spite , and more)! Having this, I will soon be changing the deck from Rakdos' Crazy Demon Party to Chainer's Demon Summoning Possie! So, in your humble opinion, what should I cut/add?
5 months ago
I get the force sacrifice theme but do not really see many creatures YOU would want to sacrifice. I count 4 creatures who once they enter I would be happy to let die to trigger something or force sacrifice (WS, VE, SD, and G). This is not counting Sakura-Tribe Elder, co. because I assume you will want to sack them to their own effect most time.
Creatures who are happy to die and come back or create tokens to be sacrificed are: Reassembling Skeleton , Bloodsoaked Champion , Squee, the Immortal , Open the Graves , Xathrid Necromancer , Overseer of the Damned , etc. all give you extra bodies to sacrifice while keeping your enablers free.
I am surprised to see so little graveyard recursion either, some to consider: Phyrexian Reclamation , Palace Siege , Animate Dead , Whisper, Blood Liturgist , Phyrexian Delver , etc. are good for getting back killed creatures or reanimating high-CMC ones (@ 4.03 that is pretty HIGH).
For ramp I would add in more creatures who self-sacrifice to grab basics (and add more basics in place of tap lands) to kill 2-birds with one stone. Burnished Hart , Wild-Field Scarecrow , Dawntreader Elk , Pilgrim's Eye , Skittering Surveyor , and of course Solemn Simulacrum .
Such a theme screams to have more aristocrat value pieces added: Zulaport Cutthroat , Poison-Tip Archer , Fecundity , Outpost Siege , Harvester of Souls , and Skullclamp , etc. all make every death benefit you that much more.
You don't seem to be playing any counter spells, even for protection with such high-costed creatures, I would add more via Heroic Intervention , Mizzium Skin , Wrap in Vigor , Undying Evil , etc. I like Kaya's Ghostform but it telegraphs to opponents that this will need to be killed 2x, and a truce may be made to ensure Sheoldred dies. One of the above is "sneakier."
5 months ago
Muldrotha is one of my favorites. I think some auto-inlcudes for a zombie tribal would have to be Ghoulcaller Gisa , Endless Ranks of the Dead , Overseer of the Damned and Black Market . I've rebuilt my muldrotha deck three times, and finally found a build I absolutely love. It's a sac-for-effect them but uses token generators to build an army of zombies and saprolings that can be used as sacrifices for fun stuff. If you're interested, check it out.
---

---
6 months ago
I don't think you need more combos... I think you need better mana, tutors and card draw to make your current combos more consistent. Running one or two combos is probably good enough, especially since zombie decks tend to be good at the beat-face plan, too. Counter-magic is worth considering, though not everyone likes running it.
Mana: Ramp is a big part of EDH. Having fast, reliable access to your colors is indispensable -- this is part of the reason two-cost rocks are better than three-cost rocks. I think Talisman of Dominance is probably better than Commander's Sphere . It comes down a turn earlier, and it allows you to cast your general turn three. Cards like Charcoal Diamond , Sky Diamond and Coldsteel Heart are also good, though their coming into play tapped is a real setback. Underground River is a land you should consider, as are Morphic Pool and Drowned Catacomb .
Tutors: Demonic Tutor and Vampiric Tutor are the gold-standard here, though they're also rather hard to get ahold of. I like Dark Petition and Diabolic Tutor ; you might want to consider Entomb or Buried Alive to get your Gravecrawler and friends into the 'yard. If you include Animate Dead , Reanimate , Necromancy , Exhume and/or Dance of the Dead you can get out your Grave Titan or Overseer of the Damned real fast. Reanimation packages are good.
Card Draw: There're a few cards I think you either didn't know about or overlooked in this area.
Beat Face:
Counter-Magic: Force of Will , Mana Drain and Pact of Negation are the gold standard, though difficult to get ahold of. Consider the following:
Right -- that's all from me. Good luck!
7 months ago
You can, if you like, create custom sort categories by adding a # in your edit list (eg. "1x City of Brass #Land") and then setting >Edit >Default category >Custom
Don't forget Thraximundar and Warstorm Surge ...
Here are some houses:
If you count Merciless Executioner , Innocent Blood , etc, with wipes like Damnation , etc, you have 12 wipes and 5 removal... which is probably too much control.
To play aggressively, Marchesa needs evasive creatures with double strike ...or maybe even...
Core Prowler
... maybe
Flesh-Eater Imp ... I have one, you should try it out
Grafted Exoskeleton ... sacrifice might be nice
Viral Drake ... proliferating your +1/+1 counters would be pretty sweet
...Keep in mind Infect replaces damage so either make it a core theme or only play the ones that can get to 10 Infect quickly.
Demons would also be pretty sweet:
8 months ago
Out: Gild --> willst nix exilen sondern in den Graveyard packen, Springleaf Drum --> zu langsam und du willst nix tappen, Ghostly Prison --> geschmackssache muss nicht sein hast genug gute Kreaturen zum blocken, Death Grasp --> besser wäre hier Debt to the Deathless bring lieber alle um als nur einen, Bontu the Glorified muss hart drum herum gebaut werden besser wäre der neue bontu God-Eternal Bontu , Overseer of the Damned --> zu langsamer removal und zombies kommen tapped rein meh, Pontiff of Blight --> Extort brauchst du nicht bzw. das ganze gibt es billiger in Tithe Drinker .
In: Anguished Unmaking + Utter End + Despark + Swords to Plowshares --> typisches Removal Package in Orzhov, Selfless Spirit --> sehr gut weil protection von wipes, Golgari Thug --> kann rein füllt graveyard, Enlightened Tutor --> wenn du ihn hast perfekt findet Skullclamp, Living Death --> hervorragender Boardwipe für dich, Viscera Seer --> immer gut zum saccen, Pawn of Ulamog --> sac futter und ramp,
Rest hast du schon drin.
Load more