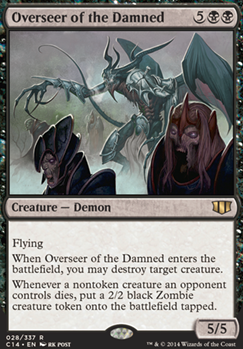 Legality
| | |
| --- | --- |
| Format | Legality |
| 1v1 Commander | Legal |
| Vintage | Legal |
| Pauper | Legal |
| Legacy | Legal |
| Duel Commander | Legal |
| Casual | Legal |
| Commander / EDH | Legal |
Tokens
Overseer of the Damned
Creature — Demon
Flying
When Overseer of the Damned enters the battlefield, you may destroy target creature.
Whenever a nontoken creature an opponent controls dies, put a 2/2 black Zombie creature token onto the battlefield tapped.
Overseer of the Damned Discussion
1 day ago
Looking nice so far!! Here are some suggestions from my experience, fellow Kaalia player :)
Hopefully these suggestions help! I've said it a lot, but play whatever you think will be the most fun for you! Good luck in the building process- I'll be following along to see how it goes! :)
2 weeks ago
I also play Shadowborn Athreos. Here are some cards from my list you might be interested in
3 weeks ago
Some cards I play in my version
Ob Nixilis, Unshackled is hilarious in response to a fetch or something
3 weeks ago
I don't think chat works on my account for some reason. But anyways,
So my Bishop of Rebirth

Promo foil for your Overseer of the Damned, Herald of War

, and Guardian of the Gateless? If you'd want to throw in your Bogardan Hellkite too that would be sweet, but no big deal if not :)
Neither of us are upgraded so we can't initiate an official trade. Do you have an email I could get so we can exchange addresses?
3 weeks ago
Hi, the Bishop of Rebirth

I have is the promo art, and is foil. I think it's valued at around $5. If that seems fair, maybe we could trade a few cards, mainly Overseer of the Damned, Herald of War

, and Guardian of the Gateless.
If you're looking for the cheaper, non-foil version, I completely understand. :)
2 months ago
Was looking at your deck some more, and I have a few more ideas, like upping your demon count and a few reanimation spells liiiiike.....
Desecration Demon, Grave Titan, Kothophed, Soul Hoarder, Reiver Demon, Bloodgift Demon, Rune-Scarred Demon, Reaper from the Abyss, Overseer of the Damned
stuff like that...then you could put in reanimation spells like
Animate Dead, Reanimate, Ever After, Whip of Erebos, Sheoldred, Whispering One
stuff like that...you could throw in Cathartic Reunion, Faithless Looting, Tormenting Voice for card draw/discard
Maybe a zombie sub theme and add in Shepherd of Rot
Fun things like Tree of Perdition, Quietus Spike, Rage Reflection, Ward of Bones, Havoc Festival
If anything definitely add Anger to your deck
or just throw in 30 Shadowborn Apostle haha
If I repeated any cards already in your deck, I apologize. Either was happy building and kick some ace!!
Load more