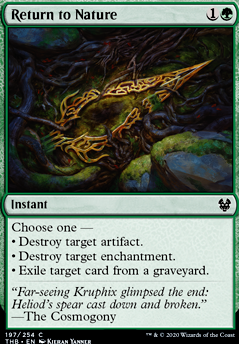 Return to Nature
Instant
Choose one —
Destroy target artifact.
Destroy target enchantment.
Exile target card from a graveyard.
Browse Alters
Trade
Legality
| | |
| --- | --- |
| Format | Legality |
| Pre-release | Legal |
| Tiny Leaders | Legal |
| Frontier | Legal |
| Vintage | Legal |
| Penny Dreadful | Legal |
| Pioneer | Legal |
| Commander / EDH | Legal |
| 1v1 Commander | Legal |
| Magic Duels | Legal |
| Brawl | Legal |
| Block Constructed | Legal |
| Standard | Legal |
| Historic | Legal |
| Arena | Legal |
| Canadian Highlander | Legal |
| Leviathan | Legal |
| Duel Commander | Legal |
| Unformat | Legal |
| Modern | Legal |
| Pauper | Legal |
| Pauper EDH | Legal |
| Legacy | Legal |
| Casual | Legal |
| Oathbreaker | Legal |
Return to Nature Discussion
1 day ago
Getting rid of Gigantiform is a wise idea! Usually an Elf-deck's strength lies in the 'Power by numbers': Lots and lots of tiny pointy eared creatures with great synergy. But that's not the case for your deck I believe. Right now I think it's somewhere inbetween 'Power by numbers' and 'Power by power'. For example, the Allosaurus Rider is straight forward power depending on the number of forests in play whereas Lys Alana Huntmaster and Elvish Archdruid depend on playing lots and lots of Elves. In my personal experience I tend to make "the choice" (meaning 'the concept' or 'the theme' or 'the strategie') before I start building the deck and, more importantly, from that point on, stick by that choice as if my life depended on it! Otherwise you'll end up switching things forever only to end up every time with "in between"-decks. So, before changing anything, I believe you first have to make your choice my friend ;). ONE concept, in ONE word or sentence. No more, no less...
Nevertheless, here are 3 suggestions I'd consider changing regardless your choice:
Ramp
Ramp = Speed! And since you're going Aggro, that's what you'll want. You've got 3 mana dorks so far:Arbor Elf To speed things up you'll want at least (!) 8. So I suggest you add some old-school Llanowar Elves or Elvish Mystic. In case it won't be "Power by numbers" at all or if you're afraid of WOG's, Arbor Elf + Wild Growth is a great combo! And don't forget Wood Elves! Nature's Lore and Skyshroud Claim ofcourse are also solid WOG-proof ;)
Removal
I saw this Japanese movie called 'The Immortal Blade' or something. Anyway, this warrior said: "80% of winning consists out of blocking your opponent's moves!" Now, 80% is a bit much in MtG, but 0% won't work either. You need removal spells and/or creatures. Lots of possibilities out there. Return to Nature, Reclamation Sage are a few good examples.
Other Shinanigans
This one's one of my favorites: Song of the Dryads + Elvish Champion PLUS it fits well with the need for Removal. Song of the Dryads is one of the best Removal-spells out there. Firest of all it's an enchantment, few colors in MTG have enchantment removal. And secondly, the creature your opponent controls just sits there as a forest. He can't get it back from his graveyard PLUS your creatures can now actually make use of that forestwalk! ;)
I'm just giving (possible) ingrediënts here. You're the chefcook! Let me know what you think :)
1 month ago
This deck is obviously over $50 these days, but I still consider it budget. After this most recent update (adding in Bounty of the Luxa, Rebuild, and Return to Nature to replace Colossal Majesty, Naturalize and a basic island), I think the deck is pretty much finished. I'm pretty proud of what I've been able to do with it.
1 month ago
Deck Upgrades:
Creature Upgrade
To remove: Aggressive Mammoth, Byway Courier Chittering Witch, Footlight Fiend,Gluttonous Troll,Gruul Spellbreaker, Judith, the Scourge Diva,Keeper of Fables, Ogre Siegebreaker, Primordial Wurm, Rapacious Dragon, Rubblebelt Rioters, Sengir Vampire, Spark Reaper, Sphinx of the Guildpact, Spikewheel Acrobat, Vindictive Vampire, Woodland Champion, Zhur-Taa Goblin
To add: Eternal Witness,Squee, the Immortal,Zulaport Cutthroat, Vexing Shusher, Goblin Matron, Munitions Expert, Krenko, Mob Boss, Warteye Witch, Sling-Gang Lieutenant, Goblin Trashmaster, Putrid Goblin, Dockside Extortionist, Arasta of the Endless Web, Creakwood Liege,Dragonlair Spider, Viscera Seer, Ayara, First of Locthwain, Pitiless Plunderer, Poison-Tip Archer, Sidisi, Undead Vizier, Sheoldred, Whispering One, Deathrite Shaman
Artefact Upgrade
To Remove: Thaumatic Compass Flip, Witch's Oven, Bloodsoaked Altar, Golden Egg, Mask of Immolation, Rhonas's Monument
To add: Sol Ring, Arcane Signet,Lightning Greaves, Ashnod's Altar, Haunted Cloak, Skullclamp
Enchantment Upgrade:
To remove: Gift of Paradise, Warbriar Blessing, Wolfwillow Haven
To Add: Necrogenesis,Cindervines, Grave Pact, Grave Betrayal, Attrition
Sorcery Upgrade:
To Remove: Severed Strands, Taste of Death, Victimize
To Add: Unearth, Reanimate, Blood for Bones, Return from ExtinctionTerminate, Dreadbore, Hull Breach, Diabolic Intent
Instant Upgrade:
To Remove: Bake into a Pie, Heartfire, Murder, Return to Nature, Shock
To Add: Artifact Mutation, Putrefy, Guttural Response, Veil of Summer, Abrupt Decay, Assassin's Trophy
Greetings, Brian
1 month ago
A couple things:
1) minus 30 points for having monocolor cards in your deck. (joking, of course)
2) are you sure about all of your rocks costing 3 mana? You should definitely be running Sol Ring and should probably be running the signets (Boros Signet, Selesnya Signet, and Gruul Signet) and the talismans (Talisman of Unity, Talisman of Conviction, and Talisman of Impulse).
3) if rocks aren't your style, consider Rampant Growth, Search for Tomorrow, and Nature's Lore and Farseek (they can tutor up shocklands).
4) while you have plentiful board wipes, some removal for noncreature permanents may not go amiss. Good ol' Naturalize, Disenchant, Nature's Chant, Return to Nature, Hull Breach, Artifact Mutation, Aura Mutation, are all pretty solid selections, but you should def look into multicolor creatures that can do the same thing.
5) some sac outlets would be awesome for this deck!!
1 month ago
Using the graveyard as a second hand is absolutely, flat-out my favorite part of MtG so I'm not really too keen on paring this back drastically. I agree that a few more cards in the vein of Return to Nature, a multi modal card that can attack multiple different problems so folks won't hesitate to include in their builds, may be needed. Most graveyard hate is tailored to do only that so people are wary of including it because if no one has graveyard recursion, its a dead draw.
1 month ago
If I understand it right, you'd also want Return to Nature for multiplayer over Nature's Claim because you don't have to tell people what your target is while it is on the stack. Right?
Load more