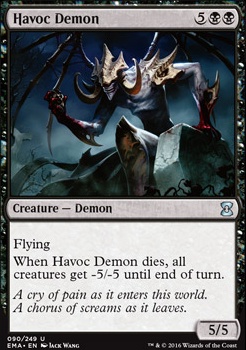 Havoc Demon
Creature — Demon
Flying
When Havoc Demon is put into a graveyard from play, all creatures get -5/-5 until end of turn.
Browse Alters
View at Gatherer
Trade
Legality
| | |
| --- | --- |
| Format | Legality |
| Canadian Highlander | Legal |
| Vintage | Legal |
| 1v1 Commander | Legal |
| Penny Dreadful | Legal |
| Noble | Legal |
| Casual | Legal |
| Leviathan | Legal |
| Tiny Leaders | Legal |
| Oathbreaker | Legal |
| Highlander | Legal |
| Magic Duels | Legal |
| 2019-10-04 | Legal |
| Legacy | Legal |
| Duel Commander | Legal |
| Commander / EDH | Legal |
| Unformat | Legal |
Havoc Demon Discussion
1 year ago
You can, if you like, create custom sort categories by adding a # in your edit list (eg. "1x City of Brass #Land") and then setting >Edit >Default category >Custom
Don't forget Thraximundar and Warstorm Surge ...
Here are some houses:
If you count Merciless Executioner , Innocent Blood , etc, with wipes like Damnation , etc, you have 12 wipes and 5 removal... which is probably too much control.
To play aggressively, Marchesa needs evasive creatures with double strike ...or maybe even...
Core Prowler
... maybe
Flesh-Eater Imp ... I have one, you should try it out
Grafted Exoskeleton ... sacrifice might be nice
Viral Drake ... proliferating your +1/+1 counters would be pretty sweet
...Keep in mind Infect replaces damage so either make it a core theme or only play the ones that can get to 10 Infect quickly.
Demons would also be pretty sweet:
3 years ago
Eladamri's Call and Cromat have never been reprinted, so I would like to see them reprinted in this set, and Worldly Tutor also should be here, as well, since it was left out of Eternal Masters in favor of Green Sun's Zenith.
As for iconic creatures, my predictions are as follows:
Angels: it is very safe to presume that both Serra Angel and Akroma, Angel of Wrath shall be in this set, hopefully, with new artwork for both, and I also would like to see Angelic Arbiter, Shepherd of the Lost, Angel of Jubilation, Pristine Angel, Iridescent Angel, Crypt Angel, Desolation Angel, Angel of Despair, Empyrial Archangel, and Archangel of Thune.
Demons: Lord of the Pit is one of the most iconic demons in the game, but some other excellent choices are Abyssal Persecutor, Archfiend of Depravity, Bloodgift Demon, Butcher of the Horde, Grinning Demon, Havoc Demon, Herald of Torment, Kagemaro, First to Suffer, Kuro, Pitlord, Lord of the Void, and Xathrid Demon.
Sphinxes: it was not until recently that sphinxes started to become powerful and efficient, but, thankfully, there ave been a number of excellent sphinxes made, recently, including Consecrated Sphinx, Conundrum Sphinx, Goliath Sphinx, Guardian of Tazeem, Medomai the Ageless, Sharuum the Hegemon, Sphinx of Jwar Isle, Sphinx of Magosi, Sphinx of the Steel Wind, and Sphinx of Uthuun.
Hydras: as with sphinxes, hydras only recently have been well-designed creatures, so some hydras that I would like to see in this set are Apocalypse Hydra, Domesticated Hydra, Genesis Hydra, Hydra Broodmaster, Hydra Omnivore, Kalonian Hydra, Khalni Hydra, Managorger Hydra, Primordial Hydra, Savageborn Hydra, Ulasht, the Hate Seed, and Vastwood Hydra.
Dragons: there are too many dragons for me too list all of them, but it is safe to presume that Shivan Dragon shall be in this set, hopefully with new artwork, and some of my top choices are Moonveil Dragon, Balefire Dragon, Dragon Tyrant, Ebon Dragon, Mirrorwing Dragon, Moltensteel Dragon, Scourge of Valkas, Stormbreath Dragon, Two-Headed Dragon, Utvara Hellkite, Vampiric Dragon, Viashivan Dragon, and Hellkite Overlord.
Wow, I certainly typed many card names in this post: I hope that I did not miss any.
3 years ago
Perusing the internet this morning, I came across the "seven by nine" rule. If your not familiar with it, you can check it out here, under note three - http://www.quietspeculation.com/2011/05/building-depietro-depauper/
Anyways, I found it quite brilliant. I broke out my EDH deck (The Cairn Nel Toth) and decided that it needed a serious overhaul.
I decided that my nine "slots," if you will would be the following:
Removal
Tutor
Sacrifice Fodder (CMC 1 or less)
Sacrifice Fodder (CMC 2)
Sacrifice Fodder (CMC 3 or greater)
Finishers
Self-mill
Sacrifice outlets
Utility/assorted random cards
So i started sorting the piles, and quickly realized I had too many cards for some slots, and not enough for others. I started the long, laborious, and painful process of cutting cards. I couldn't quite cut enough cards from the utility pile, so I decided I would have nine utility cards, and only six distinctly self-mill and CMC three or greater sacrifice fodder cards, because a lot of other cards can do those things in addition to doing their main purpose (if that makes any sense).
Anyways, I'll list the cards I have for each slot (its quite different than the original deck). Also, many cards serve multiple purposes, so I'm putting them in the category of their MAIN purpose.
Removal - Black Sun's Zenith, Toxic Deluge, Havoc Demon, Noxious Gearhulk, Malicious Affliction, Shriekmaw, Darkblast
Tutor - Sidisi, Undead Vizier, Birthing Pod, Corpse Connoisseur, Fauna Shaman, Jarad's Orders, Buried Alive, Entomb
CMC 1 or less sacrifice-ers - Hangarback Walker, Spore Frog, the "Fog Frog," Krosan Wayfarer, Caustic Caterpillar, Bloodsoaked Champion. I need two more cards in this slot.
CMC 2 sacrifice-ers - Vampire Hexmage, Satyr Wayfinder, Sakura-Tribe Elder, Dawntreader Elk, Winding Constrictor. I need two more cards in this pile.
CMC 3 or greater sacrifice-ers - Yavimaya Elder, Shambling Shell, Fleshbag Marauder, [[eternal witness] "EWIT," Solemn Simulacrum, Reclamation Sage
Finishers - Gray Merchant of Asphodel "Gary," Demon of Dark Schemes, Phyrexian Plaguelord, Eater of Hope, Savra, Queen of the Golgari, Mikaeus, the Unhallowed, Hell's Caretaker
Self-mill - Golgari Grave-Troll, Life from the Loam, Altar of Dementia (The best card in the whole deck, hands down. Not even kidding. Every Meren deck should run this card), Mesmeric Orb, Grapple with the Past. I need one more card for this slot (Stinkweed Imp?).
Sacrifice Outlets - Ashnod's Altar, Skullclamp, Attrition, Mind Slash, Evolutionary Leap. I don't love one-off sacrifice spells, but I have the slot for one. I've been debating between Altar's Reap, Morbid Curiosity and Eldritch Evolution.
Utility/Random - Grim Haruspex, Horobi, Death's Wail, Loaming Shaman, Lightning Greaves, Dictate of Erebos, Sol Ring, Sifter of Skulls, Dread Return
Thoughts? What cards should fill my unfilled slots? Any cards I should replace?
3 years ago
To start off, sorry if this is in the wrong forum, I'm new here.
For a while I've been wondering if there was a "true" undefeatable board state. For me, that means that you start the game with whatever you want in play, with no cards in your hand, graveyard, deck, or exile. Your opponent starts out with a deck with no restrictions and has to try to win the game. Also, you are not allowed to interact with anything in the game (such as activating a scepter). Ideally, you opponent would be able to play things as well (e.g. no combos that prevent players from having hands, playing lands, etc.)
Currently, I have a setup that I think will work, and I want to see if there are any cards that I have overlooked. Here is what I currently have:
Platinum Angel - fairly obvious, prevents decking/lethal damage
Mycosynth Lattice - necessary for many upcoming cards
Darksteel Forge - all your stuff is indestructible
Indomitable Archangel - all your stuff has shroud
Leyline of Sanctity - this prevents stuff like Mindslaver
Tajuru Preserver - prevents stuff like annihilator
Damping Matrix - prevents stuff like Words of Wind (among others) This replaced Null Rod so that you can still get mana
Narset Transcendent's Final Ability - prevents all sorts of nasty stuff, including Cyclonic Rift and Humility
Torpor Orb - for Noxious Ghoul
Blazing Archon - for Bane of Bala Ged
Rest in Peace - for Havoc Demon and False Prophet
Melira, Sylvok Outcast - for Harbinger of Night
Stabilizer - for Decree of Pain
AEther Storm - for Bane of the Living, Ixidron, Crovax, Ascendant Hero or Ascendant Evincar, Elesh Norn, Grand Cenobite, Magus of the Tabernacle, Kataki, War's Wage, Avatar of Slaughter + Kaijin of the Vanishing Touch etc.
I'd love to replace one of either AEther Storm or Narset Transcendent because having both means that opponents are unable to cast any sort of spell, which I feel goes against the spirit of the impenetrable pillow fort.
Please let me know if you have anything that you think can get through this. Thanks :D
3 years ago
Oh! I didn't see that you posted twice.
Havoc Demon - I passed him over for the same reasons I passed over Archangel Avacyn Flip and Demon of Dark Schemes- the chances for his effect to backfire on you outweigh the potential benefits. He's arguable more dangerous to your own boardstate than the other two to boot.

Demonic Hordes - Actually didn't know this one existed. Seems interesting but slow and mana intensive. I may try this out one day.

Tyrant's Familiar - This is actually a pretty good card, not to mention the best of the three creatures in the the "Kaalia-cares" portion of this cycle. He used to be in this deck and Balefire Dragon took his place. Given how unhappy I am with Rakdos, Lord of Riots, I may give give this a shot at least until I get a foil Scourge of Kher Ridges.
Load more