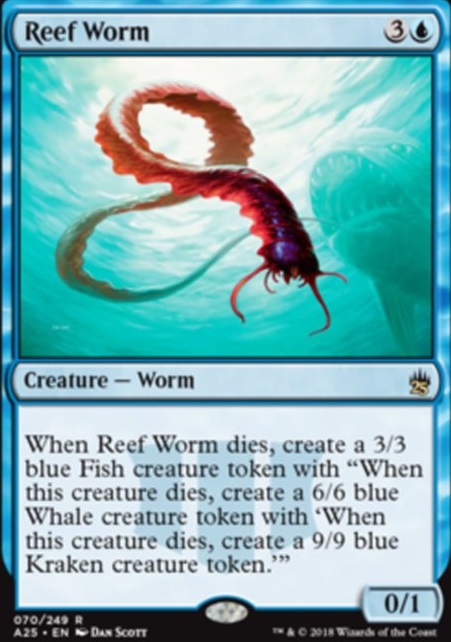 Legality
| | |
| --- | --- |
| Format | Legality |
| Tiny Leaders | Legal |
| 1v1 Commander | Legal |
| Magic Duels | Legal |
| Canadian Highlander | Legal |
| Vintage | Legal |
| Leviathan | Legal |
| Legacy | Legal |
| Duel Commander | Legal |
| Casual | Legal |
| Commander / EDH | Legal |
Tokens
Reef Worm
Creature — Worm
When Reef Worm dies, put a 3/3 blue Fish creature token on the battlefield with "When this creature dies, put a 6/6 blue Whale creature token onto the battlefield with 'When this creature dies, put a 9/9 blue Kraken creature onto the battlefield.'"
Have (15)
VGJustice , ironax ,

C

a

s

t

l

e

S

i

e

g

e

, DFDGamer , Fwaffle , gvlassek , mziter501 , teslacoil7992 ,

s

a

j

0

2

1

9

,

i

t

h

e

o

r

y

z

, mlouden03 , Unlife , ninjaclevs13 , yerfdog1935 , Pumpkinking913
Want (14)
H4ckw0rth , MayhemAdvent331 ,

L

o

k

o

t

o

r

,

v

a

s

h

a

c

l

a

r

e

n

s

, Lapisxilazuli , yerfdog1935 , Kogan1911 , sgtpumbah , MirrorMountain , Methuselah3 , kidkaor , swarlelion , Buscky , Awuztein
Reef Worm Discussion
1 week ago
Some cards I find synergize really well with brudiclads playstyle 1.
Reef Worm
if this thing spawns just one token and brudiclad takes advantage of it the tokens "evolve" bigger and bigger 2.
Spell Swindle
a counter spell that creates a pile of tokens for you to abuse or just use to get some extra mana 3.
Bloodforged Battle-Axe
An equip artifact that spawns a token of itself whenever a creature its equipped to deals damage to a player, then those axe tokens can spawn a copy of themselves, over and over and then bruidclad can take those tokens and turn them into creature tokens
1 week ago
An important bit of information to remember is that Brudiclad's second ability applies to ALL TOKENS, not just creature tokens. So cards like Brass's Bounty or Curse of Opulence become game ending.
As for suggested cards, I agree with BS-T that there are a few cards in here that will tend to under perform, especially the larger legendary creatures. I'm saying that they are bad, just that you shouldn't rely of getting Helm of the Host to make it work. You have the right idea when it comes to putting in cards like Ancient Stone Idol, Blightsteel Colossus, Sharding Sphinx. Getting a token of one of these cards is almost gonna guarantee you a victory. These are the kinds of cards that you wanna be running. So lets add some cards that do this.
Cards like Reef Worm, Scuttling Doom Engine, and Hangarback Walker are gonna protect you from the inevitable board wipe. Lets be honest if you're playing tokens, board wipes will all kill you. And people will definitely be saving them to use on you.
Efficient Construction, Tamiyo's Journal, Clone Legion, and Metallurgic Summonings will help you rebuild your board state just in case you're on the receiving end of a Cyclonic Rift. A card that has become far too common in the commander/EDH format.
Flameshadow Conjuring, Twinflame, Heat Shimmer are cards that will get you tokens of those heavy hitters when you're ready to swing in for the kill.
I hope that my suggestions help you in some way. I tried to explain my reasoning as best I could. Either way the important thing is that you have the information. However you decide to use it is up to you.
3 weeks ago
I wanted to play Reef Worm in Meren for so long, and then Muldrotha came out and I was very happy. Meren can be way more explosive, as Muldrotha is extremely mana-hungry, but I prefer Muldrotha for the added options.
1 month ago
goldlion, thanks for the compliment! Kresh the Bloodbraided has been on my to-do list for a long time now, he always seemed like he'd be fun to pilot. Let me know how your Marchesa, the Black Rose deck turns out, I'm always interested in seeing other folks' builds.
I've been on the fence about Grave Betrayal for a while now. The effect is absolutely stellar, and it certainly would fit the theme of the deck. But the steep cost of 7 CMC has me wondering if it would be worth the mana. The only cards in the deck that are above 6 CMC are Razaketh, the Foulblooded, Expropriate, and Insurrection. I'm not even too sure about Razaketh, the Foulblooded's inclusion, since it still takes me another turn to play the Expropriate or Insurrection that I'd find from his ability. If I end up cutting Razaketh, the Foulblooded, I'll most likely put Grave Betrayal in there, since it is such a rockin' card. I just like Razaketh, the Foulblooded because he's a sac outlet and a life drain, so I can use him to ensure Marchesa, the Black Rose's Dethrone ability triggers.
Thanks for the suggestion, I'll definitely have to put some thought into swapping something out for Grave Betrayal.
PS: Reef Worm has been an absolute all-star in this deck. I would fully encourage its inclusion in just about any Marchesa, the Black Rose deck. Once I have a consistent way of putting +1/+1 counters on it, it gets outta control pretty quickly.
Thanks again for the thoughts and suggestion!
1 month ago
Reef Worm in here is fantastic! I just realized you don't even have to hit the player with most life, just attack... ohhhh sac fodder!
1 month ago
Good day, Triggerbolt. I have arrived to make your deck better. Here are some suggestions:
For card draw, Prime Speaker Zegana, Pull from Tomorrow, Bident of Thassa, Blue Sun's Zenith, Consecrated Sphinx, Nezahal, Primal Tide, Garruk's Packleader, Rishkar's Expertise, Zendikar Resurgent, Biomantic Mastery, Shaman of the Great Hunt, and Tishana, Voice of Thunder.

Other cool cards: Avenger of Zendikar, Craterhoof Behemoth, and Birds of Paradise.
1 month ago
Looks good, I just find that it feels very susceptible to early aggro, especially once you invest your mana in a big creature only to get it blown up by removal. I feel like you can include some thematic sea creatures like Chasm Skulker, Reef Worm, Sealock Monster, Sand Squid etc.
1 month ago
Since I feel like you're going Vorthos with this deck, I'd recommend focussing on a Cruel Control theme using the Nicol Bolas instead. Currently I feel as though your deck could be a lot more focussed.
Cut: Reef Worm, Treasure Nabber, Dreamscape Artist, Loyal Apprentice, Forge of Heroes, Nykthos, Shrine to Nyx, Mystifying Maze, Night Incarnate, Yahenni, Undying Partisan
Add: Counterspells, draw and hard boardwipes such as Crux of Fate.
Load more