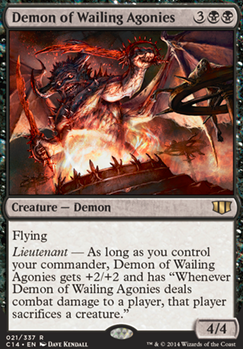 Demon of Wailing Agonies
Creature — Demon
Flying
Lieutenant — As long as you control your commander, Demon of Wailing Agonies gets +2/+2 and has "Whenever Demon of Wailing Agonies deals combat damage to a player, that player sacrifices a creature."
Browse Alters
View at Gatherer
Trade
Legality
| | |
| --- | --- |
| Format | Legality |
| Tiny Leaders | Legal |
| 1v1 Commander | Legal |
| Magic Duels | Legal |
| Canadian Highlander | Legal |
| Vintage | Legal |
| Leviathan | Legal |
| Legacy | Legal |
| Duel Commander | Legal |
| Oathbreaker | Legal |
| Casual | Legal |
| Commander / EDH | Legal |
Demon of Wailing Agonies occurrence in decks from the last year
Commander / EDH:
All decks: 0.01%
Demon of Wailing Agonies Discussion
7 months ago
You can, if you like, create custom sort categories by adding a # in your edit list (eg. "1x City of Brass #Land") and then setting >Edit >Default category >Custom
Don't forget Thraximundar and Warstorm Surge ...
Here are some houses:
If you count Merciless Executioner , Innocent Blood , etc, with wipes like Damnation , etc, you have 12 wipes and 5 removal... which is probably too much control.
To play aggressively, Marchesa needs evasive creatures with double strike ...or maybe even...
Core Prowler
... maybe
Flesh-Eater Imp ... I have one, you should try it out
Grafted Exoskeleton ... sacrifice might be nice
Viral Drake ... proliferating your +1/+1 counters would be pretty sweet
...Keep in mind Infect replaces damage so either make it a core theme or only play the ones that can get to 10 Infect quickly.
Demons would also be pretty sweet:
10 months ago
apart from Demon of Wailing Agonies and Vault of Whispers this deck could be modern legal.
you got to many high costed cards that do nothing, don't have synergy or are straight up trash.
you dont have to read all of this... its a lot. eg: Fen Hauler (you have almost no artifacts) and you could replace it for Gurmag Angler , Steel Wall , Prakhata Club Security , Prizefighter Construct can be chump blocked and dies to anything, Pitiless Vizier how do you discard or cicle cards?, Sengir Vampire high cmc, Phage the Untouchable the same but its actually a neat card that you could make some jank deck (thanks for the idea), Nightmare trash, Night Market Guard trash too, Extractor Demon to high costed unless you have a way to trow it on the gy, Dread Defiler the same and does nothing really, Bloodhunter Bat trash, Demon of Wailing Agonies you dont have a commander, Haunted Plate Mail to high costed and you got too many creatures to even use it, Staff of the Death Magus not usefull, Cinder Barrens and Forsaken Sanctuary whats the point??.
uff dude, from what im looking its a deck you made from with the cards you had lying around, so you want to first have an idea of the game plan you wanna go to, a discard base control or aggro or reanimator and so on. or see what card you would want to work with and make the deck around it, when you do i can help you build the deck. just make a comment or hit me up idk.
1 year ago
You have a lot of cards at 5 CMC. Demon of Wailing Agonies seems like the most vanilla of all of them, so I'd suggest him to be replaced.
1 year ago
Always nice to see another Kaalia deck as she was my first (shameless plug: Still Better than Dan Brown...). Firstly, is that "sideboard" in fact meant to be your wants list? If so, just make your acquireboard public to avoid any confusion! Anyway I'd recommend losing Ancient Hellkite, Mana-Charged Dragon and Victory's Herald. Consider Angelic Field Marshal/Demon of Wailing Agonies/Tyrant's Familiar as you'll usually be getting them out with Kaalia. Speaking of, if you want to stop her getting munched take a look at Dust Corona and Reconnaissance, either of which might be better than Angelic Chorus or Exquisite Blood - good cards, but 5cmc is the spot where you can start thinking about hard-casting creatures and you don't really seem to have any synergistic plays with gaining life (perhaps introduce Krav, the Unredeemed/Regna, the Redeemer combo?). If you can upgrade your package to include Anguished Unmaking and Vindicate over cards like Wrecking Ball then do: unconditional removal is never a dead draw. Finally, Helm of the Host is epic with Kaalia.
Ps, I see you run Armageddon. Depending on who you play with, I would recommend either going all-in on the land destruction by getting more mana rocks and other spells like Cataclysm or dropping it entirely. It can make you very unpopular...
1 year ago
Abhorrent Overlord, Archfiend of Despair, Bloodgift Demon, Demon of Catastrophes, Demon of Wailing Agonies, Demonlord of Ashmouth, Doom Whisperer, Harvester of Souls, Indulgent Tormentor, Krav, the Unredeemed, Overseer of the Damned, Ravenous Demon Flip, Razaketh, the Foulblooded, Silent-Blade Oni, Xathrid Demon
Load more