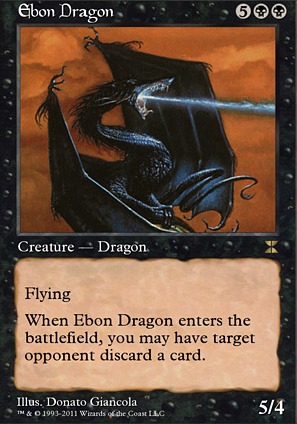 Legality
| | |
| --- | --- |
| Format | Legality |
| Tiny Leaders | Legal |
| Noble | Legal |
| Leviathan | Legal |
| Magic Duels | Legal |
| Canadian Highlander | Legal |
| Vintage | Legal |
| Penny Dreadful | Legal |
| Custom | Legal |
| Vanguard | Legal |
| Legacy | Legal |
| Archenemy | Legal |
| Planechase | Legal |
| 1v1 Commander | Legal |
| Duel Commander | Legal |
| Oathbreaker | Legal |
| Unformat | Legal |
| Casual | Legal |
| Commander / EDH | Legal |
Ebon Dragon
Creature — Dragon
Flying
When Ebon Dragon enters the battlefield, you may have target opponent discard a card.
Ebon Dragon Discussion
2 years ago
Eladamri's Call and Cromat have never been reprinted, so I would like to see them reprinted in this set, and Worldly Tutor also should be here, as well, since it was left out of Eternal Masters in favor of Green Sun's Zenith.
As for iconic creatures, my predictions are as follows:
Angels: it is very safe to presume that both Serra Angel and Akroma, Angel of Wrath shall be in this set, hopefully, with new artwork for both, and I also would like to see Angelic Arbiter, Shepherd of the Lost, Angel of Jubilation, Pristine Angel, Iridescent Angel, Crypt Angel, Desolation Angel, Angel of Despair, Empyrial Archangel, and Archangel of Thune.
Demons: Lord of the Pit is one of the most iconic demons in the game, but some other excellent choices are Abyssal Persecutor, Archfiend of Depravity, Bloodgift Demon, Butcher of the Horde, Grinning Demon, Havoc Demon, Herald of Torment, Kagemaro, First to Suffer, Kuro, Pitlord, Lord of the Void, and Xathrid Demon.
Sphinxes: it was not until recently that sphinxes started to become powerful and efficient, but, thankfully, there ave been a number of excellent sphinxes made, recently, including Consecrated Sphinx, Conundrum Sphinx, Goliath Sphinx, Guardian of Tazeem, Medomai the Ageless, Sharuum the Hegemon, Sphinx of Jwar Isle, Sphinx of Magosi, Sphinx of the Steel Wind, and Sphinx of Uthuun.
Hydras: as with sphinxes, hydras only recently have been well-designed creatures, so some hydras that I would like to see in this set are Apocalypse Hydra, Domesticated Hydra, Genesis Hydra, Hydra Broodmaster, Hydra Omnivore, Kalonian Hydra, Khalni Hydra, Managorger Hydra, Primordial Hydra, Savageborn Hydra, Ulasht, the Hate Seed, and Vastwood Hydra.
Dragons: there are too many dragons for me too list all of them, but it is safe to presume that Shivan Dragon shall be in this set, hopefully with new artwork, and some of my top choices are Moonveil Dragon, Balefire Dragon, Dragon Tyrant, Ebon Dragon, Mirrorwing Dragon, Moltensteel Dragon, Scourge of Valkas, Stormbreath Dragon, Two-Headed Dragon, Utvara Hellkite, Vampiric Dragon, Viashivan Dragon, and Hellkite Overlord.
Wow, I certainly typed many card names in this post: I hope that I did not miss any.
No data for this card yet.