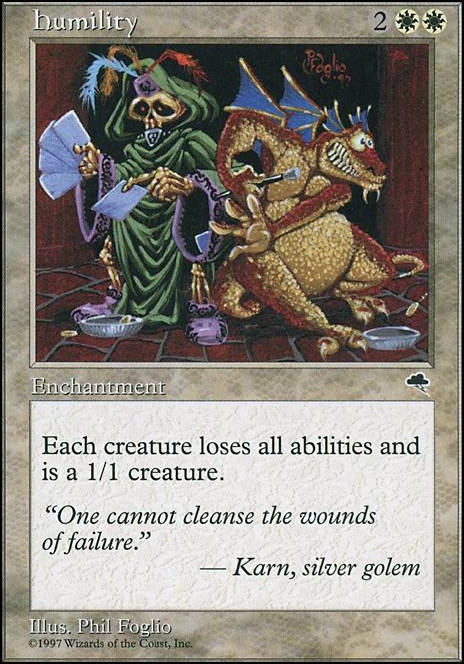 Legality
| | |
| --- | --- |
| Format | Legality |
| Tiny Leaders | Legal |
| Noble | Legal |
| Magic Duels | Legal |
| Canadian Highlander | Legal |
| Vintage | Legal |
| Custom | Legal |
| Vanguard | Legal |
| Legacy | Legal |
| Archenemy | Legal |
| Planechase | Legal |
| 1v1 Commander | Legal |
| Leviathan | Legal |
| Oathbreaker | Legal |
| Unformat | Legal |
| Casual | Legal |
| Commander / EDH | Legal |
Humility
Enchantment
All creatures lose all abilities and have base power and toughness 1/1.
Latest as Commander
Humility Discussion
3 days ago
(Yes, I pulled off a freaking Thanos; but only half a Plane of Existence dies. Rip. No wonder Darkseid would beat him, & Nintendo never lost a Death Battle for soooo long (& no, Mario vs Sonic fight 1 barely counts; same for Nintendo vs Nintendo.) X/)
---

Commander / EDH* BMHKain
SCORE: 2 | 14 COMMENTS | 908 VIEWS | IN 3 FOLDERS
---
Just thank GhostChieftain for the suggestion on using something I need to use more. I did. :)
I personally wonder how a sequel to an otherwise, crappy attempt for advice for a deck like this can get any worse. Regardless, might as well push on; ALOT of cuts have been made since; & I'm truly nearing the end; which means after that, I'll allow the personal Merit to make a Morophon, the Boundless Human Tribal Deck. But after that, & trying to make & cut to 100 cards for Kruphix, God of Horizons & aforementioned Tribal Deck; There is no more turning back; I plan to make a Tribal Deck w/ Kykar, Wind's Fury based on the 2016/2017 Documentary The Red Pill; as nobody had a previous objection to this even now, it is officially too late to object the idea.
& One last bit of news for now: I plan to do something regarding "Project: Razia's Parhelion II" (Working Title)
IT's a Working Title as even though Razia, Boros Archangel was the Parun (The only rank of a Guild higher than a Guild Leader) of the Boros Legion; I actually wanted to get as ancient as possible; before the Ten Paruns was still an idea, & Ravnica, compared to other Major Planes of Existence is just recently formed in comparison to (then) many others.
Think of this as a haven for those who can think of combos in Commander/EDH that can win games; all while improving upon ideas The Legion would only dream of doing as a Guild. All that said & done though, I do apologize for this part of the whole thing; but it's not like I'd want to make a Tier 1 deck of this kind right away; that is too much already. But because Feather, the Redeemed , & (As a Joke.) Depala, Pilot Exemplar seemed to reach Tier 3, I'll start young from there. Even so, I do apologize about this kind of idea; but it just might work; after all, one topic stated "I played Boros before it is considered "cool""
Not the right name, but you get my point. If any of the few, the proud, the cEDH Boros users want to join in the future, I only need one suggestion: In MTG Lore, The Boros League's Parun: Razia is the first thing we know of in Ravnican Lore for the Boros Legion. But there was also a time before even the idea of a Parun of a Guild was ever a thought; here would have to be someone for each of the "Ten Guilds-To-Become" as the Primordial base for all ten. You may list all 10 each if you wish, but I just want the one for Boros.
& yes, In apologize for the whole "Boros" idea for the few cEDH Players, but, as I said before, most of my crap is more akin to "Semi-Competitive" anyway.
AW CRAP! I souldn't have mentioned my updates here! Uh, here are the questions before I have a mental breakdown for having most of this topic about anything, but Questions:
1: ( Teferi, Timebender trashed. Nexus of Fate 's is stil MIA)
2: On the Topic of ol' Mu-Mu (I pray I'm still being honourable to her while enchristening her with a cute, & Affectionate Nickname; I don't understand Chinese Dialect; & I'm trying to learn Nipponese Kanji... Please forgive Me, Yanling...) She too has two new iterations, but which is the better to add?: Do you think Mu Yanling, Sky Dancer would be good? Sucks that has 2 Loyalty, maybe adding Prismatic Omen again can help? At least it's better than having to deal w/ Blood Moon , or what about Mu Yanling, Celestial Wind ?
3: ( Elspeth, Knight-Errant is kept.)
4: Golos, Tireless Pilgrim is an awesome new reveal, & I consider Top Secret Tek. Flikering it Recht & Link to supply you w/ your whole library of Lands, easily a card that is of immense Banworthiness. I also included Crucible of Worlds (Which WILL NOT leave the deck; especially if I get my lands screwed by an Armageddemon . Since I don't intend to lose either of the former, I think it is time to recreate Zendikar in ways not even Nissa, Who Shakes the World would ever do; Wrenn and Six can manipulate Lands, while working w/ both Crucible of Worlds & Golos, Tireless Pilgrim . But there is Also Xenagos, the Reveler , who makes a ton of mana from your creature tokens; can make a Hasty 2/2 Satyr, & for the record, his Ultimate is ENTIRELY OPTIONAL.
So, who would you pick: Wrenn and Six , or Xenagos, the Reveler ? Or should I not have cut Kiora, the Crashing Wave in the first place, & put her back, maybe even keeping in one of the former 2?
5: Daretti, Ingenious Iconoclast ; Reason of Death: The creature from the Star Trek episode: The Man Trap.
6: (Ol' Teyo gets promoted in rank as a Shieldmage.)
(Not like it matters, Walkers w/ Indestructible while still being Walkers can be damaged all the same...)
7: (Misguided Idiocy Averted.)
8: (Very well. This Karn gets Korned.)
9:
---

Commander / EDH* timmyt1000
SCORE: 25 | 10 COMMENTS | 2784 VIEWS | IN 30 FOLDERS
---
Because I had no choice but to mention this again. After I reach the 100 card mark, I wonder how to rebuild my landbase on a budget-level cEDH Level; despite being only "Semi-Cometitive". How'd you recreate this? Remember the Cycle Duals are mandatory 5 slots by default, &
Crucible of Worlds
, &
Golos, Tireless Pilgrim
are not to be cut from the non-lands either.
Side Note: It's fair enough This was meant for 1, 2, or even 3 color decks; I just used something similar for the current decklist.
10: Mirari's Wake is added. Status regarding Night of Souls' Betrayal is still MIA.
11: (nope.)
And... that's it, actually. That took soooo long. So I'd like some answers unless anyone can make me answer them myself. Regardless, I still need to cut to 100 cards. So I hope this crappy sequel can help... :D
For Now, I'm planning after all this...
Actually, I have one last announcement. Remember that time that I wanted to make a Partners Deck? Well, I wasn't kidding. & neither is the theme in question, based on these cards:
Yep, I'm making a deck based on Exile running colors. Not running Atraxa though; I can't even believe I even cut her from Superfriends/Avengers. What two Partners would be good in a deck like this? & no, is exempt from this as their exile stuff isn't truly well devised here unless you got some things to say otherwise against this fact.
Huh... Finally... It worked. Thanks go to GhostChieftain for the Accordion method. I guess I'll have to use it more...
1 week ago
Love your take on superfriends! You went all out!!! I was on the fence with my deck about Humility only having 22 walkers and 11 creatures, but this deck works perfect with it!
1 week ago
ToshiroU The Paradox Scepter lines cannot function in this deck. Damping Sphere , Rule of Law , and Arcane Laboratory straight up stop the combo, and Oppression makes using an in-hand wincon with it impossible. Our multitude of taxation effects also make it difficult to work with. The Goblin Cannon is a necessary evil for this reason, while I would like the efficiency of using Sensei's Divining Top in its stead, with Rings copying the draw effect, drawing the top card, then placing SDT on top, then drawing it, replaying it with infinite mana, rinse+repeat to draw your deck, etc. to draw into any wincon would be preferable, but just doesn't work with the current deck.
This deck is Stax incarnate, and while it may appear that Thrasios or Zur or Najeela are better at top decking into gas, with many tutors and value engines, we often shut those out. Humility alone can stop 80% of the value engines, and Chains of Mephistopheles can shut down most of the rest, with an Aven Mindcensor (perhaps will be replaced or added too with an Ashiok) probably cutting 99% of all topdecks, while many tax effects into an Armageddon can end most topdecks all together. This is how the deck is built to work, stopping opponents from havings outs to anything. We can shut off creatures, tutors, card draw, ramp, casting multiple spells, sometimes enough tax to stop them from casting any spells, we stop entire decks by hating on everything, but that means our wincons need to be resilient to all of our stax. The Tezzeret line was made by me to do just that.
Otherwise, Necropotence, Teferi, Narset, Ashiok, and Terminus are on the 'to-test' list. Force of Negation , Talisman of Hierarchy , Silent Clearing , and maybe Prismatic Vista will be added, so could multiple other War of the Spark cards, so this deck needs updating. I have currently been playing so many decks I haven't had much time to update this one, and I have been ill since last Saturday, so I haven't had much work on this doen at all.
2 weeks ago
rampaconiglio If they exile one piece, such as Rings of Brighthearth , use the massive number of artifacts with Tezzeret the Seeker

's Ultimate to win.
If that won't work, I'd recommend trying to use a very specific loop:
You need to start by making sure no one can reasonably do anything. Chains of Mephistopheles , Sensei's Divining Top and you being hellbent ( Oppression / Bottomless Pit and Chains help this) are all that is required. On each of your upkeeps, activate top, milling one card, placing top on the top of your deck. After that, you draw the top, replay it, and each turn you always can be assured you won't mill out. It lets you actually deck each opponent. Making it so no opponent can win isn't super easy, use effects like Humility , Winter Orb , Tangle Wire = Aminatou, Rest in Peace /Leyline/etc.
Now, many variants use Helm of Obedience with Rest in Peace / Leyline of the Void , or they run some Walker like Teferi, Hero of Dominaria or any number of other easy walkers that win, but I haven't found it necessary.
BTW, this list is old, not updated fully with me currently testing War of the Spark and Modern Horizons cards.
2 weeks ago
I got plenty of "normal" artifact and enchant removal like caustic cat or seal of primordium Molzak.
World breaker differs on many ways: it's on cast so hard to counter, he can recur himself what makes him playable from grave even without something like Humility on the field and he doesn't destroy. The exile is a much better solution vs decks with recursion ability or indestructible darksteel stuff. This flexibility is worth the higher cost, I don't see a need for another "destroy target artifact or enchantment" effect here.
3 weeks ago
GhostChieftain But Humility Removes the ability of Magus of the Moon in layer 7b. Magus works in Layer 4. Even through Magus will lose the ability when Static effects are checked, the ability still works in Layer 4 and is applied there. This is why creatures that copy other things such as Clone are still able to remain a copy of things during an active Humility, since they work in Layer 1.
Load more
Humility occurrence in decks from the last year
Commander / EDH:
All decks: 0.01%