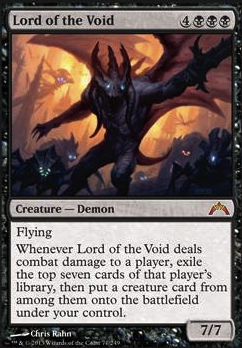 Legality
| | |
| --- | --- |
| Format | Legality |
| 1v1 Commander | Legal |
| Vintage | Legal |
| Modern | Legal |
| Casual | Legal |
| Legacy | Legal |
| Duel Commander | Legal |
| Unformat | Legal |
| Pauper | Legal |
| Commander / EDH | Legal |
Related Questions
Lord of the Void
Creature — Demon
FlyingWhenever Lord of the Void deals combat damage to a player, exile the top seven cards of that player's library, then put a creature card from among them onto the battlefield under your control.
Have (13)

G

o

l

d

G

h

o

s

t

0

1

2

,

c

l

a

y

p

e

r

c

e

,

m

i

r

a

c

l

e

H

a

t

,

F

o

r

k

b

e

a

r

d

,

m

y

m

a

n

p

o

t

s

a

n

d

p

a

n

s

,

P

i

e

g

u

y

3

9

6

, bradyofportdetroit , warcry02 , REV666 ,

T

i

d

d

i

l

y

w

i

n

k

u

s

, CAPT.Shock ,

D

a

w

n

s

l

y

, MattN7498
Want (2)
Ariumlegion , Desol4tion
Lord of the Void Discussion
22 hours ago
Looking nice so far!! Here are some suggestions from my experience, fellow Kaalia player :)
Hopefully these suggestions help! I've said it a lot, but play whatever you think will be the most fun for you! Good luck in the building process- I'll be following along to see how it goes! :)
1 day ago
Some good creatures to cheat into play with Kaalia
Better card draw
5 days ago
Some more cards that help you "borrow" cards:
1 week ago
I have a The Ur-Dragon deck myself, and I've built dragons a number of times, so I hope I can help, as well as expand on what othermax gave you.
Ramp:All the examples that were given before were very good choices, but I would also recommend Nature's Lore and Skyshroud Claim, as these can search for non-basic Forests, such as the Shocks and so on, right from the get go! I would also highly recommend getting a Chromatic Lantern to help with mana fixing! The Lantern is insanely useful and needed for anything more then 2 colours, of which Karrthus definitely falls under. Zendikar Resurgent is another great example of mana ramp, though it's more late game, and it also allows you to draw cards from casting creatures. Also look into Shaman of Forgotten Ways as mana ramp and an extra win con, Selvala, Heart of the Wilds for tons of ramp, and Solemn Simulacrum.
Land Base:Absolutely, you desperately need some more lands! Because of the CMC of dragons and alot of the creatures you are using, you will want anywhere from 37-39 lands! You may have some issues with the deck since, as many have said already, your mana base is very very slow. Fetches, whether you get the fast fetches or the slow fetches, you need some of those. You should also get some of the Shocks and Checks, since those will absolutely speed your game up a ton!
Card Draw/Advantage:othermax gave some amazing suggestions there, so I won't really go in depth here. Since you are playing some big creatures, look into Rishkar's Expertise and Soul's Majesty, both very good draw spells for a deck with bigger creatures. Another couple of cards to start churning things out would be Lurking Predators and Selvala's Stampede, though many aren't a fan of the Stampede since it gives your opponents choices, but this card has never failed to help me kill at least 1 person.
Removal:This may depend on your meta, but many of the choices given by othermax are very good, though I'm unsure if you want to do a Dragon tribal deck or not, but another choice you are gonna want to look into would be Chaos Warp and Vandalblast, both very good and strong removal spells. For board wipes, you seem like you are good to an extent, but maybe look into Toxic Deluge, Life's Finale and Decree of Pain.
Creatures:You do have an interesting creature base, though I am rather unsure about the Lord of the Void being there, but that is on you. If you are wanting to build more Dragon Tribal based, here are some good ones for you: Scourge of Kher Ridges (Has built in board wipes for fliers and non-fliers), Knollspine Dragon (Discard your hand and draw a bunch of cards), Balefire Dragon (insanely powerful dragon that can wipe an opponent's board, Steel Hellkite (artifact dragon that can remove permanents), Scourge of the Throne (extra combat step if attacking person with most health), Hellkite Tyrant (if you have artifact decks, this can legitimately win you the game), Scourge of Valkas (Will throw damage around based on number of dragons each time a dragon enters the battlefield (Dragon Tempest does this, but also gives fliers haste)), Kolaghan, the Storm's Fury (pumps attacking creatures +1/+0 for each attacking dragon), Taurean Mauler (low casting cost creature that grows based on spells cast by opponents) and Dragonlord Atarka (can take out Planeswalkers and other things). Some other utility creatures are Xenagos, God of Revels (pump single creature, and gives haste) and Nylea, God of the Hunt (gives all creatures trample).
1 week ago
Ok ok so, i have a commander deck with Karrthus, Tyrant of Jund as the commander. The deck itself has functioned pretty well up until recently, i have been getting completely rekt early game. Do keep in mind i have not been playing long and do not have a great understanding of cards or of a good build, in fact this is the first deck i have ever built. All i really need help with is early game because dinos have been destroying me as of late. The deck is built as follows:i have no clue what im doing dragons
1 week ago
Gonti is one of my favorite commanders to use. There are other creatures and cards you can use if you're going for the theft and greed gimmick
Lord of the Void, Hedonist's Trove, Oblivion Sower, Helm of Possession, Mirage Mirror,Grave Betrayal, Supernatural Stamina, Chainer, Dementia Master.
Now to abuse ETB these will helpPlague Belcher, Mikaeus, the Unhallowed
2 weeks ago
I also play Shadowborn Athreos. Here are some cards from my list you might be interested in
3 weeks ago
Yeah, Xiahou Dun, the One-Eyed isn't a very common card to see, mostly because he's a Portal Three Kingdoms card, and that whole set's basically impossible to find (hence his nearly 90$ price tag). The trick with him, is that in black, he's really easy to reanimate, so a super-popular strategy with him is cast Demonic Tutor, grab Dread Return, then sac him to get DT back, then reanimate him Dread Return, then DT again, sac him again to get DT back, DT again, flashback Dread Return to reanimate him again, sac him again, get back DT again, DT again, and hey look, you've now got the three pieces of your combo in hand and you win. He's just very abusable - like if Eternal Witness were in blue/white where flickering to keep getting extra ETB's was a thing, PLUS having access to the best tutors in the game.
I'd be more inclined to run Mirari than Mirrorpool, since MP requires colorless mana to activate, and I don't want to weaken the manabase by adding too many non-black producers. If your list already has a number of ways to produce colorless mana, then sure, go for it. Mirari seems pretty cool, though I'd caution against using it to copy your killspells (most of the time) since the spells will frequently be cheaper than the price to copy.
Corrupt is a great spell - the only reason I'm not running it is because it's not an instant, so I can't get it back with Toshiro. Notice that it's effectively a slower, more costly Tendrils of Corruption, unless I'm aiming it at a player - in which case, I want them dead, not just stung for a bit. Still, running it as a possible way to finish out a game, or just to pick off that one problem player isn't a mistake.
Maze of Ith and Fleshbag Marauder both seem like solid additions. I'm shying away from Marauder (and his twin, Merciless Executioner), just because I like my removal instant-speed, but particularly if you're looking to go in a more creature-based direction, he's a solid card that triggers Toshiro usually more than once.
From these cards, Lord of the Void is the only one I don't really think belongs. Again, this is a really strong card that you can use to devastating effect... but everyone at the table will know it. Also, people tend to be very incentivized to remove things like Lord that steal cards out of their library. In my superfriends list, I specifically run Ashiok, Nightmare Weaver not because it's that great in EDH, but because people will swing at them again and again and again even to the point of ignoring my much more dangerous planeswalkers, because it's actively ripping resources away from them, and the other walkers are ticking up much more subtly - towards much more devastating ults.
In short, run Lord if you like, but be prepared to have him removed, and to draw the ire of the table if he sticks around.
Load more