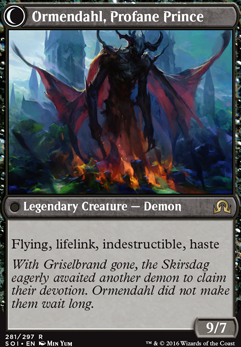 Front:
Westvale Abbey
Flip
Legality
| | |
| --- | --- |
| Format | Legality |
| Modern | Legal |
| Legacy | Legal |
| Vintage | Legal |
| Commander / EDH | Legal |
| Duel Commander | Legal |
| Tiny Leaders | Legal |
| Standard | Legal |
| Frontier | Legal |
Tokens
Ormendahl, Profane Prince
Legendary Creature — Demon
Flying, lifelink, indestructible, haste
Ormendahl, Profane Prince Discussion
5 days ago
First of all, I like the basic structure of your deck. It looks very versatile, and nothing is more fun than denying your opponent access to as many things in their deck as possible. That being said, I think you could stream line this deck a little more to help you do that better.
(1.)
Marionette Master
-- I love this card, and I would love it even more if it could finally find it's place in Standard. However, the basic premise of your deck doesn't synergize well with it. You don't have a consistent sacrifice engine that you can use to get her benefits to maximum. In any case, I don't think you'd want to either. If you're wanting to take advantage of Improvise (which several of your cards use), the last thing you want is to see your artifacts leave.
(2.) Westvale Abbey Flip -- In general, control decks don't need to have a lot of creatures out. They rely on the strength of their instants and sorceries to oppress their opponent's abilities until they can drop a huge bomb creature. So, I don't think you'd ever really see 5 creatures. Don't get me wrong, Ormendahl, Profane Prince Flip is certainly a game-ending, bomb creature, but I don't think you'd ever really see him come out.
(3.) Maverick Thopterist -- This one is a bit iffy, actually. He's a really good card in Improvise decks for sure, but I don't think you use Improvise enough to have him be an A-lister for you.
(1.)
Dynavolt Tower
-- You had said that
Glimmer of Genius
would get you more energy for you to utilize with
Harnessed Lightning
. I completely agree, but I also think you could stand to give it more synergy. With
Tower
, you can rack up quickly. There's also some interesting plays you can make with
Lightning
.
Say you target a creature with Lightning, but you choose to pay 0 Energy. You now have in the bank. Because you played an instant, Tower gives you . You now have and can pump it into Tower to deal 3 damage to your opponent or redirect it to a PW they control. Essentially, having Tower out means you can now use Lightning to hit players as well as creatures for 3 damage.
Because of the fact that you are doing control, you'll always have the possibility of not having enough damage output. This a good way to counteract that.
(2.) Disallow -- Being a control deck, you want as much versatility as possible. Void Shatter and Metallic Rebuke are great cards, but they can't deal with something already on board. This card can. You may want to rearrange it so that you have an even number of Disallows and Voids.
(3.) Torrential Gearhulk -- I know, I know... he's expensive. But he's an amazing card that goes really well in control. Say they cast Saheeli Rai for their combo or their own Herald of Anguish or a burn spell to your face. You can respond with Torrential, giving you a 5/6 beat stick, but grabbing a counter spell to deny them their combo piece or threat. He's very good late game which is where control decks usually want to go.
The other thing I might suggest is that some cards in your mainboard should probably be moved to sideboard to make room. These cards are great, but are probably better for specialized matches. Noxious Gearhulk, for example, is a good card but Torrential can basically accomplish the same thing just at instant speed. Noxious should be considered for matches where someone is eating your life away quicker than you can get to your wincons.
Anyway, I hope this helped. Please keep us updated on how your deck does. I love Grixis and always want to see it do well.
1 week ago
Archangel_of_Entropy Thanks for the feedback!
Animation Module seemed like a great repeatable Servo token production engine to sink extra mana into whenever I place a counter, which I do often. With Indulgent Aristocrat its a repeatable + to drop a +1 counter on each of my vampires, or I can end up making more Servo fodder from the extra triggers. I think being able to maintain enough sac fodder is important, especially since having extra can help feed a game winning Ormendahl, Profane Prince Flip. An Animation Module on board is great to have, though 2 is useless, which is why its a 2-of and not a 4-of like Hidden Stockpile.
As far as Cliffhaven Vampire he's not as great as Kalitas, Traitor of Ghet for the CMC, but he has a decent butt for blocking as a 2/4 flying. The passive life gain from Drana's Emissary and all the lifelink from whenever I attack or block with Kalitas, Traitor of Ghet, Gifted Aetherborn, or Indulgent Aristocrat gives us plenty of life gain opportunities to ping our opponent down, making him pretty good offensively or defensively.
I do agree that I think the deck could use some card advantage. Hidden Stockpile's sac to Scry 1 is something but it's not quite enough. Sorin, Grim Nemesis is totally on theme and offers card draw, life loss, life gain, removal, and an almost guaranteed game winning ultimate. At CMC though, he's a bit costly, but could prove useful in mid to late game to wear out my opponent in a more defensive matchup since he should be pretty easy to defend and build up to a win, so I'm definitely thinking of including him in the mainboard.
Other options for card advantage were Asylum Visitor, a decent draw engine with a 3/1 vamp body. However with no opportunity to discard my hand or my opponent's, I'm not sure how often I can take advantage of the card draw unless I'm top-decking. Adding in Heir of Falkenrath Flip to make it work is an option, though I'm not sure what I'd pull out for them. Probably 2 for 2 with Drana's Emissary and Cliffhaven Vampire.
Another option is adding in spells like Altar's Reap, which makes a great response to a kill spell or otherwise just target a Servo for two cards. If we want to spend life instead of creatures we can go with Succumb to Temptation instead. Another decent option and also on theme though would be Vampiric Rites, and sacrificing a creature to draw a card and gaining a life instead of losing it.
Just some thoughts, I need to proxy and playtest it to see how it goes, but if anyone would like to give it a go, let me know how it works and what changes you made and suggestions you have!
1 week ago
I know you are looking for splashy creatures but Akroma's Memorial makes even a germ splashy. Odric, Lunarch Marshal and Concerted Effort this would simply be a good idea for what you want. Domri Rade ult can also make lowly germs splashy.
Angel of Invention, Atraxa, Praetors' Voice, Brisela, Voice of Nightmares, Chromanticore, Drogskol Reaver, It That Rides as One Flip, Ormendahl, Profane Prince Flip, Blightsteel Colossus, Blood Baron of Vizkopa
2 weeks ago
One of the most underlooked parts of a creature are the keywords. When you just see a creature stacked with plenty of keywords, it's almost guaranteed to be good. Like Vampire Nighthawk, Ormendahl, Profane Prince, etc
3 weeks ago
pretty cool deck man! Coming from someone who loves to play Ormendahl, Profane Prince Flip but struggles to get the sacs out there for him to be a quick threat this is pretty awesome. the concept is pretty evil, but looks like it be a fun way to play!
1 month ago
i played Filigree Familiar it works pretty good. but i left the Matter Reshaper. It just plays so well. And it's three so no fatal push. and please shock it I'm trying to get him off the board anyways. And I can't go without Ormendahl, Profane Prince Flip he is just to good. and it lets me board wipe my side of the board with Zulaport Cutthroat in play that is 14 life and 5 damage if you block Ormendahl in which that could be a game win play. I mean the guys name is profane. what....??? fear me..... lol. so worth sacking any of my guys for it. the drownyard is only for the gitrog. so I could lower those to play a heavier mana base. But "Ormendahl, Profane Prince"!!! its like being the prince of no crap giving. lol
the only vehicles I'm worried about would be Aethersphere Harvester and Heart of Kiran but mostly cause the flying. But I'm going to figure out a side deck for those.
Load more
Latest Commander