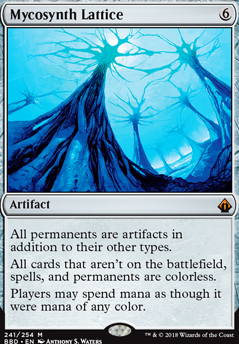 Legality
| | |
| --- | --- |
| Format | Legality |
| Tiny Leaders | Legal |
| Noble | Legal |
| Leviathan | Legal |
| Magic Duels | Legal |
| Canadian Highlander | Legal |
| Vintage | Legal |
| Modern | Legal |
| Penny Dreadful | Legal |
| Vanguard | Legal |
| Legacy | Legal |
| Archenemy | Legal |
| Planechase | Legal |
| 1v1 Commander | Legal |
| Duel Commander | Legal |
| Oathbreaker | Legal |
| Unformat | Legal |
| Casual | Legal |
| Commander / EDH | Legal |
Mycosynth Lattice
Artifact
All permanents are artifacts in addition to their other types.
All cards that aren't on the battlefield, spells, and permanents are colourless.
Players may spend mana as though it were mana of any colour.
Mycosynth Lattice Discussion
1 day ago
So obviously this is not a legal card in any format, however it is a very real card nonetheless. It's created by Wizards and given to employees with exceptional performance.
Since it's not a real card, there are probably no rules in place for it. So, we can address this by inferring a few:
1.) Any creature can be your Commander. The Legendary Partner ability upgrades it to Legendary status.
2.) We can assume that because they have Partner, the creature in question may contain . If this is the case, your deck's identity would be .
3.) It doesn't say "Creature", but as of now there is no LEGAL precedent for anything other than Planeswalkers who can also be your Commander. So, we will only include Creatures and Planeswalkers. This means that any Planeswalker can also be partnered with Sol, Advocate Eternal.
There is however the issue of needing to ATTACK with the Planeswalker if that is your Partner if you'd like to get the "Teamwork" trigger. In order to do so, you'd need to either use Planeswalkers who can attack, such as Gideon and Sarkhan . However, you could also theoretically cobble together a Planeswalker who can attack by using Mycosynth Lattice and March of the Machines . You are in , so literally just tutor those cards out.
It would be very tempting to just go Atraxa, Praetors' Voice for that disgusting Support / Proliferate synergy. There's also Atarka, World Render if you want to swing for basically lethal Commander damage each turn. I mean, you'd be hitting with probably a 6/6 and an 8/4 (Assuming you Supported +2/+2 on Sol and +2/+2 on Atarka). That alone is 14 damage, but they are also going to gain doublestrike thanks to Atarka so it's actually 28 COMMANDER DAMAGE. And it puts you in WUBRG for The Ur-Dragon and Scion of the Ur-Dragon , so there's that.
I realize that each of the two Commanders have their own separate amount of damage they need to deal for it to be lethal. For example, if Sol deals 16 damage and Atarka deals 18 damage, this is not lethal "Commander Damage" as neither of them have individually dealt 21 combat damage in total. However, swinging for 28 damage on the first attack is nothing to scoff at, and they will only continue to grow. This puts all opponents on a 2-turn clock, or the game on a 6-turn clock. With cards that grant additional combat steps , you can knock a single opponent out of the game per turn. This reduces the entire game to a 3-turn clock. With access to and , I'd put in extra turn cards and basically win the game right there by virtue of brute, unrelenting force alone.
So Atarka, World Render is my go-to choice.
However, since we are Investigating and can upgrade any creature to Legendary, there is also Briarbridge Patrol who would be insanely powerful here.
There is also The Locust God . Since you are going to Investigate 4x, that's a TON of draw you are kicking out. Might as well throw down some creatures literally for free while stacking card advantage, right? For each card you draw, you create a 1/1 Insect token. Since you have 4x Clue tokens, you can use them all and create 4x 1/1s. Then when you attack with Sol and Locust, you can Support 4 and distribute them all onto the tokens, giving you 4x 2/2 flyers on top of your 4/4 Sol and your 4/4 Locust. That's a grand total of 16 flying in the air, you drew 4x cards, and now that they both attacked you get another 4x Clue tokens. An engine like that is very hard to pass up, so Locust would be a very close second for me. Probably the Commander with Atarka, World Render as a backup.
But those are just my ideas. What are your ideas? :)
2 days ago
Last_Laugh - Thanks for the feedback, I appreciate you taking the time to offer suggestions.
Spark Double and Diabolic Intent are solid suggestions, I will find room to include those, thank you!
Metallic Mimic was something I thought about including, because at face value it seems like it would interact well with Marchesa. Problem is, the most common creature type I have is construct, and that's less than 1/3 of my overall creature count. I could see it being very good situationally (i.e. I have a few constructs in my hand, or a way to get them) but I saw it sitting on the board not doing much otherwise.
Ashnod's Altar is good overall; I use it in a lot of my other decks. I went with Ironworks since most of my creatures are artifacts anyway. Probably worth including both to be more consistent, also might be worth looking at Phyrexian Altar as well.
Sage of Fables seems good for instant Marchesa protection. I currently just have Guildmages' Forum and Forge of Heroes as instant +1/+1 counters for Marchesa, so I'll take a look at finding room for another if I find I consistently need it.
Flayer, Sage, and Altar seems like a cute combo to use to end the game, and powerful, but also doesn't fit with the artifact based Marchesa deck I was going for. Stacking modular counters is a sub goal of the deck, and I can't put counters on Flayer or Sage without something like Phyrexian Scriptures or Mycosynth Lattice . Same with Vindictive Lich
6 days ago
Personally, I think Chromium is one of the better voltron commanders in edh. He's got protection built right into him. Not including the fact he can't be countered. I would leave him voltron. You just want to have ways of keeping your hand full and Necropotence is one of the best cards for that. Another big way to protect your entire board state would be to add Mycosynth Lattice to work with Padeem. If the lattice is out of your budget you could always use Memnarch to turn Padeem first and then any other non artifact you want to have protected. Could also use him to steal other ppls stuff as well. I also see you're going with a control sub-theme as well. Linvala, Keeper of Silence would be a good fit for that. Another one to consider given all the token production you are capable of would be Ertai, the Corrupted giving you another way to counter stuff. The last thing I can think of is depending how consistent you want the deck to be, you are in the best colors for tutoring. Adding a few of those would give you more consistency.
2 weeks ago
I don't play favorites with my combos in this deck because that would lead to a much higher degree of repetition, and that would make games less fun for everyone involved.
That said, the basic thing to look for is the ability to untap things. If you have repeatable untap, you've probably got a win.
Examples:
3 weeks ago
Just a note on Laboratory Maniac , you should already have your library drawn to 2 or less cards by the time you try to cast him. This means that in an optimal build you will have Force of Will , Pact of Negation , Swan Song , Mana Drain , Flusterstorm , and Delay at the very least in your hand. You should be able to force through Labman and have the cantrips to draw from an empty library in response to any responses, especially since you have infinite mana by this point. If you don't want to run Labman that is your choice to make, but as a win condition he is not unreliable or risky. I'll go ahead and assume that Jace, Wielder of Mysteries is also excluded as it is the same wincon as Labman.
Though not as consistent as it is in Arcum, Nevinyrral's Disk , Darksteel Forge , and Mycosynth Lattice can provide a hardlock.
Since the deck makes infinite mana as its primary function, Walking Ballista is an effective wincon.
Load more
Mycosynth Lattice occurrence in decks from the last year
Commander / EDH:
All decks: 0.03%
Blue: 0.18%
Red: 0.19%