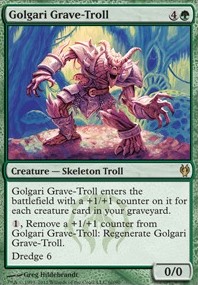 Legality
| | |
| --- | --- |
| Format | Legality |
| Legacy | Legal |
| Vintage | Legal |
| Commander / EDH | Legal |
| Duel Commander | Legal |
Related Questions
Golgari Grave-Troll
Creature — Skeleton Troll
Golgari Grave-Troll enters the battlefield with a +1/+1 counter on it for each creature card in your graveyard.
, Remove a +1/+1 counter from Golgari Grave-Troll: Regenerate Golgari Grave-Troll.
Dredge 6
Golgari Grave-Troll Discussion
1 week ago
"at one time $2 USD or less" still allows for some pretty broken cards. Sword of the Meek, Golgari Grave-Troll, etc. Maybe change it to "currently $3 USD or less", kinda like Penny Dreadful?
1 week ago
If you are just playing casually, I would recommend Golgari Grave-Troll because he is gold for Dredge.
Also if you do end up splashing red for some of the cards recommended by HezTheGod(which can cause some crazy dredge triggers), you could supplement your mana base with cards like City of Brass and/or Mana Confluence to make sure you always have the right color of mana.
1 week ago
Here are some of the articles I've been reading on the new Golgari Grave-Troll-less Dredge decks.

http://www.starcitygames.com/article/34370_Infect-And-Dredge-Are-Still-Decks.html
and
http://www.mtgmintcard.com/articles/writers/zen-takahashi/dredge-in-a-post-ban-world

These were good articles on the deck, the format, and the key cards that make it work. Take a look and let me know what you think. I think the mana base is a bit shakier than it used to be and I'm not sure how I feel about the green. I understand why they went that way, just not sure if I like it enough to play those builds. I do like your more budget conscious build but at this point I don't think it will be able to stay mono-black. I like what red does for this deck but the green is tacked on just for the Life from the Loam. But Loam does get lands back so that you can cast other spells. Tough call. I think this is going to boil down to how aggressive or competitive you want to make the deck. If you're just playing casually with friends, then it doesn't matter as much what turn you win on.
2 weeks ago
Overgrown Tomb, Woodland Cemetery, Golgari Guildgate, Llanowar Wastes, and Jungle Hollow are all strong B/G lands to help smoothen out your mana base.
Eternal Witness is a strong EDH card already, but since you're particularly focused around the graveyard I suggest it even more.
Buried Alive immediately pitches three creature cards into your graveyard for reanimation later and so that Jarad gets a +3/+3 buff.
Golgari Grave-Troll fits the theme of dumping cards in your graveyard and getting better for the number of creatures in it.
Acidic Slime is a powerfully destructive creature that blows up a difficult permanent and then sticks around as an annoying deathtouch blocker.
Living Death can be a win condition/boardwipe combination if you've successfully stockpiled your graveyard over the course of the game.
Mikaeus, the Unhallowed allows for double sacrificing (and with a persist creature, infinite sacrificing), and is a strong lord overall.
Sidisi, Undead Vizier goes along with the sacrificing theme and is a tutor on a stick. Tutoring is essential in EDH.
Life from the Loam is a premiere dredge card that recurs back all those lands that would be lost.
Deathrite Shaman continues to be an excellent card that is basically the Golgari version of Grim Lavamancer, except it is also a mana elf and lifegain.
Phyrexian Delver is your budget Reanimate on a stick. Strong and effective for its cost.
Phyrexian Arena is a crazy draw engine that gives SO much back in value over the course of a game, and with a negligible downside with a starting 40 life total.
1 month ago
Mate, I'm sorry to hear about the theft. I hope you get back into it - I'm a huge fan of your decks! In fact I think I'll put a couple together to play with a few mates, who I used to play AD&D with, that I'd like to drag into the game with me.
I'm brand-new to MTG and found this deck while looking for graveyard style decks since my intro into the game has been playing zombies on Magic Duels.
I'm putting together a version of this deck, replacing 2x Golgari Grave-Troll with 2x Golgari Thug, and the 2x Kessig Cagebreakers with 2x The Gitrog Monster and looking forward to trying it out at my first ever FNM very soon!
Load more