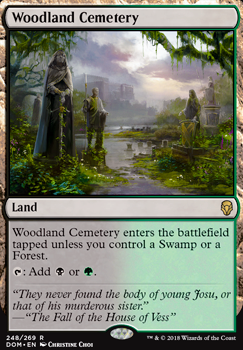 Woodland Cemetery
Land
Woodland Cemetery enters the battlefield tapped unless you control a Swamp or a Forest.
: Add or .
Browse Alters
View at Gatherer
Trade
Legality
| | |
| --- | --- |
| Format | Legality |
| Historic | Legal |
| Unformat | Legal |
| Casual | Legal |
| Vintage | Legal |
| Limited | Legal |
| Duel Commander | Legal |
| Modern | Legal |
| 1v1 Commander | Legal |
| Canadian Highlander | Legal |
| Leviathan | Legal |
| Arena | Legal |
| Pioneer | Legal |
| Block Constructed | Legal |
| 2019-10-04 | Legal |
| Oathbreaker | Legal |
| Legacy | Legal |
| Commander / EDH | Legal |
| Highlander | Legal |
| Tiny Leaders | Legal |
Latest Decks as Commander
Woodland Cemetery Discussion
16 hours ago
Assuming you still would like help, here are my thoughts just going off what you already have (so your mainboard and sideboard).
First of all your land situation needs to be sorted out. You have an insanely high average cmc (4.74) so you're going to be looking at about 40 lands without the very pricy ramp cards. 30 lands is in the range that decks with an average of about 2cmc or lower run. Here's a quickly made list of your lands that I'd use:
You almost always want to prioritise lands that can come in untapped over ones that always enter tapped. This is because auto-tapped lands basically set you back a turn, so it's often better to just run a basic over something like Sheltered Thicket. The exception here goes to the Triomes because they offer three colours and more importantly can be picked up by your fetchlands.
As for the rest of your cards, here's what I recommend cutting:
And add in their places, assuming you're running 40 lands:
Hopefully that helps, and let me know if you have any questions! These are just suggestions after a brief runthrough of course, so feel free to take them or leave them!
4 weeks ago
Hey, nice budget version, good change to Korvold from Prossh.
Tireless Tracker, Mystery Card Booster version, may be out of budget range, but in my opinion it's the best casual value creature with Korvold. Repeatable source of creating permanents that can sac (Clues) just by playing a land. Clues can be a backup repeatable draw source if Korvold is disrupted. Awakening Zone was just reprinted in Double Masters. Eldrazi spawn tokens can sac themselves for colorless mana. Dreadhorde Invasion can be another repeatable source of a token to sac to Korvold.
One drop Bloodsoaked Champion has good interaction with Korvold as a repeatable creature to sac. Attack with Korvold sac Champion and since Korvold attacked you can reanimate Champion for . Reassembling Skeleton also does this, but you can reanimate Skeleton at any time.
Orcish Lumberjack is another one drop who can sac a Forest to make three mana. This interaction is very good with Korvold and Ramunap Excavator. Viscera Seer, Caustic Caterpillar and Spore Frog are other good one drops with Korvold because they can sac themselves. Seer can be a repeatable sac outlet that can also help to setup your draws with Korvold since you can scry before you draw.
Korvold's draw ability goes well with Jolrael, Mwonvuli Recluse and Mad Ratter since on your turn if you draw at least one card with Korvold then you make a Cat or two Rats. These creatures also trigger on opponents' turns if you draw two or more cards which is very possible since can sac at instant speed, good with Clues and Eldrazi spawns.
Some budget land upgrades to consider:
Good luck with your deck.
1 month ago
G'day mate! I might have some suggestions that could help you out, so let's start off looking at your mana base. You run a LOTTTT of lands that come in tapped. In my opinion- you should ditch them all. So what could you add-in? Some of these are kind of pricy, but as you build this deck more definitely consider some of these land options.
Wooded Foothills (Budget: Mountain Valley)
Rootbound Crag (Maybe)
Spire Garden (Maybe)
Game Trail (Maybe)

Cinder Glade (Maybe)

The first five for each color (The Shock Lands, Dual Fetch Lands, Fast Lands, Pain Lands, and Filter lands are the best, and I recommend putting in those five of each color. The others are more budget options you may want to include for the moment before you can get your hands on more expensive options. There are also some multicolor lands that are VERY helpful, such as some of the following.
There are also some VERY good ramp options in your colors! Ramp is very important, and I would consider all of these
Now I know that's a lot, and a lot in money, but I promise you its a big step in helping your deck perform a lot better. Once you have a good mana base, things will come a lot easier. If you ever need to find cards to put in Proshh, I recommend checking out EDHREC, which gives you many helpful suggestions for every commander. (Click here to go to your commander on edhrec. If this helps, be sure to check out and like some of my decks, (Double Trouble EDH, A Deal With the Devil EDH, and many more! Anyways though, good luck on your deck, hope this helps, and have a great day!!! Happy tapping!
1 month ago
G'day mate! I feel like your land section could use an upgrade, so as you get more cards I would recommend getting some of these lands! Good lands can help a deck run much more smoothly, and I recommend all of the below.
---Lands!---
As for ramp, you might like some of the following!
In the end, a good mana base is always important and I recommend all of these cards! If this helps be sure to check out my own doubling deck, Double Trouble EDH! Anyways though, hope this helps, good luck on your deck, and have a great day! Happy tapping!!!
1 month ago
Changes are coming to this Scion of the Ur-Dragon EDH/Commander deck!
The ten check lands (Glacial Fortress, Drowned Catacomb, Dragonskull Summit, Rootbound Crag, Sunpetal Grove, Isolated Chapel, Clifftop Retreat, Sulfur Falls, Hinterland Harbor, Woodland Cemetery) are being replaced by the following:
Introduced in Ikoria: Lair of Behemoths, the triomes are more versatile than the check lands. Each offers an additional color and are perfect targets for our fetch lands. In fact, any turn 1-3 fetch lands should target triomes. Additionally, late game we can cycle an unwanted triome and draw a card, an ability previously missing in the deck.
For the cost of one life, Mana Confluence gives us one mana of any color. In the best case scenario, Exotic Orchard will act as Command Tower #2. In the worst case scenario, Exotic Orchard is worthless. In the most likely scenario, Exotic Orchard will be closer to a Command Tower than a useless rectangle of cardboard. Unclaimed Territory limits our colored mana to casting only dragons, but still provides for our non-dragon spells.
Including Fellwar Stone and Smothering Tithe increases our ability to ramp. Fellwar Stone is an artifact version of Exotic Orchard while Smothering Tithe taxes each opponent with for each card drawn. Failure to pay the tax gifts us with a Treasure. Slimming the land count from 40 to 38 by adding artifact/enchantment ramp is noteworthy. It's an attempt to cast Scion of the Ur-Dragon more quickly and try to outpace our opponents.
A few other changes:
Fierce Guardianship replaces Chromium the Unmutable. Chromium the Unmutable was slotted into this deck in order to protect Scion of the Ur-Dragon. It costs a card to do it, but in the end after activating Scion of the Ur-Dragon and becoming a copy of Chromium the Unmutable our General/Commander will have hexproof until the end of turn. I believe Fierce Guardianship can protect Scion of the Ur-Dragon better.

Guardian Project replaces Steel Hellkite. Removal is strong in our deck? Card draw is not. In order to add the awesome card-drawing ability of Guardian Project, we remove Steel Hellkite. This exchange was not difficult, as activating Scion of the Ur-Dragon to become a copy of Steel Hellkite was as rare as winter roses.

Rhystic Study replaces Wipe Away. I'm pretty sure our lack of card draw was documented earlier. By adding Rhystic Study, we add one of the best card-drawing spells in our format. Our removal is strong, and swapping out a removal spell for Rhystic Study is warranted.
To summarize:
Our land count dropped from 40 to 38, but gained more versatility throughout the mana base.
Our number of dragons dropped from 28 to 26.
Our number of ramp/card-draw spells increased by four (Fellwar Stone, Smothering Tithe, Guardian Project, Rhystic Study).
Collectively I believe that these 13 changes make the deck stronger and more balanced. What do you think?
Load more