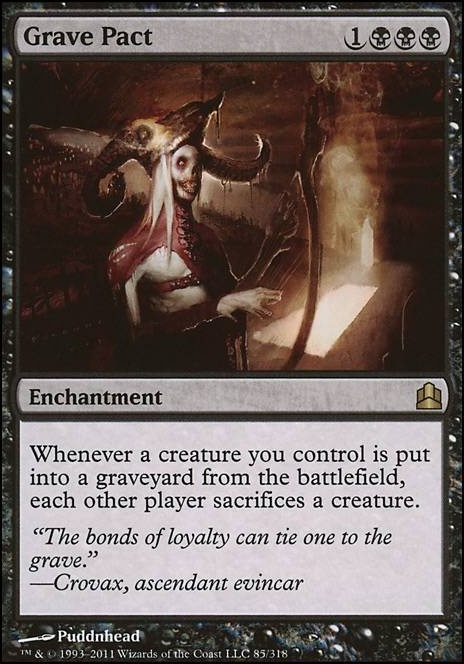 Legality
| | |
| --- | --- |
| Format | Legality |
| Modern | Legal |
| Legacy | Legal |
| Vintage | Legal |
| Commander / EDH | Legal |
| Duel Commander | Legal |
Grave Pact
Enchantment
Whenever a creature you control dies, each other player sacrifices a creature.
Grave Pact Discussion
3 days ago
I've tried to write an essay for the advice I have for this deck three times already. I'm on an old tablet that can't handle many things, so I've given up. I'm hoping you can guess my reasoning through card suggestion only.
Consider removing:
Desecration Elemental, Hissing Iguanar, Jund Battlemage, Mogg War Marshal, Rot Shambler or Scavenger Drake, Claws of Gix, Bone Splinters, Curse of the Cabal or Grave Pact, Dragon Fodder, Fallen Ideal, Fists of Ironwood, and From Beyond UNLESS you decide to add an eldrazi with annihilator.
Consider adding:
Playsets of Thoughtpicker Witch, Reassembling Skeleton, Rot Shambler if you chose it over the Drake, Act of Treason and possibly a functionally similar card which I forget the name of.
Myr Servitor, Gravecrawler, Gravedigger, Blood Artist or Falkenrath Noble, and your favorite 1 or 2 drop discard spell, Thoughtseize or Duress come to mind.
5 days ago
Interesting choice on banshees blade over Blade of the Bloodchief. Gifted Aetherborn works really well with the captain, all those keywords are great. Vampire Cutthroat might work batter than lacerator as it can continue to slip in damage. Grave Pact/Dictate of Erebos is super strong with sacrifice outlets and kalitas.
Keep some hand disruption in sideboard- Duressetc will work wonders in trickier matchups.If there is a lack of graveyard removal in your meta some stuff like No Rest for the Wicked is pretty neat protection against supreme verdict.
5 days ago
Mazirek, Kraul Death Priest feels like a good budget general, the key is Permanent.
you get powerful utility out of cards like Sakura-Tribe Elder, Harrow, Fleshbag Marauder, Tribute to the Wild etc
while being able to focus on either Grave Pact style play, or Winding Constrictor style play .... or both. (and the lists of commonly played cards on EDHrec-Mazirek are "mostly" in the 0-1 dollar range)
Savra, Queen of the Golgari seems okay but she requires more self sacrifice of specifically creatures, which can be more costly (see Grave Pact)
and Skullbriar, the Walking Grave tends to want powerful cards to boost him into commander damage kills, which tend to get pricey.
5 days ago
Those guys definitely.know what's up. Good recommendations. I'd put those in, as for recommending what to pull out... Akki Underminer. As a 1/1, he's always going to be blocked. Goblin Gardener. He costs as much as a Ruination (recommend btw), but he only gets rid of one land. And what do you think of Dictate of Erebos instead of Grave Pact? He costs one more, but has flash and he's not super black mana heavy to cast.
Load more