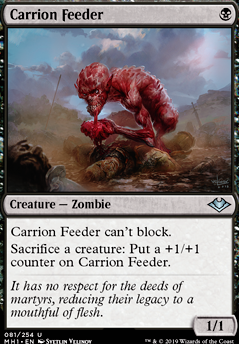 Legality
| | |
| --- | --- |
| Format | Legality |
| Tiny Leaders | Legal |
| Noble | Legal |
| Leviathan | Legal |
| Custom | Legal |
| Magic Duels | Legal |
| Canadian Highlander | Legal |
| Vintage | Legal |
| Modern | Legal |
| Casual | Legal |
| Pauper EDH | Legal |
| Vanguard | Legal |
| Legacy | Legal |
| Archenemy | Legal |
| Planechase | Legal |
| 1v1 Commander | Legal |
| Duel Commander | Legal |
| Oathbreaker | Legal |
| Unformat | Legal |
| Pauper | Legal |
| Commander / EDH | Legal |
Carrion Feeder
Creature — Zombie
Carrion Feeder can't block.
Sacrifice a creature: Put a +1/+1 counter on Carrion Feeder.
Carrion Feeder Discussion
1 day ago
You can, if you like, create custom sort categories by adding a # in your edit list (eg. "1x City of Brass #Land") and then setting >Edit >Default category >Custom
Don't forget Thraximundar and Warstorm Surge ...
Here are some houses:
If you count Merciless Executioner , Innocent Blood , etc, with wipes like Damnation , etc, you have 12 wipes and 5 removal... which is probably too much control.
To play aggressively, Marchesa needs evasive creatures with double strike ...or maybe even...
Core Prowler
... maybe
Flesh-Eater Imp ... I have one, you should try it out
Grafted Exoskeleton ... sacrifice might be nice
Viral Drake ... proliferating your +1/+1 counters would be pretty sweet
...Keep in mind Infect replaces damage so either make it a core theme or only play the ones that can get to 10 Infect quickly.
Demons would also be pretty sweet:
6 days ago
Tidehollow Sculler is a good card but doesn't really add much to the plan. Zombies are relatively midrangey but we're still trying to aggro. Lazotep Reaver compliments this by adding the amount of bodies getting the anthem. Also gives us extra bodies to use Cryptbreaker and Carrion Feeder .
Thanks for the zombie love!
6 days ago
I'm counting about 6 sac outlets, maybe 7 if I bend my rules for it a little bit, and none of them are free sac outlets. drmezmo listed several very good free ones in his post above. I'd run Yahenni, Undying Partisan , Ashnod's Altar , and Viscera Seer for sure, and probably Carrion Feeder , too. These free sac outlets allow you to respond at instant speed to board wipes, exile spells, and other situations as they arise in a game. Much better bang for your buck with cards like these.
1 week ago
Hey, nice start, well made first version.
I think it's a mistake to play more Forests and Islands than Swamps because you need Swamps more than any other lands to play Zombies. Consider less Forests, less Islands replacing with more Swamps and dual lands? Lands within the deck's budget to consider adding:
Undead Augur and Cryptbreaker are great tribal Zombie cards. I especially like the interaction of these Zombies with Gravecrawler . Cryptbreaker is an engine for Zombie tribal which is busted for a one drop. Carrion Feeder is another one drop Zombie who has good interaction with Gravecrawler and Augur. Plague Belcher has a good Zombie tribal ability. Wonder is powerful when you have discard outlets, good with Island dual lands (Watery, Breeding, Sunken and Fetid). Buried Alive can tutor for Gravecrawler and Wonder and put them into your graveyard. Having another way to tutor for Gravecrawler and other Zombies and get them into the graveyard is helpful to play them with Muldrotha. Deathrite Shaman is not a Zombie, but its a great versatile card in multiplayer Commander. Mystic Remora and Animate Dead are excellent cards to replay with Muldrotha.
Some cards that are within the deck's budget that are upgrades:
---
Cards to consider cutting:
4x Forest
4x Island
Rampant Growth
Murder
Razaketh's Rite
Diabolic Tutor
Gilded Lotus
Liliana, Untouched By Death
Risen Executioner
Soulless One
Curse of the Bloody Tome
Dread Summons
Graf Harvest
Kindred Dominance
Havengul Lich
Noosegraf Mob
Kodama's Reach
Consider cutting Ashnod's Altar , Altar of Dementia and Door of Destinies to clear enough price to add Phyrexian Altar ? Because of having Gravecrawler then Phyrexian Altar is a big upgrade since it can make colored mana which can combo with Gravecrawler and another Zombie. Good luck with your deck.
1 week ago
Hey, saw your forum topic asking for help. enigmadox gave you great advice; I'll expand on it some.
Include budget creatures who can sac themselves because these creatures can give you experience counters without needing a sac outlet which is another card. Needing both a creature and a sac outlet to sac that creature is more difficult to get then just needing a creature. Sac outlets are also good and you should include them, but they're not as important in my opinion as creatures who can sac themselves.
Four drop Meren can benefit from early game ramp to be able to possibly play her turn three. Budget mana dorks can be ramp in the early game or sac fodder in the mid/later game to get experience counters.
Budget lands to consider adding:
Other budget cards to consider adding:
If you like some of these suggestions I offer advice on cuts to make. Good luck with your deck.
1 week ago
Thanks for the suggestions. Retribution of the Ancients combos well with Undying creatures in order to pump Carrion Feeder . Definitely am looking to change the list again to try it out and shift the deck to take advantage of that to afford early pressure.
Load more
Carrion Feeder occurrence in decks from the last year
Commander / EDH:
All decks: 0.04%
Black: 0.25%
Golgari: 0.18%