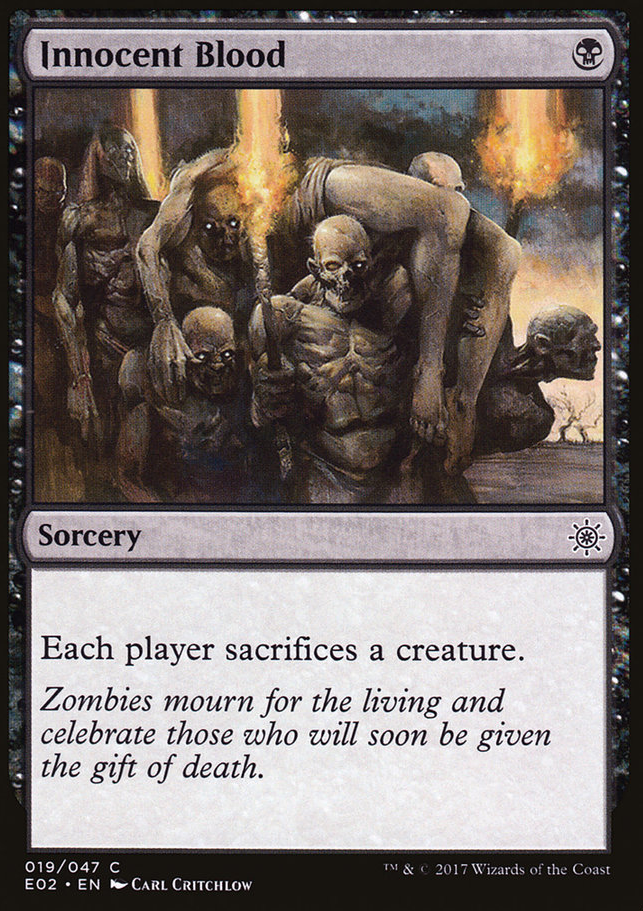 Legality
| | |
| --- | --- |
| Format | Legality |
| Tiny Leaders | Legal |
| Noble | Legal |
| Leviathan | Legal |
| Custom | Legal |
| Magic Duels | Legal |
| Canadian Highlander | Legal |
| Vintage | Legal |
| Frontier | Legal |
| Casual | Legal |
| Pauper EDH | Legal |
| Vanguard | Legal |
| Legacy | Legal |
| Archenemy | Legal |
| Planechase | Legal |
| 1v1 Commander | Legal |
| Duel Commander | Legal |
| Oathbreaker | Legal |
| Unformat | Legal |
| Pauper | Legal |
| Commander / EDH | Legal |
Innocent Blood
Sorcery
Each player sacrifices a creature.
Innocent Blood Discussion
3 weeks ago
You can, if you like, create custom sort categories by adding a # in your edit list (eg. "1x City of Brass #Land") and then setting >Edit >Default category >Custom
Don't forget Thraximundar and Warstorm Surge ...
Here are some houses:
If you count Merciless Executioner , Innocent Blood , etc, with wipes like Damnation , etc, you have 12 wipes and 5 removal... which is probably too much control.
To play aggressively, Marchesa needs evasive creatures with double strike ...or maybe even...
Core Prowler
... maybe
Flesh-Eater Imp ... I have one, you should try it out
Grafted Exoskeleton ... sacrifice might be nice
Viral Drake ... proliferating your +1/+1 counters would be pretty sweet
...Keep in mind Infect replaces damage so either make it a core theme or only play the ones that can get to 10 Infect quickly.
Demons would also be pretty sweet:
1 month ago
The general premise is a demonic planeswalker that draws their power from beings around it and uses it to fuel their abilities.
Rough draft of the concept:
So. The entire idea is a very black oriented planeswalker that only gives something in return when you offer him something. For merely being on your team he constantly drains the controller to add to his power, of which he can then utilize for the controller's benefit.
He cannot give you your life back, so it is very in line with Black's philosophy of "I will sacrifice anything for greater power, even if it may cost me dearly." That also means he pairs relatively well with life gain sources, either through stuff like Deathgreeter or Blood Artist or with colors like white's lifegain themes ( Soul Warden ).
However if the strain he poses on your life total becomes problematic, you can always aim toward building him up to hand him over to an opponent and let him become their problem. You generate a small army and buff them and any other remaining Demons up a little bit, so your opponent is hard pressed to either get rid of him or you. His minus abilities are made in a way that you cannot naturally kill him off through his passive loyalty gain unless he has been attacked or times well with an ultimate (at which point you would likely want him to barely survive to become your opponent's problem once again.)
You can choose to play him without activating any abilities and aim to ultimate him the following turn, effectively costing you and 5 life to get 3 3/3 fliers and have your opponent lose 5 life on their upkeep.
I think it can be a really strong card but with an appropriate drawback, fitting of a black card. I doubt it will be competitive enough to function in Modern (definitely not Legacy and Vintage), so it's mainly aiming at Standard and Commander. In Commander his pressure on life total is much less present, so he'll probably mostly be used as Innocent Blood -a-turn that generates you fodder for the sacrifice, or to draw cards in a token themed deck.
Occasionally his ultimate will matter when players start having low life totals and/or limited ways to get rid of him. The owner will build their deck so they can counter his drawback in some way or form but most opponents wont have the same tools to hold him off and will either have to commit resources to remove him from their own side of the board or raze the owner to the finish line.
It is possible that he's a tad bit on the weak side. Suggestions and feedback are welcome.
1 month ago
So the first card that comes to mind is Mindslicer . In Rakdos decks, you can typically tune your 99 to make you the king of top-decks; this is part of the reason reanimating Sire Of Insanity is such a brutal play in decks like Xantcha, Sleeper Agent .
You're likely to be sacrificing a whole butt-ton of creatures. I advise ways to exploit your guys dying: Dictate of Erebos or Grave Pact come readily to mind. Skullclamp is pretty busted if you're going to be sacrificing creatures anyways, and its especially good seeing as you're running Gravecrawler already.
Zombies is one of the oldest archetypes, and thus it has access to a LOT of tribal effects. Cemetery Reaper , Death Baron , Zombie Master , Undead Warchief , Lord of the Accursed and Lord of the Undead are all good ways to pump your team and/or give them extra abilities. (Depending on the meta, you may want to run Bad Moon as well.) Call to the Grave is really good if you can tune the deck to have 2 or fewer non-zombie creatures. Dark Salvation and Liliana's Mastery are both viable cards in this deck. Graveborn Muse is another good card draw engine next to Phyrexian Arena , which I see you're already running. Unholy Grotto gives you a measure of recursion over your zombies. Noxious Ghoul also comes to mind, as does Withered Wretch as a form of one-sided graveyard hate.
One common issue I've seen in a lot of EDH decks is the prevalence of 1-for-1 instant and sorceries. In a majority of EDH games, you're going to have 2-3 opponents, rather than just one; this means you are facing roughly 2-3 times as many cards as you yourself have access to. Cards like Dreadbore and Terminate are good in 1-on-1 formats like Modern, but in EDH I have frequently found them to just not be good enough. I advise you run cards like Fire Covenant , Ashes to Ashes , Volcanic Fallout or Toxic Deluge instead. These have the potential to take out several creatures at the cost of one card, leaving you up that many cards over your opponents.
On a related note, since most games of EDH are decided by card advantage, anything you can do to draw cards will always be welcome. Ambition's Cost , Night's Whisper and the like are good ways to refill your hand. Wheel of Fortune is another good card, but it's about $100 now, so... consider carefully. Light Up the Stage is another one to consider. While Rakdos is good at topdecking, managing to draw extra cards means it is more likely to hit.
Black has access to many great tutor effects. You may want to consider running Demonic Tutor and Vampiric Tutor if you're able to get ahold of the cards. Gamble is a good red tutor.
Looting effects tend to be very good in zombie decks, which have access to graveyard recursion. Faithless Looting is essentially card advantage in your deck, because you can discard things like Gravecrawler at no cost. Similarly, I advise running a bigger reanimation package (supplementing your Animate Dead ) to get back fatties your opponents may have killed or you may have discarded. Reanimate , and Necromancy are good cards -- if you want to get spicy, Dance of the Dead is a card most people have never played against before, mostly because it isn't nearly as good as the other three. But I figured I'd mention it. Also, a bigger reanimation package means things like Entomb or Buried Alive become exponentially better.
With regard to planeswalkers, Liliana, Death's Majesty is a good card for any zombie deck.
With regard to your lands: I don't think Blighted Fen is very good, and Temple of the False God should be replaced with Ancient Tomb if at all possible. If you want good utility lands that can kill pesky creatures, I advise Blast Zone . If you are able, I advise running Bloodstained Mire and/or the off-color fetches in order to grab your Blood Crypt or Smoldering Marsh . These fetches are in effect extra dual lands.
If you have a lot of recursion, which I see you do in things like Phyrexian Reclamation , you may have luck with pox-style cards. Pox is one of the most brutal cards to resolve in EDH, and Smallpox and Innocent Blood also can be played to great effect. Note that these get around hexproof, shroud and indestructible.
Depending on how hateful your meta is, you may want to consider some pretty mean red cards. Changing your land base slightly will give you access to Blood Moon , Magus of the Moon and Ruination , while Price of Glory will make people think twice about casting counter-magic. If your meta is as blue-heavy as mine, Pyroblast and Red Elemental Blast are also fine considerations. If you end up running a lot of lord effects, you may want to consider Pyroclasm or Anger of the Gods , as your guys won't die if they're big enough. Possibility Storm is a good way to disrupt combo players -- I should know, as I play Storm in cEDH.
Because black has literally only one card designed to destroy artifacts ( Gate to Phyrexia ), red is a welcome addition to the team. By Force is a favorite of mine, but Shattering Spree , Vandalblast and Shatterstorm are also good ideas.
Rocks are great in EDH, especially if they're only 1 or 2 mana. I advise Talisman of Indulgence to replace Rakdos Locket and Mind Stone to replace Commander's Sphere . Coldsteel Heart is good as well, though it enters tapped, just like Charcoal Diamond and Fire Diamond . Thought Vessel is also worth considering.
Good luck with deck building!
1 month ago
I feel like all your 7 sideboard cards are far better than most of your maindeck cards.
Also Innocent Blood sadly isn't modern legal.
2 months ago
Great deck! What about Innocent Blood ? Great cuz ur deck doesnt have creatures
Load more
Innocent Blood occurrence in decks from the last year
Commander / EDH:
All decks: 0.01%