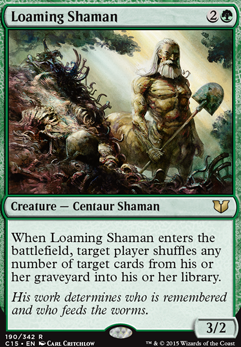 Legality
| | |
| --- | --- |
| Format | Legality |
| Vintage | Legal |
| Duel Commander | Legal |
| Commander / EDH | Legal |
| Legacy | Legal |
| Modern | Legal |
| Tiny Leaders | Legal |
Loaming Shaman
Creature — Centaur Shaman
When Loaming Shaman enters the battlefield, target player shuffles any number of target cards from his or her graveyard into his or her library.
Loaming Shaman Discussion
15 hours ago
So I have an Ezuri, Claw of Progress build, myself. You should check it out! I'm gonna give you some ideas, as I may have a few more experience counters than you xD
The suggestions I make are from my list, but I won't mention any cards outside of your budget. Let's get started!
This is alphabetical, not in order of relevance:
This is kinda alphabetical... but not really. _()_/
Whew! Well I gave you a lot to think about, there. feel free to ask questions about anything I've suggested; I'd be happy to give you examples from games I've played, etc. Good luck, and happy deck-teching!
4 days ago
Happy i could help :)
Kitchen Finks is a great card and the perfect creature for your needs. Eternal Witness is just as fitting, but limiting yourself to 1-2 copies seems right, since drawing too many of them can be become awkward with nothing meaningful to return. It's just a 2/1, so its ability really has to deliver. Unfortunately, Eldritch Evolution exiles itself upon resolution. (However, there are matchups where it's quite powerful to have Eternal Witnesses returning eachother in a loop whenever one of them dies. But those matchups are too infrequent to justify more than 2 copies in my opinion.)
As for other 3-drop creatures to sacrifice, i am not really sure what the best options are for your colors. Troll Ascetic is a good card for sure, but usually you don't really want to sacrifice it. Wolfir Avenger and Yasova Dragonclaw i'm not a big fan of, both require quite a bit of mana, otherwise they aren't all that great. Carven Caryatid is good if you sacrifice it or not, but such a defensive creature unfortunately doesn't fit well into your strategy. Tuktuk the Explorer can be insane if you can make him die, otherwise it's a 3 mana Raging Goblin. Goblin Ruinblaster seems really good, but it usually requires 4 mana. Rishkar, Peema Renegade, Borderland Ranger or Filigree Familiar might be okay, with the Familiar being the best of the three in my opinion.
As for 5-drops, i like the dragons and Thragtusk a lot, Blitz Hellion i don't have any experience with so i can't judge it, but Urabrask the Hidden isn't quite on the same level as the others i believe. An interactive card like Acidic Slime might be better, since that solves problems the other cards can't handle (like Ensnaring Bridge or Oblivion Stone). A total of 8 five mana creatures seems okay, but i would rather go down than up in number.
Maybe you could fit a Kessig Wolf Run into your mana base, it's quite a nice mana sink. 22-23 lands total seems right though.
I think i would sideboard Forked Bolt to beat aggressive decks, Ancient Grudge against Affinity etc, Magus of the Moon to punish greedy mana bases, and Burning-Tree Shaman to shut down some combo decks.
1-2 Reclamation Sage and the Thragtusk can definitely stay in the sideboard, and Loaming Shaman and Guttural Response can be good tools as well, the other cards i don't think you really need.
3 weeks ago
7 to 2.0
Out: Slitherhead, Drudge Beetle, Sewer Shambler, Golgari Longlegs, Greater Mossdog, Golgari Brownscale, Nightmare Void, Dark Heart of the Wood, Moldervine Cloak, Killing Glare.
In: Vraska the Unseen, Moonlight Bargain, Giant Adephage, Rust Scarab, Smogsteed Rider, Underworld Connections, Sepulchral Primordial, Sylvan Primordial, Loaming Shaman, Maze Behemoth.
1 month ago
I feel like Tajuru Preserver, Loaming Shaman, Vexing Shusher are very specific for the main deck and should probably be used in the sideboard against mill, stax, and counters. I also think that Kumano, Master Yamabushi is a drain on your mana that doesnt fit with the fast pace. Eternal Witness is mostly better suited for decks playing more spells and 3 mana for a 2/1 is weak compared to the other creatures.
With that being said, red decks run Lightning Bolt almost as an auto-include. Burning-Tree Emissary fits persectly with your ramp and I feel like having some more cheaper creatures would be great for early game. Shaman also is not the cheapest tribe, so while you do have Bosk Banneret, I feel like Urza's Incubator would do very well. Rakka Mar adds a faster aspect for the deck, and Signal the Clans is always some fun. Hope this helps! I could see this struggling with turbo fog, and if you run into board wipes you're not gonna have a fun time.
As for me, I'm very excited for GotG2, but more so for the Pirates of the Caribbean 5! I love those movies so much. My life has been all right, there isn't too much news from up in Maine. You?
1 month ago
Perusing the internet this morning, I came across the "seven by nine" rule. If your not familiar with it, you can check it out here, under note three - http://www.quietspeculation.com/2011/05/building-depietro-depauper/
Anyways, I found it quite brilliant. I broke out my EDH deck (The Cairn Nel Toth) and decided that it needed a serious overhaul.
I decided that my nine "slots," if you will would be the following:
Removal
Tutor
Sacrifice Fodder (CMC 1 or less)
Sacrifice Fodder (CMC 2)
Sacrifice Fodder (CMC 3 or greater)
Finishers
Self-mill
Sacrifice outlets
Utility/assorted random cards
So i started sorting the piles, and quickly realized I had too many cards for some slots, and not enough for others. I started the long, laborious, and painful process of cutting cards. I couldn't quite cut enough cards from the utility pile, so I decided I would have nine utility cards, and only six distinctly self-mill and CMC three or greater sacrifice fodder cards, because a lot of other cards can do those things in addition to doing their main purpose (if that makes any sense).
Anyways, I'll list the cards I have for each slot (its quite different than the original deck). Also, many cards serve multiple purposes, so I'm putting them in the category of their MAIN purpose.
Removal - Black Sun's Zenith, Toxic Deluge, Havoc Demon, Noxious Gearhulk, Malicious Affliction, Shriekmaw, Darkblast
Tutor - Sidisi, Undead Vizier, Birthing Pod, Corpse Connoisseur, Fauna Shaman, Jarad's Orders, Buried Alive, Entomb
CMC 1 or less sacrifice-ers - Hangarback Walker, Spore Frog, the "Fog Frog," Krosan Wayfarer, Caustic Caterpillar, Bloodsoaked Champion. I need two more cards in this slot.
CMC 2 sacrifice-ers - Vampire Hexmage, Satyr Wayfinder, Sakura-Tribe Elder, Dawntreader Elk, Winding Constrictor. I need two more cards in this pile.
CMC 3 or greater sacrifice-ers - Yavimaya Elder, Shambling Shell, Fleshbag Marauder, [[eternal witness] "EWIT," Solemn Simulacrum, Reclamation Sage
Finishers - Gray Merchant of Asphodel "Gary," Demon of Dark Schemes, Phyrexian Plaguelord, Eater of Hope, Savra, Queen of the Golgari, Mikaeus, the Unhallowed, Hell's Caretaker
Self-mill - Golgari Grave-Troll, Life from the Loam, Altar of Dementia (The best card in the whole deck, hands down. Not even kidding. Every Meren deck should run this card), Mesmeric Orb, Grapple with the Past. I need one more card for this slot (Stinkweed Imp?).
Sacrifice Outlets - Ashnod's Altar, Skullclamp, Attrition, Mind Slash, Evolutionary Leap. I don't love one-off sacrifice spells, but I have the slot for one. I've been debating between Altar's Reap, Morbid Curiosity and Eldritch Evolution.
Utility/Random - Grim Haruspex, Horobi, Death's Wail, Loaming Shaman, Lightning Greaves, Dictate of Erebos, Sol Ring, Sifter of Skulls, Dread Return
Thoughts? What cards should fill my unfilled slots? Any cards I should replace?
1 month ago
Ah, I forgot about the Kiki-Jiki, Mirror Breaker interactions with Sakura-Tribe Elder. I agree that Rampant Growth may be the better card to cut with Kiki-Jiki in mind.

Yes, Ulamog, the Infinite Gyre will shuffle the entire library back into the deck. And I use him for that same purpose too.
But the Loaming Shaman is a 3/2 that sticks on the battlefield after shuffling the graveyard back in. It also interacts well with Kiki-Jiki since it isn't legendary. But I do see why it may not fit into your playstyle or deck concepts.


Oh Deadeye Navigator.....
Ok, this is more of a metagame choice than a card choice. Since there are great articles on the issue, please look over:
http://www.starcitygames.com/article/31541_The-Most-Overused-Commander-Cards.html
http://www.mtgsalvation.com/forums/the-game/commander-edh/204075-scd-deadeye-navigator
and
http://magicgatheringstrat.com/2015/03/the-five-cards-that-should-be-banned-in-commander/
(Sorry, still have not gotten links to work for me in comments.)
So, short version. A lot of people are looking to get Deadeye Navigator on the banned list because he is TOO combo enabling and kinda broken in all of the wrong ways.
Once he hits the table, most groups are going to immediately assign you as the biggest threat at the table. It stops being fun when you keep getting knocked out of games because everyone works against you.So, if your play group is ok with using/abusing the Navigator, then feel free. He does combo well with a lot of the cards you have. Just keep in mind that the Navigator also ends up warping decks to maximize/abuse the ETB triggers he can spawn.
If you look at my Brago flicker deck Did you see that? you'll see that the Navigator is absent. That card would be great in that deck. But it would paint a bigger target on me than I want. So, as a metagame choice, I didn't use it.
I recommended Temur Sabertooth based on these ideas. Yes, you have to recast the bounced creature. But the Sabertooth doesn't paint a giant "kick me" sign on your back.
You still have the option of blocking then bouncing. The smaller creatures like Eternal Witness, Mystic Snake, and Wood Elves aren't that bad to recast. Also, the indestructible aspect lets you look at Blasphemous Act as a board wipe to replace the All Is Dust.

Glad that you like the Kumano, Master Yamabushi. I've had a few games where people have locked down the table with either Ensnaring Bridge or a Isochron Scepter with Fog. I've won games just on dumping as much mana as possible into his ability to ping players directly. And it is nice exiling pesky creatures.

So, I started looking back over your list. Here are some simple but effective ideas:
Elvish Visionary for the card draw. Also works with nicely with Kiki-Jiki.
Conquering Manticore as an additional flying 5/5 version of Zealous Conscripts. Having another flyer doesn't hurt.
Acidic Slime could give you an option to deal with things like an opposing Maze of Ith. I think this may be the better option.
Mulldrifter nets you two cards for 3 mana.

If you feel like it, take a look over some of my decks and let me know what you think.
1 month ago
First of all thank you very much for your advice. I appreciate it!
I'm not sure if I need Loaming Shaman in long games, because this deck is very strong in lategame and has plenty of options then. And Ulamog, the Infinite Gyre helps keeping my library full. But I understand your point of view and getting to choose what cards to reshuffle is definitely interesting. I will keep thinking about this option :)
Kumano, Master Yamabushi is not bad at all. This would be a good opportunity to use excess mana end of turn and get rid of all annoying creatures like Gaddock Teeg. And I like Kumanos style.
I'm sorry, but I dont like Temur Sabertooth very much. Bouncing creatures and playing them again costs so much mana and speed. But what do you think about Deadeye Navigator? I don't have to pay the mana cost again and would benefit immediately. The downside is: I can only pair one creature.
Maybe I will change like this:
I think cutting Rampant Growth rather then Sakura-Tribe Elder is better because I can still chumpblock, copy Sakura and can instantly decide what land to fetch.
Thank you for commenting!
1 month ago
Fair point about Loaming Shaman, I mostly just have him in there in case games run long (don't want to end up milling myself entirely). As long as I keep at least 1 in the sideboard he should be able to serve that purpose to some extent.
Raven's Crime is my only turn 1 play currently. I've thought about squeezing Darkblast in somehow, but a Turn 1 Raven's Crime discarding Stinkweed Imp gets some serious speed going. But it's true that once I'm in the late game, all that matters is having at least one of them sitting in the yard.
I'll probably swap out the one mainboard Loaming Shaman with Gitrog, and then look at maybe trading out a Raven's Crime or two for Darkblasts.
Load more