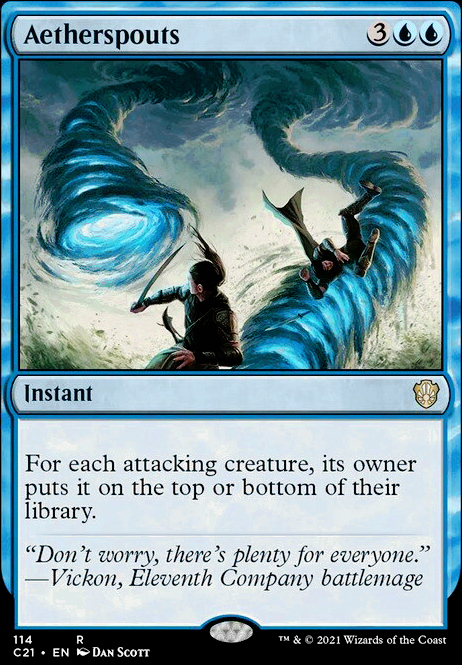 Aetherspouts
Instant
For each attacking creature, its owner puts it on the top or bottom of their library.
Browse Alters
Trade
Legality
| | |
| --- | --- |
| Format | Legality |
| 1v1 Commander | Legal |
| Block Constructed | Legal |
| Canadian Highlander | Legal |
| Commander / EDH | Legal |
| Duel Commander | Legal |
| Highlander | Legal |
| Legacy | Legal |
| Leviathan | Legal |
| Limited | Legal |
| Modern | Legal |
| Oathbreaker | Legal |
| Pioneer | Legal |
| Unformat | Legal |
| Vintage | Legal |
| Casual | Legal |
| Custom | Legal |
| Quest Magic | Legal |
Rules Q&A
Latest Decks as Commander
Aetherspouts Discussion
3 weeks ago
Impulse
OUT
Deflecting Swat
IN
Contentious Plan Sort of replaced Impulse as my two-mana card for early counters. The value of Deflecting Swat can hardly be overstated, as it provides early protection for Mizzix while being relevant all game long.
Aetherspouts OUT Introduction to Annihilation IN
Spouts is such a conditional card, and we have plenty of board wipes when we count or kill-the-table x-spells. Intro is great in that its free permanent removal for us much of the time.
Overwhelming Intellect OUT Dramatic Reversal IN
A counterspell that can only counter a creature spell is underwhelming, and we added swat. I can't believe Dramatic Reversal hadn't been added earlier. It plays into our combo with Reiterate , and allows us to fetch the whole combo with Firemind's Foresight . A true must include!
Fall of the Titans OUT Expropriate IN
Fall was always our worst x-spell, and we have more than enough in the deck. For a replacement win con its far better to just take another turn and steal everyone's best thing. The greatest thing about this card is that its so cheap to cast with Mizzix!
Spring / Mind OUT Archmage Emeritus IN
Spring is great but sorcery speed and a one-off. Archmage will draw us cards the whole game. We're up to three whole creatures in this deck now!
Howl of the Horde OUT Solve the Equation IN
I've got plenty of copy dorks here, so another tutor is great, especially one that will usually cost me just two blue mana!
3 months ago
Good Sweepers To Maybe Bring In:
Good Control To Maybe Bring In:
Good Creature Steal To Maybe Bring In:
Thoughts?
7 months ago
Hey man, I've got some suggestions:
Talisman of Creativity: Another ramp spell, and taps for colorless if you need it to.
Keep Watch: Absolutely ridiculous card, often draws you 5+ cards at least, and I once drew 24 cards. Brilliant.
Ophidian Eye: I know it's in your maybeboard, but it's still a combo with Niv-Mizzet.
Windfall: Draw ALL the cards.
Whirlpool Warrior: Basically a personal double Windfall, if you're playing your deck right, you should always have the most cards.
Jace's Archivist: Man, the Windfalls keep on coming! This one's one you can do every turn, which is just pure value, plus it disrupts your opponent's gameplan when you're wheeling every turn.
AEtherize/AEtherspouts: Just say no to any deck that's attacking. Hint: most decks.
Anyways, hope this helps, and as always, Happy Tapping!
7 months ago
Counterspell, Quicksilver Fountain, Cloak and Dagger, Whispersilk Cloak, Dissipate, Stolen Identity, Tideshaper Mystic, Capsize, Insidious Will, AEtherspouts, Rewind, Dissolve, Telemin Performance, Commit / Memory, Explorer's Scope, Lonely Sandbar, Halimar Depths, Desert of the Mindful, Remote Isle. These are all off the top of my head, apologies for any repeats.
10 months ago
Thanks for the suggestions DreadKhan. I haven't used AEtherspouts yet, but I have had success with Wash Out in an old Bantchantress deck I had. My meta runs enough multi-colored decks, that I can still remove some impactful stuff across the table. I wish it was an Instant, but oh well.
10 months ago
AEtherspouts can be a heartbreaking play, and its cheap to try out. I love it in my Talrand deck as a butt-saver. It's 5 vs 4 for AEtherize, but it's also much better I'd argue. It's very salty, since it just ruins the day of 1 player, while Evacuation might hurt your board state sometimes, or that of a player you need to help you. I don't like that Wash Out is a sorcery, but 1 colour might be enough.
Load more