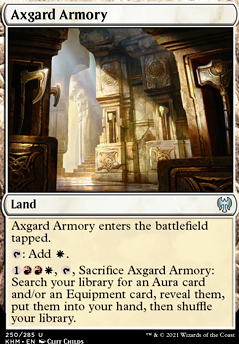 Axgard Armory
Land
Axgard Armory enters the battlefield tapped. : Gain .
, , Sacrifice Axgard Armory: Search your library for an Aura card and/or an Equipment card, reveal them, put them into your hand, then shuffle your library.
Browse Alters
Trade
Legality
| | |
| --- | --- |
| Format | Legality |
| Standard | Legal |
| Duel Commander | Legal |
| Tiny Leaders | Legal |
| 1v1 Commander | Legal |
| Vintage | Legal |
| Block Constructed | Legal |
| Historic | Legal |
| Canadian Highlander | Legal |
| Oathbreaker | Legal |
| Arena | Legal |
| Legacy | Legal |
| Custom | Legal |
| Casual | Legal |
| Modern | Legal |
| Pre-release | Legal |
| Unformat | Legal |
| Gladiator | Legal |
| Commander / EDH | Legal |
| Leviathan | Legal |
| Brawl | Legal |
| Limited | Legal |
| Highlander | Legal |
Latest Decks as Commander
Axgard Armory Discussion
2 days ago
Helm of the Host equipped to Aurelia would give you infinite combats.
You might like these too: Neheb, the Eternal , Axgard Armory , Idyllic Tutor , Lightning Runner , Flamerush Rider , Captain Lannery Storm , Goldvein Pick , Prying Blade , Sword of the Animist , Tome of Legends , Splinter Twin , Palace Jailer , Bonders' Enclave , Spinerock Knoll , Chance for Glory
5 days ago
I feel your pain on the budget, I've spent almost 900$ on my main commander deck, and 400 on 2 other ones, so I'm pretty budget strapped. So I'll take a deeper look and see what budget options you could consider.
Wear / Tear is better than disenchant. Ring of Valkas is a decent cheap equipment that grants haste, though I'd consider Basilisk Collar because it's never going to be more affordable, and Trailblazer's Boots because it's essentially unblockable. Talisman of Conviction is a very good Mana rock, as well as Thought Vessel because of no maximum hand size. Zirda, the Dawnwaker is amazing with equipment. Axgard Armory and Inventors' Fair are good tutor lands, and due to your Commander's ability I'd definitely run Reliquary Tower . You're also lacking in the removal category: Swords to Plowshares , Path to Exile , Generous Gift , and Chaos Warp are solid inclusions that will stop your opponents from getting too far ahead.
Now for cuts I'd honestly do away with the worldslayer package because if you can't give your commander indestructible you're going to set yourself back just as far add everyone else. Scytheclaw is just too expensive for what you get, if you have to have that effect i would keep just Quietus Spike but in general I'd probably just look in a different direction and take both of them out. Grappling Hook is also overcosted, this is where I'd slot in Embercleave . I know you think embercleave is a bit costy, but you don't pay the equip cost when you cast it and you can do so as a combat trick. I'd likely turn away from Burnished Hart for Wayfarer's Bauble , you're only getting half the ramp but at half the investment. You might consider dropping Hyena Umbra because it's not really doing enough and On Serra's Wings because it's a 4 cost aura. Lastly I'd honestly consider cutting the godo helm because it's extremely unreliable and frankly wouldn't be the way i would go about winning. If the kaldra artifacts weren't so expensive I'd probably consider not running those too, but i get why if you're on a budget and already have them I'd definitely still run them. Oh and you should look at bolstering your creature numbers a little in case your commander gets killed too many times.
Anyways, that's my deep analysis for this deck, it's definitely focused on doing the thing, it's cmc is 2.63 which is decent but it means you should have more ramp/mana rocks at the 2 cost range. You're 75% white but has a land base that is almost 50/50 so you should think about adjusting it and when budget allows get some lands that tap for both colors. Overall wyleth is a Commander i would love to build around.
If you want to check out my Voltron deck I'll leave a link here
---

Commander / EDH Monomanamaniac
SCORE: 35 | 36 COMMENTS | 3347 VIEWS | IN 5 FOLDERS
---