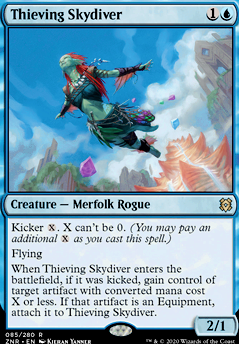 Legality
Thieving Skydiver
Creature — Merfolk Rogue
Kicker . X can't be 0. (You may pay an additional as you cast this spell.)
Flying
When Thieving Skydiver enters the battlefield, if it was kicked, gain control of target artifact with converted mana cost X or less. If that artifact is an Equipment, attach it to Thieving Skydiver.
3 months ago
Just going to put some cards here I think you should add if you want to focus on Milling. The deck needs more big mill in order to win/turn on big creatures. Let me know if you want me to suggest cards to remove.
9 months ago
Enigma Thief and Thieving Skydiver are great on theme ways to deal with problems on the other side of the board. Yarragoth, Bloodsky Sire with the evasion built into the deck can get you any piece for any occasion on a recurring basis. I'd also reconsider Dimir Guildgate and Submerged Boneyard. I totally get working on a budget, but make entering tapped give you SOMETHING. Sunken Hollow is less than a buck and is gonna come in untapped most of the time. Temple of Deceit is like 50 cents and gives you at least a scary for the bother of coming in tapped. Totally respect the budget side. Hope some of these ideas help ya…
1 year ago
In terms of recent cards for this list, Masked Vandal is a cool sideboard option, as is Mistcaller if your meta wants that, and Thieving Skydiver and Thassa's Oracle are both notable. The sideboard you have is pretty much a competitive list- the only question is adapting to the meta.
In terms of tribal stuff that might shake things up in future, Pyre of Heroes lets you tutor for merfolk at sorcery speed. Its not competitive yet, but its worth keeping an eye on whether a merfolk list heavier on 3/4 drops ever turns from a brew into something actually good. Right now it'd be some pure jank like Sigil Tracer combo.
1 year ago
Hey, love the deck, here's some suggestions but take it with a grain of salt because everyones Yarok deck is different. :)
Cards to consider:
Woodland Bellower - get fierce empath and woodelves
Fierce Empath - get your big creatures to your hand
Thieving Skydiver - interaction on a creature! steal your opponents sol rings
Sidisi, Undead Vizier - tutor for anything, Keep in mind Sidisi can exploit himself too
Mulldrifter - evoke for cheap card draw.
Oubliette - With Yarok out, get rid of two opponents commanders on an enchantment ETB, and phasing out takes any artifacts and auras with it.
if you really want to lean on ETB triggers, Thassa, Deep-Dwelling is a good creature for flicker effects.
1 year ago
Budget rogues is a sweet brew - I ran it a long while back. I really reccomend running as many 1 drop rogues as you can - I was running up to 12, alongside card draw to keep them going, preferring unblockables as you can to take advantage of blackguard/thought thief and prowl. The higher up the mana curve you go, the more expensive the list gets as it turns into the faerie/ninja style lists.
Frogtosser is a fun card, but without a second cheap cost reduction spell, its probably better just to play some cheaper cmc rogues, unless you plan to ramp into a particularly key card.
Most of the below cards are really cheap, and you should be able to test different kinds of shells using them. You can mess around with mostly blue shells and add some negates, or mostly black and add push - but the best thing about rogue decks is that so long as you keep switching it up your opponents won't know exactly what they are facing, and will have to play accordingly.
Key evasive 1 drops Black - Nightshade Stinger Shadow Alley Denizen Vampire Cutthroat Thieves' Guild Enforcer Changeling Outcast
Blue - Faerie Miscreant Merfolk Windrobber Slither Blade Triton Shorestalker Mothdust Changeling
Key card draw options Low removal meta - Curiosity , Curious Obsession Glint-Sleeve Siphoner
Morsel Theft is a lightning helix at the face that draws a card when you are hitting your opponent, but bad without a board state.
Key artifact meta - Thieving Skydiver
'sorta' card advantage options
Noggin Whack / Acquisitions Expert a solid 'no hand for you' plan does a lot to keep your rogues on the battlefield. If sieze/inq is out of budget, Bribery or plain old Duress variants can still get you there.
Cards to avoid (traps)
Disciple of Deceit - the card disadvantage and tap/untap on it is punishing. Tetsuko Umezawa, Fugitive relevant rogues already evasive Thieves' Fortune - if you are looking for answers its likely they've already stopped you hitting them in the face.
Secondly, Pyre of Heroes is an interesting option to turn 1 drops into 2 drops, letting you have more consistent access to lords like soaring or blackguard. It also dodges counterspells like vial, even if its not at instant speed and doesn't help after a wrath. Its worth testing with some proxies to see how it matches you against the decks you are likely to play, as artifact removal is common (but getting them to sideboard it in is also good). Glasspool Mimic  Flip is notable in this case as a way to search out a clone of a lord without taking up a full creature slot, while Zulaport Cutthroat offers an option to drain out an opponent (even if it doesn't trigger prowl).
I hope this helps - have fun brewing!
1 year ago
EDHable rogue creatures, depending on what your deck does (some like Nephalia Smuggler need other creatures built around it:
not sorted by $$$ price
Ghostly Pilferer Gonti, Lord of Luxury Glasspool Mimic  Flip Guildpact Informant Master Thief Moonlit Scavengers Neurok Commando Nephalia Smuggler Nezumi Graverobber Nighthawk Scavenger Opposition Agent Brazen Borrower Rankle, Master of Pranks Sakashima the Impostor Sygg, River Cutthroat Thada Adel, Acquisitor Thieves' Guild Enforcer Notion Thief Thieving Skydiver Tinybones, Trinket Thief Undercity Informer Zareth San, the Trickster Ogre Slumlord
And here's some alternate commander ideas or maybe some might compliment nice in your rogue deck Circu, Dimir Lobotomist Oona, Queen of the Fae Skeleton Ship Szadek, Lord of Secrets The Scarab God Wrexial, the Risen Deep
Load more