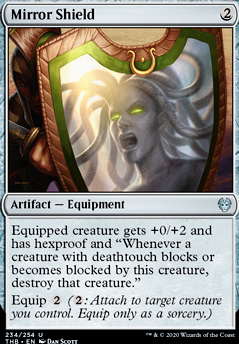 Legality
3 months ago
Hello fellow Wyleth, Soul of Card Draw player!
I'm glad you got both Wyleth's and Aesi's precons for a good price. They are reeeeally explosive in gameplay with a few upgrades.
I play a lot of this bad boy, and I want to suggest some swaps below 3 USD for you to take it to a higher ground:
First of all, the ramp. I found out that 2 CMC, untapped ramp is the best for Wyleth. Since he draws so many cards, he can chain rocks and voltron pieces in the same turn, so his next turn is even more explosive than the last one. I almost always have more mana than the Green decks in my pod.
You should run boardwipes that hits your stuff the least:
Also, you can streamline your removal package. All of those are fetchable by Sunforger:
More/better auras and equipment
Cheating equip costs
If you really need to protect yourself against attacks, Ghostly Prison is a way better Palace Guard.

More utility lands
9 months ago
It's not just trying to make a budget deck work.
If you're like me and have a thing for more out there commanders (think Sasaya, Orochi Ascendant  Flip or Ben-Ben, Akki Hermit), then you need to work harder in the 99 to bring the deck up to parity since you're trying to get theme with less card support than Big stompy Jodah, the Unifier has.
Continuing in terms of card support, there are many effects that can protect a creature. Swiftfoot Boots gets reprinted every 5 minutes while Lightning Greaves is an extra effect in the same vein. Mask of Avacyn, Whispersilk Cloak, Neurok Stealthsuit and Mirror Shield all fill a very similar role. You can get 4 of those equipments to protect your commander for under a dollar each. On the flip side, an effect like Pariah's Shield exists on very few cards (I only know of Pariah as a similar effect) so outside of a white colour identity, you've got to use one card for that idea which was printed nearly 20 years ago and has never (The list is so diverse it basically doesn't count) been reprinted.
Pariah's shield isn't a bankbreaking card, but the scarcity of similar effects shows how even the most creative budget player is stuck away from creative/interesting strategies when their brew needs a specific piece which will cause problems in their budget.
1 year ago
Robe of Stars, Mask of Avacyn, Kite Shield, Slagwurm Armor, Accorder's Shield, Mirror Shield, Vanguard's Shield, Cathar's Shield, Magebane Armor, Healer's Headdress, Screaming Shield, Mirror Shield, Ensouled Scimitar, and Spidersilk Net.
I think that's all of the ones that care about toughness
1 year ago
Would the "destroys" be better as "deals lethal damage to," or do you want it to include Mirror Shield/Heartseeker effects that explicitly grant destroy abilities?
Load more