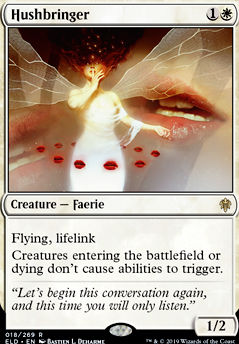 Hushbringer
Creature — Faerie
Flying, lifelink
Creatures entering the battlefield or being put into the graveyard from the battlefield don't cause abilities to trigger.
Browse Alters
View at Gatherer
Trade
Legality
| | |
| --- | --- |
| Format | Legality |
| Canadian Highlander | Legal |
| Pioneer | Legal |
| Modern | Legal |
| Historic | Legal |
| Vintage | Legal |
| Casual | Legal |
| Highlander | Legal |
| Pre-release | Legal |
| Legacy | Legal |
| Standard | Legal |
| Brawl | Legal |
| Magic Duels | Legal |
| Commander / EDH | Legal |
| Tiny Leaders | Legal |
| Block Constructed | Legal |
| Leviathan | Legal |
| Oathbreaker | Legal |
| Arena | Legal |
| Duel Commander | Legal |
| Frontier | Legal |
| 1v1 Commander | Legal |
| Unformat | Legal |
Hushbringer Discussion
5 days ago
My Suggestions
1 week ago
Alas, the name is lost on me but I did enjoy the concept. The Great Henge doesn't synergize well with Hushbringer and since you're more likely to draw the latter. I am a huge fan of the Henge so I ended up sideboarding Hushie and adding 3 Alseid of Life's Bounty and another Henge. He's a 1-drop which also allows you to negate some removal of an early creature or protect one from a wipe plus he has lifelink. Cool concept and nice work!
2 weeks ago
RambIe - I find your entire post rather condescending--particularly your dismissive "seems like they just want everyone to have the same decks doing the same things" line.
Whenever I start out in a new format, I do not look at others' decklists--I break out the pen and paper, go to the Gatherer, and start running old fashioned searches. I go out of my way to avoid learning the format's staples until after I have finished a deck or two, specifically to avoid being prejudiced and to avoid "hav[ing] the same decks doing the same things".
Without ever looking at the staples list, my search for mana accelerators put Mana Crypt on my radar. My search for cheap counterspells found me Force of Will. Repeatable card draw Library and Divining Top. Anyone who is really trying to make a good deck is going to add "staples." That is, after all, how they become staples--their power level is too significant not to include.
Also, I think it would be a good time to point out that those who live in glass houses should not throw stones. Seeing as you were dismissive of the idea of staples and rather condescending toward those who use them, I took the liberty of looking at the decks and deck fragments you have posted here. Lo and behold, look what I found:
Sol Ring; Talisman of Indulgence; Phyrexian Altar; Vampiric Tutor; Gamble; Strip Mine; Ancient Tomb; Serra Ascendant; Hushbringer; Aven Mindcensor; Land Tax; Rhystic Study; Smothering Tithe; Brainstorm; Enlightened Tutor; Mental Misstep; Mystical Tutor; Path to Exile; Opt; Swords to Plowshares; Counterspell; Cyclonic Rift; Dovin's Veto; Generous Gift; Teferi's Protection; Winds of Abandon; Fabricate; Idyllic Tutor; Mox Amber; Arcane Signet; Rule of Law; Deafening Silence; Arcane Laboratory; Winter Orb; Noble Hierarch; and maybe a few others I missed.
3 weeks ago
Phyrexian Dreadnought in legacy. (I already know a good one, but don't click it until after you respond.)
Don't click this until after you respond! Show
4 weeks ago
Hey, good budget version and interesting description. Nice Demonic Tutor :)
Cards $2 or less each to consider adding:
You want more protection for the creature you mutate too because without protection the mutate creature can be killed in response to being mutated or after. In multiplayer Commander mutate is much more of a problem because there's three or more opponents who could have removal. That's a lot more potential removal you have to deal with than if you were playing 1v1.
Swiftfoot Boots gives the equipped creature hexproof meaning that creature can't be targeted by your opponents removal. Boots is an equipment, it can be equipped to any creature you control and it doesn't leave the battlefield when the equipped creature is removed. Open the Armory is a budget tutor that can get Boots.
---
Flying and double strike is a good combination to do Commander damage with Snapdax. Hushbringer is powerful disruption in multiplayer Commander since it prevents all creatures who have an enter the battlefield ability that triggers and any creature who has a dies ability that triggers. These two types of triggers are ways for players to gain a lot of value from creatures. Hushbringer is not going to affect you much since mutating is not an enter the battlefield trigger it's a cast trigger thus Hushbringer doesn't prevent mutating.
Will-o'-the-Wisp is a one drop flying creature who can regenerate. This little Spirit can be powerful with mutate. Brightling is a unique creature with mutate since you can bounce it as well as all creatures that are mutated back to your hand. This is pseudo protection because you can activate Brightling in response to opponents removal. By bouncing all the creatures that are mutated then you can mutate them all again getting more value out of mutate.
---
When Snapdax dies you can choose to spend it to your graveyard instead of putting it back into the Command Zone. This gets around having to pay Commander tax for Snapdax and the tax must be paid even if you're mutating Snapdax from the Command Zone which can be problematic. When Snapdax goes to your graveyard then you can recur it with cards that recur creatures from your graveyard. Phyrexian Reclamation is very good repeatable recursion at instant speed for mutate creatures because you want the creature to come back to your hand to then cast it again to mutate again.
Cards to consider cutting:
Good luck with your deck.
1 month ago
arcane_trouper, cards like Hushbringer and Torpor Orb seem to me to not fit since they only hit 12 of the top combos, but maybe I need to look at it by percentage? Hmmm....
Load more