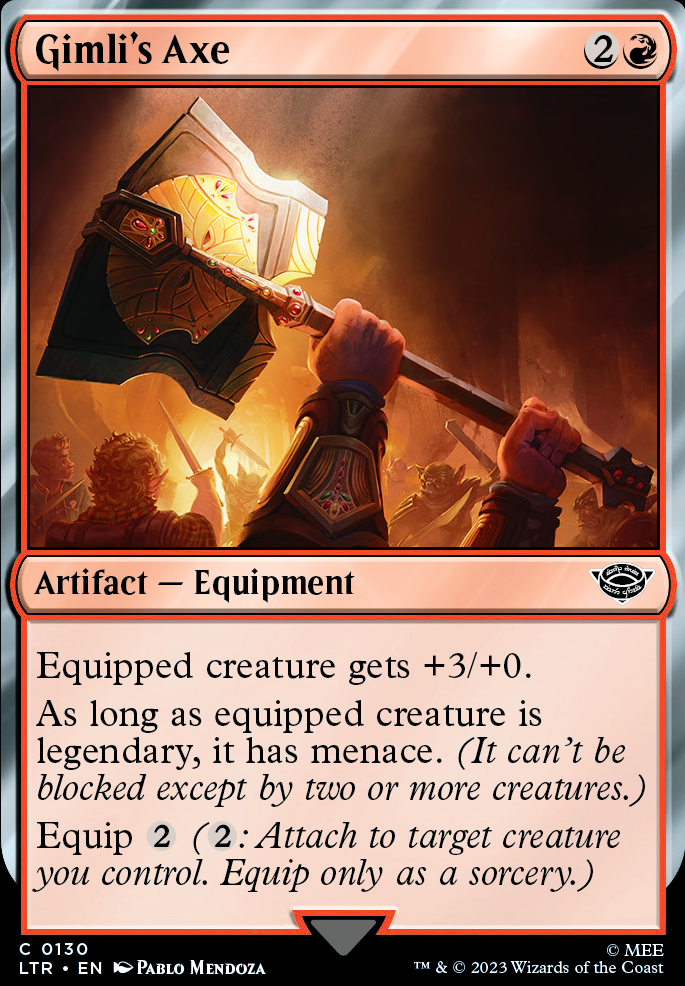 Legality
Gimli's Axe
Artifact — Equipment
Equipped creature gets +3/+0
As long as equipped creature is legendary, it has menace. (This creature can't be blocked except by two or more creatures.)
Equip (: Attach this to target creature you control. Equip only as a sorcery. This enters the battlefield unattached and stays on the battlefield if the creature this card is attached to leaves the battlefield.)
3 months ago
Hello fellow Wyleth, Soul of Card Draw player!
I'm glad you got both Wyleth's and Aesi's precons for a good price. They are reeeeally explosive in gameplay with a few upgrades.
I play a lot of this bad boy, and I want to suggest some swaps below 3 USD for you to take it to a higher ground:
First of all, the ramp. I found out that 2 CMC, untapped ramp is the best for Wyleth. Since he draws so many cards, he can chain rocks and voltron pieces in the same turn, so his next turn is even more explosive than the last one. I almost always have more mana than the Green decks in my pod.
You should run boardwipes that hits your stuff the least:
Also, you can streamline your removal package. All of those are fetchable by Sunforger:
More/better auras and equipment
Cheating equip costs
If you really need to protect yourself against attacks, Ghostly Prison is a way better Palace Guard.

More utility lands