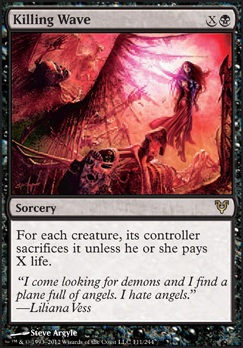 Killing Wave
Sorcery
For each creature, its controller sacrifices it unless he or she pays X life.
Browse Alters
Trade
Legality
| | |
| --- | --- |
| Format | Legality |
| 1v1 Commander | Legal |
| Block Constructed | Legal |
| Canadian Highlander | Legal |
| Commander / EDH | Legal |
| Duel Commander | Legal |
| Highlander | Legal |
| Legacy | Legal |
| Leviathan | Legal |
| Limited | Legal |
| Modern | Legal |
| Oathbreaker | Legal |
| Tiny Leaders | Legal |
| Unformat | Legal |
| Vintage | Legal |
| Casual | Legal |
| Custom | Legal |
| Quest Magic | Legal |
Latest Decks as Commander
Killing Wave Discussion
1 week ago
Hey lobsternips! Thought I'd jump in and give you my take on what you've got going on. Your noncreature spells look fantastic, not much I would take out, but if you can find a way to fit in some creature recursion in Rise of the Dark Realms or Thrilling Encore with your mass creature destruction in dictate or Killing Wave . Also bounce-type effects like Conjurer's Closet could make use of your etb effects, you'd definitely see some usefulness there. The only problem I see with this deck is its SUPER heavy into red, there are some non-red Goblins out there, but you'd basically be playing a Red deck splashing white and black for support. However, Goblins are funny and mean just like Negan.
Hope I helped some, I probably didn't seeing as I gave more inclusion suggestions rather than cuts. If you decide on doing one thing like "Go Wide" or "Go Tall", adjust your cards to reflect that. Aside from that good luck on your deckbuilding!
2 weeks ago
Any deck that runs Killing Wave , Torment of Hailfire , and Dash Hopes gets my +1.
Have you considered stuff like Sword-Point Diplomacy ? I have a gimmicky choice deck and I know you probably don't want to lean too far into that, but I think sword point would be a great way too further pressure your opponent's life total while refilling your hand since your curve is pretty low. Also, maybe Geth's Verdict for some additional removal against Emmy.
2 weeks ago
Ah I see. Also my all time favorite card to run in Shadow decks is Killing Wave , although it works a lot better in a deck like zazen's 10 rack shadow deck than something like this. I think it might still be worth testing in the sideboard and comparing it with Engineered Explosives / Yahenni's Expertise .
2 weeks ago
This deck already looks very well built, so I can't really think of many suggestions. Even though it's ass with Bitterblossom , I think Killing Wave is worth trying since it lets you keep your Shadow and pressures your opponent's life total which might make it better in an 8-rack shadow deck than in a normal shadow deck. Against decks that go wide it's just brutal.
3 weeks ago
Sup lobsternips!
As a baseline, you'll need to add lands, which I'm sure you know. Since you're making Treasure and Gold tokens in this deck you'd probably be good with roughly 34-36 lands, leaning more to the most mana color you'll need, say like a 25/25/50 split if thats what you're going for.
That basically does it for my brief review, hope I was of some help!
1 month ago
Hey Walrighti, +1!
Congrats on your first deck! You have a lot of fun cards in here and it looks great! I imagine you want to tune and make it even more efficient so here are some ideas...
Add 3 categories: #Combo, #Lifegain, and #Evasion; and then sort your maybeboard the same way you've done your mainboard to easily rank your choices within a category (By "combo" I mean all your "if-then" cards like Trudge Garden that are slower and don't work by themselves). Remove #Creatures (most of them are #Combo).
Avoid most cards above 4 cmc... Willowdusk is fast and fragile, so play into that... Also, prioritize cards that can do 2 or more things or that give value on ETB... If you have pet cards that don't really fit and that hurt to cut, put them in a "I'll build that theme later" list.
...Always play at least 10 ramp spells under 3 cmc.
...Playtest and make sure Willowbark consistently makes a fatty (with evasion) before turn 6-7.
Here's another Willowdusk thread.
Happy building :)
1 month ago
While I know Killing Wave isn't great in edh, it's still a sacrifice wipe
Load more