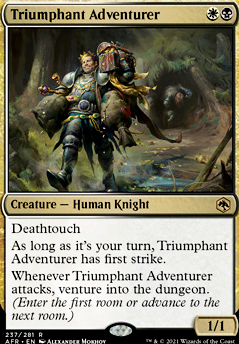 Triumphant Adventurer
Creature — Human Knight
Deathtouch
As long as it's your turn, this has first strike.
Whenever this attacks, venture into the dungeon. (If you aren't venturing through a dungeon, choose one of the dungeon cards you own from outside the game, put it into the command zone and put a venture counter on the first room of that dungeon. All effects of that room trigger. When you venture into the dungeon while you have a dungeon in the command zone, advance to the next room downward of your choice and triggering all effects of that room. When you have resolved the effects of the last room of the dungeon, remove that dungeon from the game. You can only venture through one dungeon at a time.)
Latest Decks as Commander
Triumphant Adventurer Discussion
5 months ago
Fighter Class is built for this deck. Actually there are tons of new Knights in Forgotten realms who will go awesome in this deck: Guardian of Faith , Forsworn Paladin , Triumphant Adventurer , Vorpal Sword etc.
Haakon is best used with the 2 tribal removal, as said above. Crib Swap and nameless inversion. Inversion can push through more damage or kill. In my knights deck, I found that Haakon required too much discard support that wasn't great without him to really justify his inclusion. Call the Bloodline may help.
You may find that Circle of Loyalty doesn't do very much. The issue with knights is that they have two sub-themes; equipment, and go wide with tokens. But there aren't enough cards that are good enough in commander to support the go-wide theme and it is pretty weak. That's why I don't like anthems that aren't also creatures in Knights. The problem with the equipment theme is all the good equipment costs like $50 apiece.
Mirror Entity is one of the best knights around. You don't need that many dudes to crush a player.