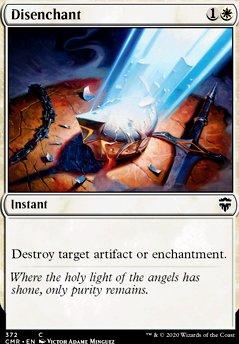 Disenchant
Instant
Destroy target artifact or enchantment.
Latest Decks as Commander
Disenchant Discussion
1 week ago
The first major update to the deck has been completed, the major theme being
more draw.
All of my initial testing showed that this deck goldfishes very quickly, but is hungry for resources, and that just drawing one extra card per turn, which it was consistently able to do, wasn't enough to feel like we had options and could easily rebuild after a blow out. Burst card draw pieces like
Well of Lost Dreams
and
Thorough Investigation
(which builds up tokens to be used as burst draw later) have been the powerhouse pieces. As such, the idea with this update is to add either more of those, or more one card per turn pieces so that it is likely we can have two of them out most games. Below are the lists of cuts and adds with justification.
1) Burnished Hart OUT Pearl Medallion IN
Hart is a great card, and research suggests it's one of the winningest cards in EDH, so naturally in a monowhite deck that a land ramp piece like this would seem to be great. I think the issue for it here is it just isn't fast enough for the deck. Giada doesn't need to ramp a lot to be relevant, and in testing I've found that we often have something more urgent to do cast it initially or sac it to get the lands. It's still a great card, but likely better suited to more controlling decks. What is amazing in this deck, however, are cards that discount creature spells like Herald's Horn, as we can use them to more easily put out multiple pieces in a turn at discount. Making your four drops three drops is incredible acceleration that suits our gameplan just fine. And Medallion does this not just for our creature spells, but any spell in white. It's fabulous!
2) Cosmos Elixir OUT Vanquisher's Banner IN
Elixir is theoretically a good card in this deck as it can draw cards off life-gain or gain life. The problem is it never does both, it draws one extra card per turn at most, and costs 4 mana for the privilege. It's equivalent card would be Sigarda's Splendor, but that always gains us life, and is simply based on not having lost life from the last noted turn, which is more reliable. Banner costs more, but its floor is replacing every angel we cast with a card, and its ceiling is drawing several cards in a turn, so it's better all around. The anthem is just gravy.
3) Welcoming Vampire OUT Mask of Memory IN
While a fabulous card, Giada's ability ensures that we won't draw cards with angels off of vampire. It will definitely find a home in a new deck. Mask of Memory, however, is great. It costs two and equips for one, meaning an easy early line of play would be to cast it turn three, attack it to Giada, and get an engine going. We get to draw two cards and then discard the one in our hand we need least, which allows us to be up a card while moving through the deck to what we need. Sometimes we might even discard a good card only to recur it with another later, so there are lots of nice little possibilities with this one.
4) Mirror Entity OUT Sanctuary Warden IN
So far we've replaced subpar draw with better draw, but no we are upping our count. I've never like entity, but I thought it might be better here since Giada gives it counters that make it more resilient when not being pumped. Still though, like all changelings, its an angel that doesn't fly, which is wicked annoying. Moreover, while its ability is a powerhouse with 1/1 tokens which can be turned to 4 power with 4 mana, it's not so great when the average power of an angel is already 3/3 or 4/4. It will weaken some of your angels, and where it improve them it takes a monstrous amount of mana to do so. Finally, while one might be tempted to add Reveillark to complete the combo with entity and Karmic Guide, we have to remember that Giada shuts entity off from killing the board, effectively shutting down the combo. It's just bad, trust me. This is where a lot of online deck tech's fail. They just throw it in because its an "angel" and a generically good card without thinking through the consequences! Meanwhile, while costly Sanctuary Warden is an absolute powerhouse. It immediately replaces itself, and can draw cards more cards this way for free by being blinked with Sword of Hearth and Home. It's an engine that draws us cards every turn, and we can use our plentiful supply of +1/+1 counters to power it, leaving the shield counters to protect it from most removal and board wipes. It's an all-star card.
5) Plains OUT Tome of Legends IN
I'm hoping I don't regret going down to 35 lands, but I think the deck can sustain it, especially when we are upping the draw. Tome is an amazingly good and underrated card. It can net us an extra card the turn we cast it, and can draw one every turn as long as we attack with out commmander, something that isn't too hard to do here. Keep in mind, Giada has vigilance, so even if we want to tap her to cast an angel we can always do so on our second main phase! The best part of this card is that it costs only two mana, allowing us often to ramp it out turn three with another angel or put it out early with another two drop. It's been great in other decks and I expect no less here!
6) Archaeomancer's Map OUT Eye of Vecna IN
This might be a more controversial cut, but I don't think I need the ramp map theoretically provides, and it can be a tricky card to play here. Ideally you'd want to get this down turn three, in order to ramp lands based upon your opponent's turns, but you'll have to discard if you do unless you played a one drop turn one. It's not as great late game, and the ramp is conditional based on having the extra land in hand and not missing a land drop, which can happen without enough draw. Eye immediately replaces itself and draws one card every turn for the low cost of 2 life, which we aren't worried about at all here. The only downside is that Angel of Jubilation shuts it down, but that is a narrow enough case that it isn't worth not playing a 2cmc draw spell over.
7) Disenchant OUT Together Forever IN
We have plenty of removal and I think we can afford to cut our least relevant piece. Together Forever is amazing, cheap, efficient protection for our entire board, including Giada. It can save our stuff from being destroyed by removal or damage, and has value as repeatable single-target protection and board wipe protection. I expect this to be an all-star piece.
8) Desert of the True and Drifting Meadow OUT War Room and Bonders' Enclave IN
I hated these cycling lands in early testing because they are just not worth having the lands come into play tapped. War Room and Enclave actually draw us cards, and come into play untapped. Sure, 4 mana is a lot for a single card, but there are times we will be happy for it, and in a monocolored deck the colorless nature isn't too much of a drawback.
9) 2x Plains OUT Emergence Zone and Seraph Sanctuary IN
Why not attack lifegain to a land? Sanctuary is just an obvious card for this build that I somehow missed the first time around. Zone is a deeply underrated card that allows you once in a game to get the jump on your opponents by becoming a one turn Vedalken Orrery. The element of surprise is what often wins you games in aggressive decks, and this card allows for that!
So that's the first update! I'll have updates to the primer coming later today or tomorrow. Hope this helps all of you as you build and play the deck!

1 week ago
New cards an en route in the mail, and I think I know how I am planning to update the deck. In the meantime, I'll continue to play as it is, but I can announce final plans later this week when the cards arrive. As of now, here is what I am planning, please let me know if you agree or disagree with any of my thinking as it could help me avoid errors.
1) Cosmos Elixir OUT Vanquisher's Banner IN
Elixir works in this deck but is my worst draw piece in that it only gives life if I don't draw, I have to have over 40 life to draw, it costs 4 colorless mana to cast, and it at most can net me one card per turn. The all star draw pieces so far are those that allow burst draw such as Well of Lost Dreams and Thorough Investigation. Banner allows for this burst draw as every angel replaces itself with a new card, and tokens net us free cards. Its one mana higher but the upside makes it a far superior card. The anthem is just gravy really.
2) Disenchant OUT Tome of Legends IN
I think there is sufficient removal in this deck, so I can afford to cut my worst piece. This deck needs more draw and better draw, so adding a card that can consistently net me an extra card most turns is great.
3) Welcoming Vampire OUT Eye of Vecna IN
Even though many of my angels are weenies they don't ETB that way. As such, vampire is subpar card draw here, whereas normally it is premium for white. Eye may only get me one extra card per turn but it is cheap, fairly unconditional, and I'll have plenty of life to power it. The only downside is that Angel of Jubilation shuts it down, but I think that in most cases I'll be glad to have the option to draw.
4) Mirror Entity OUT Sanctuary Warden IN
I can't believe I missed Warden on the first round. It is unlimited draw in this deck stapled to an angel which has quite a bit of built in protection due to the shield counters (which we won't have to use to power it thanks to Giada). I'll confess I've never liked Entity, though in this deck it has some additional upsides and additional downsides. As for upsides, the counters help it a lot. One reason I feel like Entity is weak normally is that it often dies to ping effects if you don't reserve mana to pump it. I've seen this over and over again over the years, but the counters Giada gives it here mean we can rest easy. Another advantage is that it is an angel here, so the deck supports it well. A disadvantage, however, is that it is less useful and necessary. It is most powerful when it turns 1/1 tokens into 4/4 threats and provides a massive swing. It does little in this deck unless we pump at least 5 mana into it, and even then the improvement is marginal. A second disadvantage is it doesn't fly. Even an Angelic Page is a huge threat in this deck that can go over a defensive line, whereas Entity can be chump blocked easily. Thirdly, it can't enabled combos in this deck because of Giada. We are playing Karmic Guide, so a thought might be to add Reveillark and enable the combo so we can gain infinite life and do other recurison shenanigans. The problem is that this approach relies on paying zero into Entity to kill the board, but the board won't die to counters, so Giada shuts the combo off. Overall I think this isn't worth it, I sentiment I feel about pretty much all of the non-flying changeling cards that we might think would be good to put in.
5) Plains OUT Together Forever IN
I think with enhanced card draw of the update and Giada's ramp ability I can afford to go down to 35 lands, something I have done successfully in other low-to-the-ground aggro decks. Together Forever is premium protection here that also allows Giada to give herself some protection. What I especially like about this card is that it can serve as protection from both targeted removal and board wipes. The deck has done well so far, but well-played protection is key, and this is one of the most flexible pieces there is.
6) Archaeomancer's Map OUT Mask of Memory IN
This is likely to be my most controversial change as Map is a good card that fetches some lands and can ramp over the course of the game, provided we have the lands in hand. It may be bad! That being said, ramp is less of a problem here because of Giada and because of our curve. Map is bad turn three play where we sometimes want to ramp, because it leaves us often having to discard on our end step. I think with our curve and Giada what is important is simply to draw into our land drops, and extra ramp is gravy. That means more draw is better than more ramp, and between Map and the swords/dagger I think the latter are better land fetching/ramp pieces in a deck with evasive creatures. Mask is great because we can see two cards every turn and discard whatever is least relevant in our hand. It can also go down on turn three and be immediately attached to Giada and used right away to get things going.
7) Angel of Finality OUT Angelic Curator IN
Finality isn't great here, as the body doesn't matter too much and cmc is less conducive to a go-wide and high theme than a 2-drop. I think more turn 2 angels has some advantage here, and this is the best of the bunch (other options would be changelings that don't fly). 2-drop angels allow us to play an angel and a support piece like Tome of Legends on turn three, or even play two angels. Four drops can also be good turn three if they are high impact, which Finality is not. It was only in to be an anti-graveyard piece, but is just bad when there are no serious graveyard threats. As such, I'll address that by putting Scavenger Grounds into the mana base and drop the curve to a better place.
8) Mana Base Changes- I'm going to cut two of three cycling lands as this deck really doesn't want lands coming into play tapped, especially early in the game, and the cycling option just isn't worth it. I'll keep Secluded Steppe for now on account if its efficiency, but the others are gone. They'll be replaced with War Room and Bonders' Enclave, which tap for colorless but come into play untapped and give us additional card draw options that we need. Since we are only in one color we can afford more colorless lands than other decks, but we want as many to come untapped as possible due to the fact that we always have stuff to do early. I'll also add Seraph Sanctuary for more life gain and Scavenger Grounds to deal with problematic graveyards.
Those are the proposed changes. Let me know what you think!
1 week ago
It wouldn't be targetable by Disenchant because it was exiled as the cost of activating the ability. There is no point after you announce that you are activating Feldon's Cane but before you pay the costs that anyone ever has priority.
2 weeks ago
Having articulated my thinking on cards I may soon add, I'll add some of my candidates for cuts for everyone's input.
1) Welcoming Vampire Though I love her, barring Emeria Angel being out she probably won't be a reliable draw engine.
2) Cosmos Elixir Though this card is great, synergizes well, and I have a gorgeous foil copy if it, it costs 4 mana and is pretty conditional in how it draws cards. Its kind of between this and Sigarda's Splendor, and splendor is far better and also more on theme.
3) Plains- It might be risky to cut another land, but with enhanced draw and my curve I think I might be able to get away with it. I do in my Mardu Humans deck and I think this will perform similarly.
4) Disenchant My removal is pretty robust in this deck, so I think I can get away with cutting the worst one.
5) Mirror Entity This might just be that I have never like this card, so this might be a bad idea. Let me know what you think!
6) Angelic Page This card isn't great, but it curves out well and has helped me drop multiple angels early. It might also be an easy turn three play with any of my other 2 cmc support pieces. It's never been good on its own, but I'm leaning towards keeping it.
7) Emeria Angel 4 drop angels are especially good in this deck (since we can always play them turn 3). I just wonder if we need a bird generator or not.
8) Cycling lands- I've decided in my brief testing that I don't like these much, but it might keep Secluded Steppe due to its efficiency. Coming in tapped is pretty bad in this deck, so we need a good justification for that.
1 month ago
hahaha yeah you're right about PA having shield counters, meaning SNC mostly straight up buffed it since it will now be quite resistant e.g. Disenchant. Hell, you can animate it and sac it to transfer a probably considerable amount of shield counters to The Ozolith and beyond
1 month ago
Hope this wall of text doesn't bore you to death!
1 month ago
Hi again! I might also add a bit more removal to the deck, since it is something that white does so well and will allow you to keep your opponents under control. While you have path and swords, Generous Gift is a premium white removal spell that can take out anything, including problematic lands like Cabal Coffers and the like. Oblation is sorcery speed, but can take out any non-land permanent, and I've found it to be really good. Winds of Abandon is also a good card because it can be either targeted removal or a boardwipe with the overload mode. You do have to be careful with the latter since you can potentially ramp your opponents a lot, but oftentimes you just need to remove blockers to win, and this is basically white cyclonic rift in that particular moment. Fateful Absence is a great new removal card from the new Innistrad sets, and good old Disenchant can efficiently remove artifacts and enchantments. Darksteel Mutation is sorcery speed, but an efficient way to sideline annoying commanders.
Load more