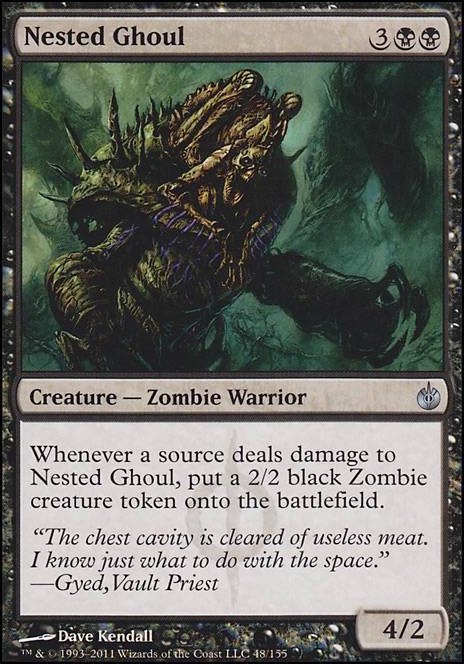 Tokens
Legality
5 years ago
oh i meant the card survives a wrath since it isnt a creature while many zombie buffs seem to be stuck on creatures and therefore die, my bad for not being more clear.
hmm so just looking for trample then well id look more at all creatures get trample: Brawn, Nylea, God of the Hunt, Primal Rage. all of which I think are better suited to your deck. craterhoof is a great choice too, i just hate that it only goes off once.
You may have considered most of these but this is what I found for more token generating, also sorry if it is stuff already in your deck i tired to make sure it wasnt: Dread Summons, Empty the Pits, Endless Ranks of the Dead, From Under the Floorboards, Ghoulcaller Gisa, Graf Harvest, Grave Titan, Kalitas, Traitor of Ghet, Necromancer's Stockpile, Nested Ghoul, Noosegraf Mob, Overseer of the Damned, Waste Not, Zombie Infestation
5 years ago
Cryptbreaker, Abhorrent Overlord, Archdemon of Unx upgrades 1/1s, Army of the Damned, Balduvian Dead, perhaps Sek'Kuar, Deathkeeper, Bitterblossom, Bloodline Keeper Flip, Boggart Mob, Call the Bloodline, Curse of Shallow Graves, Dark Salvation, Empty the Pits, Sidisi, Undead Vizier, Endless Ranks of the Dead, Liliana, the Last Hope's ultimate, Flesh Carver, From Under the Floorboards, Ghoulcaller Gisa, Infernal Genesis, Kalitas, Traitor of Ghet, Marrow-Gnawer, Liliana's Reaver, Mardu Strike Leader, Midnight Ritual, Dread Summons, Noosegraf Mob, Overseer of the Damned, Pack Rat, Plague of Vermin, Xathrid Necromancer, Skeletal Vampire, Waste Not, Nested Ghoul.
Thats a bit of a mouthful.
6 years ago
Liscom: First of all, thanks very much for the feedback, I appreciate any suggestions. To address some of your particular concerns: As far as the deck's large number of tap abilities is concerned, I haven't really had much trouble with it in playtests. The only really dangerous problem I observed with this is the possibility of having few or no blockers if I activate it during my turn. The way I counter this is to use tap abilities during my opponent's turn, after combat, if able. Also, I suppose it is possible that the two tap abilities will interfere with each other (i.e., I need to tap a Longbow/Deathtouch creature to pay for the High Priest's ability), but I think my kill-instants help compensate somewhat. That way I still have a way to activate the Priest's Morbid even if I have to tap all my creatures. Also, more often than not, I have a Tormented Soul or two on the battlefield, which are perfect for High-Priest-tapping-fodder: they can't block and (unless they have the Nighthowler Bestowed on them) do far less damage to an opponent than a 5/5 demon. I have actually been considering putting tutors in this deck to help draw my singles. However, all things considered, I don't necessarily _need _to draw those cards consistently. While their abilities are nice, they aren't vital to making the deck run. The one exception to this would be Archfiend of Depravity. I've been in several games when I've really needed him but have been unable to draw him. For that though, I probably don't want to tutor, but rather just add more copies of him (which I would do, except right now I only own one copy). That said, I probably will try the deck with some tutors; I'll be interested to see how much more dynamic the deck is if I can more consistently play my big guns. Thank you _very __much _ for bringing up Nested Ghoul. It's a new addition, so I haven't tried the combo out yet. What you say about Nested Ghoul totally makes sense. I'll probably do some playtests before removing it, but, all things considered, there probably are some more useful cards I could use instead (like tutors!).
Again, thank you very much for your feedback and constructive criticism. I would very much like to keep improving this deck, so any feedback is welcomed.
6 years ago
Hmm I am really not sure where this deck is going. Viridian Longbow and Typhoid Rats (or other deathtouch) is of course a great combo - but you need to tap it for it. Skirsdag High Priest also needs to tap creatures for a totally different approach.
Also I do not see any tutor card.. this means you will ned to count on luck or cheating to consistently get the cards that you only put in once in your deck. Sure, tutors tend to be expensive, but you can also budget-substiute them with card draw and so far you don't really do that either.
The combo with Nested Ghoul is nice, but be aware that you need someone without deathtouch for that too and only Tormented Soul or Nested Ghoul himslef would be worth. This is not very consistent either, because in the total it is a very slow and expensive combo: 5 mana for Nested Ghoul, 3 mana for equipping Viridian Longbow (and manybe 3 more to unequip it or 1 more to cast it) means that coss you at least 8 mana (or maybe even 11) to actually start geting out 2/2 tokens. Thinking of 2 mana is good for a 2/2 token, it takes at least 4 rounds to finally pay off - sorry that is too damn long in my eyes and it does not even include the "costs" of tapping the ghoul every turn and also not having the Viridian Longbow available for the deathtouch combo to trigger morbid.
Load more