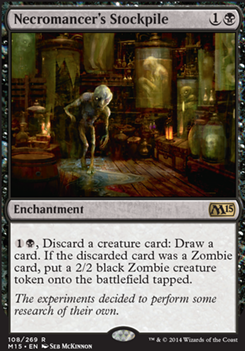 Necromancer's Stockpile
Enchantment
1B, Discard a creature card: Draw a card. If the discarded card was a Zombie card, put a 2/2 black Zombie creature token onto the battlefield tapped.
Latest Decks as Commander
Necromancer's Stockpile Discussion
3 months ago
I feel like there is an underlying issue here because as you said you have a lot of the suggested cards so you should be able to generate quite a few tokens already.
Regardless here are some synergies to look out for. Massacar's infinite loop paired with a good chunk of cards in your deck will give you a win so I won't bother with the potential infinite combos as that is self explanatory (Gravecrawler + Phyrexian Altar = Infinite Etb, Cast, and Death Triggers)
It seems like the deck does not have many sac-outlets or recursion to take full advantage of your commander's ability.
Some sac-outlets to consider:
Some Recursion:
Some Card Draw:
These are just a few affects to give you an idea on what to look for.
4 months ago
Hey, you're welcome.
Some advice for the first thing to consider changing is adding a few more lands since 32 is low amount. Try adding two utility lands and 1x more Swamp for 35 lands?
High Market: sac outlet.
Tyrite Sanctum: repeatable way to make Wilhelt bigger by putting +1/+1 counter on him. After it's put a counter on Wilhelt it can be saced later to make Wilthelt indestructible.
To add three more lands consider cutting a few of the lesser nonZombie cards such as Mind Rot, Hideous End and Weave Fate?
---
Some budget Zombie upgrades to consider:
Some budget nonZombie upgrades to consider:
Undead Augur, Dreadhorde Invasion, Fleshbag Marauder are in the precon.
Death Tyrant has a powerful repeatable effect with Wilhelt and decayed. Any creature you control that attacked and dies while in combat you create a 2/2 Zombie. When decayed Zombies attack they're saced at the end of combat step. At the end of combat step decayed Zombies are still attacking therefore with Tyrant when they're saced you create a 2/2 Zombie for each one.
With Wilhelt and a sac outlet such as Carrion Feeder you attack with your Zombies and then sac them in combat to create 2/2 Zombies and decayed 2/2 Zombies from Wilhelt. On your next turn you attack with all the 2/2 Zombies and decayed Zombies and while in combat sac them again to make 2/2 Zombies and decayed 2/2 Zombies. Death Tyrant lets you repeatedly recycle all attacking decayed Zombies into 2/2 Zombies that don't have decayed. This recycling results in a lot of die triggers which Zombies can take real advantage of with many different die effects.
Hope this helps and if you have any questions about these card suggestions, ask here.
6 months ago
Hey, nice upgrades on a budget so far for the precon.
Opponent mill strategy is an interesting choice/change from the precon. Opponent mill that's not an infinite combo, but done over many turns can be risky in multiplayer Commander because graveyards are a huge resource for so many decks.
The precon has too high of a mana curve with over 20 cards that are 5 CMC or higher. You haven't really changed this, but you have reduced the number of lands to 34 from 40 in the precon. By reducing the number lands, but not reducing the mana curve you risk not being able to cast spells until much later in a game. You're right to reduce the land count and 34 lands is fine, but the rest of your deck also needs to be reduced especially since you've added Bolas's Citadel.
Upgrading to better high CMC cards which you have done with Rise of the Dark Realms and Bolas's Citadel is good, but you really should consider cutting other high CMC cards from the precon to add these such as Gorex, the Tombshell and Gravespawn Sovereign. Gravespawn is also a reanimation effect, but is worse than Rise. Tombshell can be reduced in mana cost, but that has negative interaction with wanting to reanimate Zombies.
---
Death Tyrant is an example of a budget high CMC card that's an upgrade for another five drop in the precon such as Eternal Skylord. Tyrant has excellent synergy with decayed Zombies because when they attack and are saced at end of combat then you create a 2/2 Zombie for each one. This interaction is also good with sac outlets such as Carrion Feeder to sac all your attacking Zombies in combat to create that many 2/2 Zombies which can then with Wilhelt, sac them to create 2/2 decayed Zombies and repeat the next turn with Tyrant.
Some budget lower CMC cards to consider adding:
Some cards to consider cutting: Gorex, the Tombshell, Switcheroo, Mass Manipulation, Aetherspouts, Eternal Skylord, Eloise, Nephalia Sleuth, Gravespawn Sovereign, Shadow Kin, Vilis, Broker of Blood, Open the Graves.
Good luck with your deck.
9 months ago
I play a commander deck built around The Scarab God, and I have a ton of great recommendations. There's a few really fun directions you can take this, but flooding the board with zombie tokens and making them really beefy is a good bet. Here's some decent budget options, since you say you don't buy many cards:
For some cards that aren't budget, if you want to eventually buy/trade for some really good zombie cards, I've got you covered there too:
Best of luck in your future zombie-fueled games!
9 months ago
I've never seen Necromancer's Stockpile before. Great find! Definitely gonna order one whenever I get around to finishing my own Gisa and Geralf deck.
One suggestion, though... Gleaming Overseer?
Load more