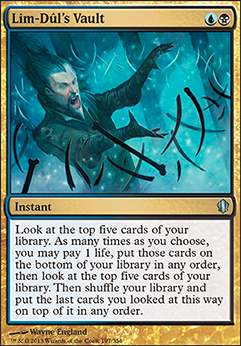 Lim-Dul's Vault
Instant
Look at the top five cards of your library. As many times as you choose, you may pay 1 life, put those cards on the bottom of your library in any order, then look at the top five cards of your library. Then shuffle your library and put the last cards you looked at this way on top of it in any order.
Browse Alters
View at Gatherer
Trade
Legality
| | |
| --- | --- |
| Format | Legality |
| Tiny Leaders | Legal |
| Noble | Legal |
| Leviathan | Legal |
| Magic Duels | Legal |
| Canadian Highlander | Legal |
| Vintage | Legal |
| Casual | Legal |
| Pauper EDH | Legal |
| Vanguard | Legal |
| Legacy | Legal |
| Archenemy | Legal |
| Planechase | Legal |
| 1v1 Commander | Legal |
| Duel Commander | Legal |
| Oathbreaker | Legal |
| Unformat | Legal |
| Pauper | Legal |
| Commander / EDH | Legal |
Lim-Dul's Vault occurrence in decks from the last year
Commander / EDH:
All decks: 0.05%
UB (Dimir): 1.04%
WUB (Esper): 0.78%
BUG (Sultai): 0.59%
UBR (Grixis): 0.58%
Lim-Dul's Vault Discussion
1 week ago
Hey multimedia

Thanks for your opinion & honest Work on this Deck

Lands & Manabase

I think the Manabase should be not the Problem here
I dont play any of these expensive Lands in any of my Commander Decks and i didn't see any disadvantage in my Playgroups
The Lands i use here are all in stock and so i don't have to buy them
So if i will get my Hands on a better Land, i can exchange them with one in any of my Decks.

Anyway i see the Advantage on your choice of Lands and i will put them on the Upgrade List for this Deck with one exception

Mystic Sanctuary
This one is on his way into the Deck
I will cut
Cavern of Souls
because this is a relic of thinking about a Ninja Tribal CMDR
Never mind
Cavern of Souls
will be on the Upgrade list too but i have other Decks where i have to put this 60 Bucks in first ;-)
Baleful Strix + Arcane Adaptation + Wingcrafter
I didn't think about any other Creature's because i wanted to make it a Tribal Ninja CMDR
The only one i had in mind was
Changeling Outcast
But these three are a must have for this Deck
So for
Arcane Adaptation
,
Baleful Strix
&
Wingcrafter
i will cut
Price of Knowledge
,
Downsize
&
Drowned Secrets
Delve
I dont consider anymore :-)
Temporal Trespass
,
Dig Through Time
&
Treasure Cruise
are in of course
Now i have to learn to fuck up my grave but i think i can handle this :-D
So
Folio of Fancies
,
Spellbook
are out and now i'm in struggle
I think that
The Magic Mirror
+
Venser's Journal
is a
"too nice"
Combo to Cut and on the other hand they have high CMC
Cutting
Spellbook
was also hard because
Yuriko, the Tiger's Shadow
and all the others Ninja's "hopfully" gives you so much Cards
So i don't want to cut more
"No Maximum Handsize"
Cards because i think they're essential
The last card to cut you're offering is
Erratic Portal
so this one is Out
But this one was in for Protecting some of the
"Nasty Ninja's"
against hitting the grave from Battletricks
Hopefully the
Entomb
+
Filth
or
Entomb
+
Wonder
combo and / or
Crystal Shard
,
Walker of Secret Ways
will do their job

So Vampiric Tutor is a well known Card but i think I've got enough Top Deck Manipulation and the "Cards to cut" are Rare. Same is true for Insidious Dreams wich i didn't know before
I had Lim-Dul's Vault on mind when i builded this Deck and maybe this is a game changing "Top Deck Manipulation" because of the mass of Cards u can look at

So i will clear the Maybeboard and all three are in there and i f i find a card to cut Lim-Dul's Vault will be the one who gets in 1st

Chain of Vapor


So here i need a quick 101 on this Card

"At this Moment i'm too stupid to understand how this card work and why it is so good in a Yuriko Deck" So i'm not too stupid to understand how this card works @all-> i'm too stupid why this one should be good and don't any have clue on this combo
So please give me the "Breakthrough"

Shitty English & Bad Grammar

Sorry for my very Basic English Grammar and this shitty English
I think in my Mothers Language much of this Desaster would sound very differnt :-D
And here are some dots and commas if u need them -> ........,,,,,,,, :-D

THX Bro
Update of the Deck will be done soon
1 week ago
For cEDH level, I'd recommend putting in:
Mox Diamond , Fellwar Stone , Talisman of Progress (better than Signet) for additional mana source
Mystic Remora for additional card draw
Ponder and Preordain for draw/top deck manipulation cantrips
Drown in the Loch for good removal/protection, as well as Reality Shift for extra removal.
Dispel , Delay , Flusterstorm , Spell Pierce , and Mental Misstep are all good protection/mitigation spells at cEDH tables, as well as Force of Will
Vampiric Tutor for your instant generic tutor and Imperial Seal if you can afford it. Lim-Dul's Vault is also a good tutor/pile maker and Merchant Scroll can search Dramatic Reversal and any counterspell/blue removal spell.
Maybe cards are Chain of Vapor , Blink of an Eye , and Into the Roil if you want more removal, or Pongify and Rapid Hybridization if you want more creature removal.
I'd recommend removing Lightning Greaves and Swiftfoot Boots as these are only relevant when you have a creature on board and are only sorcery speed protection for said creature.
With the banning of Paradox Engine , Despark does not have many relevant targets. In fact, I'd say it's only niche to reanimator targets or any other big creatures that get cheated out, which is VERY dependent on your meta.
Arcane Denial is something I'd only find not bad if it's literally used to protect your win con on the turn that you're going to win; otherwise, you just netted your opponent over you. This one's up to you but I'd rather not play it.
1 week ago
Hey, no deck is jank when it has Top, Rack, Demonic, Drain and Study :)
Baleful Strix isn't a Ninja without Arcane Adaptation , but it has good synergy with Commander Ninjutsu as low mana cost draw. Strix and Yuriko interact as a drawing engine for since Strix has flying and deathtouch it will more than likely attack unblocked. One drop Wingcrafter is good with Yuriko and Ninjutsu because has flying and gives the Soulbound creature flying. It's Soulbound can keep changing since it triggers when a creature ETB and you choose if you want to pair that creature with Wingcrafter.
With the high budget here there's really no reason to play terrible lands such as Submerged Boneyard , Dismal Backwater and Jwar Isle Refuge . Lands that could replace these are Underground River , Darkslick Shores , City of Brass . Mystic Sanctuary is powerful because the card you recur is put on top of your library.
Consider adding Temporal Trespass , Dig Through Time and Treasure Cruise ? More cards that have high CMC for Yuriko's trigger, but you can cast them with delve for much lower CMC. Vampiric Tutor , Lim-Dul's Vault and Insidious Dreams are other instant tutors that put the cards you get on top of your library. Chain of Vapor is good removal spell with Yuriko.
Cards to consider cutting:
Spellbook
Folio of Fancies
Erratic Portal
Venser's Journal
Downsize
Drowned Secrets
Price of Knowledge
Good luck with your deck.
2 weeks ago
Yo sam171z, so I took a quick take on your decklist. In the general sense, how competitive/tuned do you want your list to go to?
Like in all deck building, what theme do you want to go for and how much of a budget are you willing to spend to get the results? For Grixis decks they rely essentially on a lot of rocks to get you to accelerate faster.
Here are some cards that I use that are staples in competitive deck building in Grixis colors. Feel free to ask for more specifics on how ya wanna deck build, huge advocate on helping people tune their list to their own sense of style on what you want to do.
Some cards that are tribal-esque:
In regards to your question on how I would build the deck, hmm I would probably go more towards a control/steal theme with maybe a small bit of reanimator package. There is quite a bit of things you can do, there are some combos you can run that would mesh well with the pirate theme. Like both Dockside Extortionist and Cloudstone Curio can net you infinite mana (provided your opponents have enough artifacts/enchantments to negate the cost of recasting) or you can do some synergies with Glint-Horn Buccaneer and Curiosity combo which can be fun. But that's how I would build it, feel free to ask if ya have any more questions~
1 month ago
Lim-Dul's Vault is pretty neat for arranging the perfect kascade
1 month ago
In a deck like this, one of the first things that comes to mind is Lim-Dul's Vault . It's an instant-speed tutor that helps smooth things out. You can also throw in a few targeted kill spells, since that seems like it could be good (depending on playgroup): I would recommend Vindicate , Anguished Unmaking , and Capsize .
I would avoid City of Brass , since having Urborg, Tomb of Yawgmoth doesn't stop you from damage. Mana Confluence is perhaps less dangerous. If you want more duals, you also can use Sea of Clouds and Morphic Pool .
If you want to annoy people, maybe Mistbind Clique could be fun. Hushbringer means that you would just have instead a big 4/4 with no drawback for 4, but no Hushbringer can really screw with your opponent. (Which is always fun.) And speaking of annoyances, I find Thalia, Heretic Cathar to be much more irritating to opponents than Blind Obedience .
If you're fine with Planeswalkers, there are a few I would recommend! Ashiok, Nightmare Weaver , Teferi, Time Raveler , Elspeth, Sun's Champion , and maybe Kaya, Ghost Assassin all come to mind as potentially useful.
In any event, faeries are lots of fun! Hopefully you make your opponents go "WTF" a lot...
1 month ago
Never thought about Lim-Dul's Vault ! So expensive for an uncommon lol
1 month ago
@MrDimir:
Gilded Drake is easily one of the best creatures in the deck and in competitive EDH metagames in general. Stealing generals which run away with the game like Gitrog, Zur, Urza, Thrasios and others is just too good to pass up on. Sometimes I even joke about the real general of this deck being anything your opponents are playing as you have all the tutors that fetch Drake, often even directly into play. Drake also is borked with Yarok contrary to popular belief, as you get to do a 3-way switch, stealing one creature and forcing opponents to swap between Drake and one other creature (you also choose each target as you control Drake when it enters play).
You can play infinite mana outlet draw spells if you like. This Yarok list just emphasizes on putting most if not all of the required draw outlet cards into ETB-creature form, which can be tutored with the same creature tutors that fetch combo cards like Cloud of Faeries and Shrieking Drake . These ETB creatures also work as decent topdecks and get amplified by Yarok's extra triggers and bounce engines, allowing you to save deckslots by not really needing any X draw spells to go off consistently. One of the main appeals of Yarok lists arguably is precisely the fact that they don't require any "dedicated" outlet cards to win games, save for the occasional Laboratory Maniac or Jace, Wielder of Mysteries which are just too good win cards to not include in many lists ( Demonic Consultation / Tainted Pact + Lab Man win lines are the meta right now in most stalled games where there are many stax pieces out and counterspells ready to fire).
@Proa21:
Lim-Dul's Vault is not included mainly due to personal preference; I like to use its slot to playtest other cards almost as a baseline. You can definitely run it in your deck, and that list would most likely be better for it.
Load more